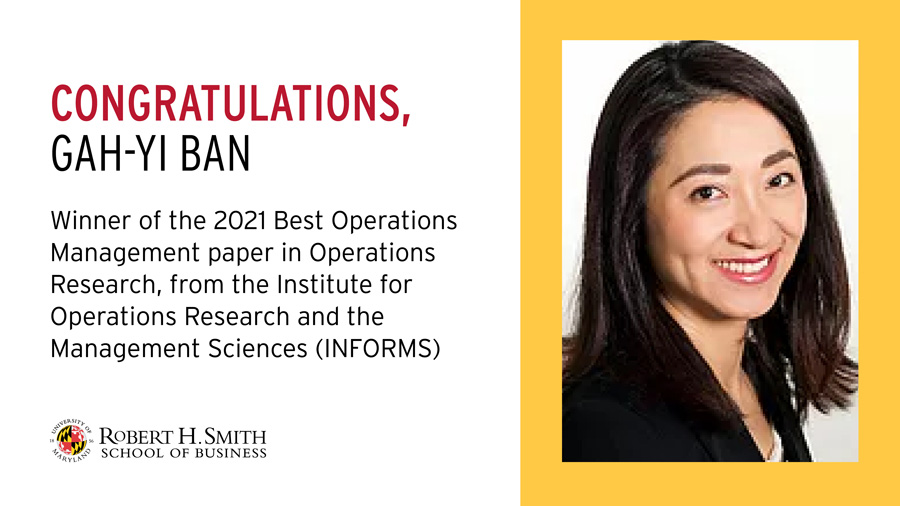 Maryland Smith's Gah-Yi Ban won the 2021 Best Operations Management paper in Operations Research from the Institute for Operations Research and the Management Sciences (INFORMS), an international society for practitioners in the fields of operations research, management science and analytics. Ban's winning paper, "The Big Data Newsvendor: Practical Insights from Machine Learning," was published in the January/February 2019 issue of the INFORMS journal Operations Research.
Ban, an associate professor in Smith's department of Decision, Operations & Information Technologies, collaborated with Cynthia Rudin of Duke University on the research. Their paper is recognized to be the first to incorporate "big data" (high-dimensional features) and machine learning directly in a decision optimization problem, inspiring new models and techniques in optimization, healthcare, inventory and revenue management. Their work also demonstrated the immense benefits of cross-disciplinary collaboration between machine learning and operations research communities.
The research was selected in a highly competitive process, where all research published in the past three years of the top academic journal Operations Research was reviewed and voted on by operations and supply chain area editors. Finalist research was then evaluated by a committee made up of three senior operations management faculty members, selected by the journal's editor-in-chief and the president of M&SOM, along with the operations and supply chain area editors. Ban's paper was recognized at the June 2021 meeting of the Manufacturing and Service Operations Management (M&SOM) society, part of INFORMS.
"This is a very big deal and we are immensely proud of Gah-Yi and her scholarly accomplishments," said Wedad Elmaghraby, chair of Maryland Smith's department of Decision, Operations and Information Technologies.
Ban's research focuses on big data analytics; specifically, decision-making with complex, high-dimensional and highly uncertain data with business applications. In addition to other research awards, she is a recognized educator, having been named one of Poets & Quants World's Best 40 Under 40 MBA Professors and Britannica's 20 Under 40 Young Shapers of the Future (Education). She also serves as an associate editor of Management Science, M&SOM and Operations Research Letters, and is a member of the World Economic Forum Expert Network.
Media Contact
Greg Muraski
Media Relations Manager
301-405-5283  
301-892-0973 Mobile
gmuraski@umd.edu 
About the University of Maryland's Robert H. Smith School of Business
The Robert H. Smith School of Business is an internationally recognized leader in management education and research. One of 12 colleges and schools at the University of Maryland, College Park, the Smith School offers undergraduate, full-time and part-time MBA, executive MBA, online MBA, specialty master's, PhD and executive education programs, as well as outreach services to the corporate community. The school offers its degree, custom and certification programs in learning locations in North America and Asia.