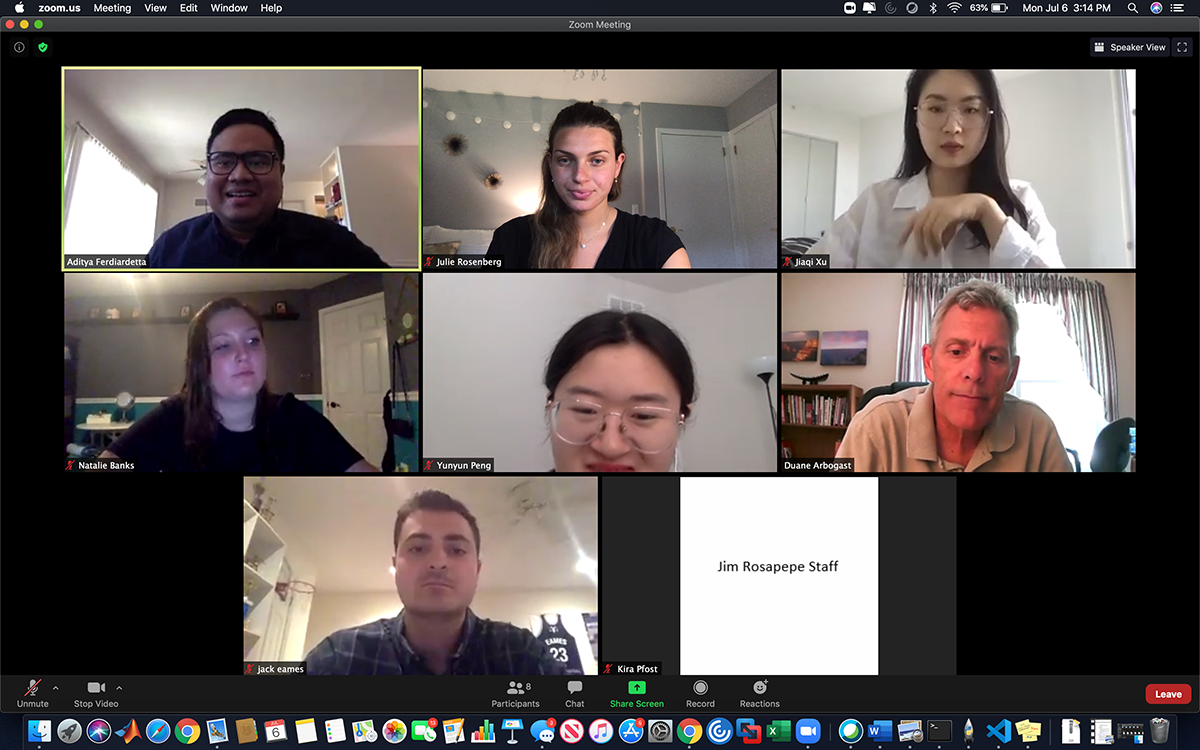 Former CSVC Students Return to Lead Consulting Initiative Adapted to Enrich Students, Clients During and After Coronavirus
Despite pandemic-induced social distancing, nearly 150 students are driving a Maryland Smith project this summer supporting value-driven organizations.
With Zoom the primary platform, the Center for Social Value Creation at the University of Maryland's Robert H. Smith School of Business has launched a two-month Impact Consulting Fellowship program in the vein of its earlier, signature Change the World Consulting program. Underway as of June 2020, the Impact Consulting Fellowship involves full- and part-time MBAs managing undergrads and other master's students in providing consulting services – for example, to College Park Academy, a blended learning school; Black Girl Ventures, which supports founders; MLevel, a digital learning development platform; and Great Dwellings, a D.C.-based company that helps homeowners maximize their Airbnb and short-term vacation rentals.
"Many Smith students had their summer internships countermanded due to the pandemic, so we identified an opportunity to engage them in an experiential learning opportunity, one that could be executed remotely, but still teach students real-world working practices firsthand," says CSVC Project Management Intern Julie Rosenberg, who is assisting CSVC Director Nima Farshchi (MBA '20) and Associate Clinical Professor and Interim Assistant Dean for the Full-Time MBA Program Nicole M. Coomber in guiding the program's 23 student teams.
Virtual team meetings, including with clients, are supplemented by virtual, professional development lessons, which are delivered, recorded and archived online by Coomber and Farshchi. The student teams also exchange emails and teleconference with their alumni advisors when needed, says Farshchi, who as an undergrad was a Change the World participant and co-founded Maryland Smith's Net Impact Club undergraduate chapter. "The CSVC helped shape my undergraduate mindset where business and purpose were integrated as one."
Paula Shin, a rising sophomore majoring in marketing, called her first-time consulting experience "eye-opening." Her client, Words Beats & Life, aims to uplift the hip-hop community and creates arts-based educational experiences through hip-hop culture. She describes how she quickly and effectively grew into her role with her project team – social distancing notwithstanding: "Initially, I was unsure of our project's focus and of how I would be able to contribute, but as we held more meetings to establish our own strengths and interests, and discussed the organization's needs with the client, I had a better grasp on how we would help our client," she says. "Something that stuck out to me, and allowed me to understand our roles better, was when our consultant advisor told us that it was not the client's job to tell us how to help them, but it was rather our job to analyze the current state and to come up with recommendations."
Today's social distancing, says Farshchi, has added value to the initiatives and outreach that he now directs: "The remote environment is allowing us to do consulting for a greater diversity of clients. We are supporting our alumni founders in different states – something we wouldn't be doing in a non-virtual environment." The mission, he adds, dovetails with the Business Roundtable's recent advocacy for corporations to serve stakeholders and all Americans. "Organizations need highly qualified leaders to shape their organizations," he says.
"Our students are these future leaders that will help value-driven organizations make sustainable business choices. Our students will create a world where businesses operate for the long-term value of both people and planet."
"These pro-bono consulting projects," he adds, "show students how industry professionals can make an impact in their careers. At the same time, these students realize how they can grow their own business competencies at the same time."
Shin echoes such when reflecting on her work with Words Beats & Life: "It has been interesting to analyze this organization's pages on different social media sites and see how receptive the audience has been. I also find it incredibly inspiring to see the supportive community of hip hop, and I'm excited to play a part in this organization's growth."
A similar perspective lies with Rosenberg, a 2020 Maryland graduate who majored in communication with a general business minor. The latter drew her to participate in CSVC programming. The experience, she says, prepared her to help administer and appreciate the current initiative. "It has been incredibly rewarding to work with and observe these students as they work and learn together and embrace the challenges posed by their projects to create actionable responses," she says. "I just graduated in May and never would have thought I would be so quickly offered a project that would make me feel like I was truly giving back for my amazing four years at UMD and the DMV community."
Farshchi, likewise, reflects: "My MBA helped me grow and understand the different ways that social impact is relevant in a business setting and grew both my academic mindset and professional networks. Joining CSVC and coming full circle back to Smith for a third time has always been a dream of mine due to the amazing community here. This role is providing an opportunity for me to impact our next generation of leaders."
Among those leaders is MBA student Terqueasha Wooten. "Prior to this fellowship, I had never led a team of such diverse demographic and academic background, this is invaluable experience for an MBA as we are often hired in managerial roles post-graduation."
Wooten's client dashboard.earth connects nonprofits and eco-friendly businesses to anyone looking to engage in climate solutions. Working with this client, she says, has been enriching because "it marries my passion for environmental health with my career and academic development goals."
Media Contact
Greg Muraski
Media Relations Manager
301-405-5283  
301-892-0973 Mobile
gmuraski@umd.edu 
About the University of Maryland's Robert H. Smith School of Business
The Robert H. Smith School of Business is an internationally recognized leader in management education and research. One of 12 colleges and schools at the University of Maryland, College Park, the Smith School offers undergraduate, full-time and part-time MBA, executive MBA, online MBA, specialty master's, PhD and executive education programs, as well as outreach services to the corporate community. The school offers its degree, custom and certification programs in learning locations in North America and Asia.