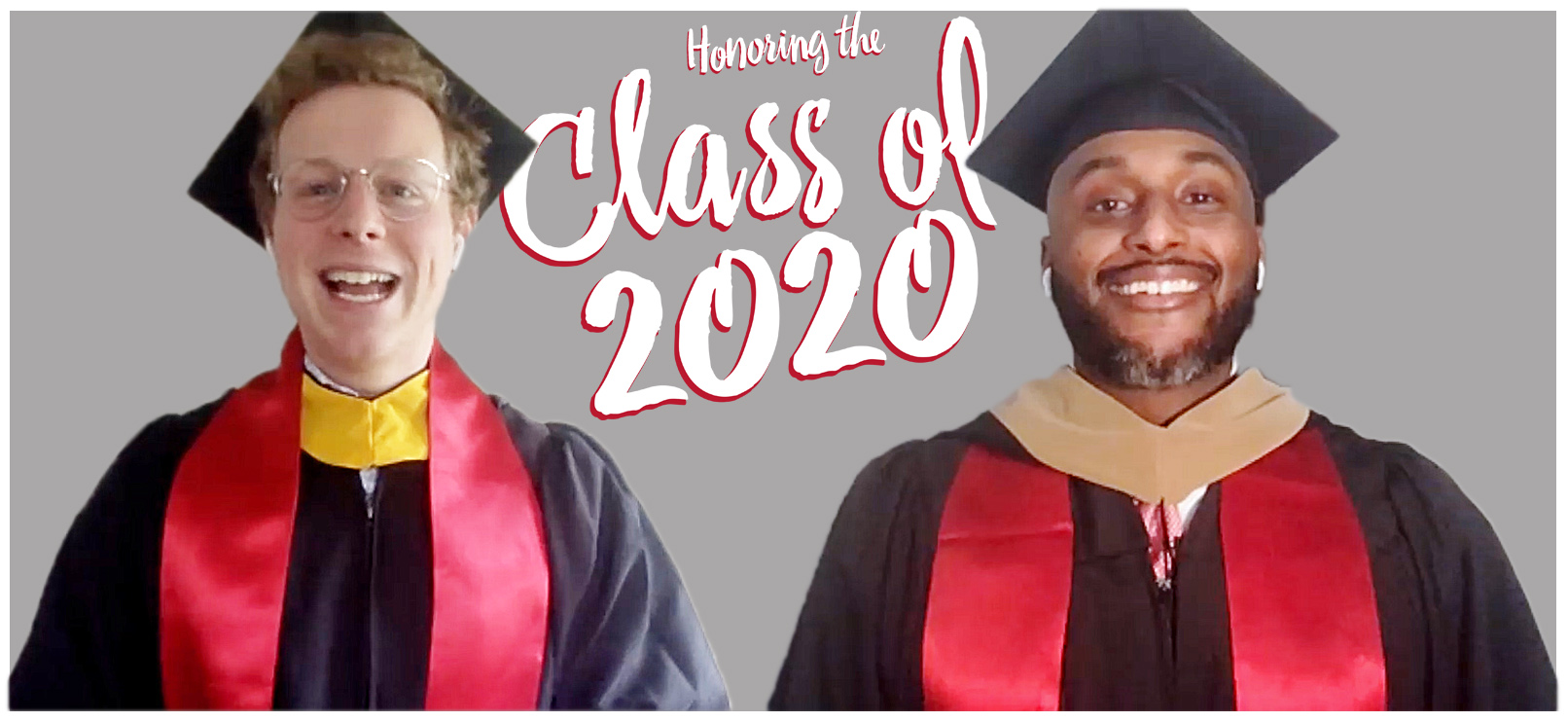 Maryland Smith's Class of 2020 Speakers Share Their Wisdom
"Well, we did it," cheered Maryland Smith's David Rosenstein '20, in cap and gown, delivering a commencement address and a note of congratulations to his 1,400 fellow graduates, gathered virtually for the spring commencement ceremony.
"I'm not sure I or anyone watching saw killer wasps, UFOs or global pandemics happening," said Peyton Harrison, MBA '20, in his address, offering a nod to the uniqueness of the time in which he and his cohort are graduating. "And if you did, you may have just won the oddest game of bingo ever created. But here we are."
Rosenstein and Harrison were the dual center points of the University of Maryland's Robert H. Smith School of Business Virtual Commencement Ceremony on Friday, May 22, 2020 – Rosenstein from the undergraduate program, Harrison from the master's.
In his remarks, Harrison called on graduates to think about their own journeys, from grade school to university and all of the life experiences in between. "I want us to embrace being our unique selves and use these experiences to provide novel solutions to simple and complicated circumstances."
Viewed analytically, he told graduates – "after all we are a data-driven program" – all sorts of independent variables make each person's life model unique.
"However, within the equation of our lives, with all things being held constant, even accounting for variances including – again – killer wasps, UFOs and global pandemics we all have one common variable and that is: We are graduates of the Smith School of Business Class of 2020."
Rosenstein, who graduated with a dual Bachelor of Science degree in management and marketing and is this year's American Marketing Association's Student Marketer of the Year, said being away from Van Munching Hall, his campus home away from home, has been tough. "I miss Smith," he said. But with his memories, he said, are the lessons and the ideas he will carry with him into his career.
In addition to all the academics, he said Smith taught him three important life lessons as well.
Lesson 1: "Team project meetings are impossible to schedule, but when you're already friends with people in your group, everything becomes easier. May we all find jobs that enable us to work alongside peers with a similar level of camaraderie to that of our Smith peers."
Lesson 2: "We have so much to offer. Choose spaces that encourage your fresh ideas and unique perspectives."
Lesson 3: "Lastly, seek out spaces where your intellect is challenged, where you feel inspired by the intelligence of those around you."
"A classmate introduced me to a wonderful quote, 'Life expands or shrinks in proportion to one's courage,'" Harrison said, drawing to a close in his speech. "So whether you go back to a familiar place or off to a shiny new job, let's remember our significance by drawing back on our collective shared experiences here at Smith and use these experiences as a source of courage – and as a differentiator that emboldens us to lead fearlessly."
Rosenstein, winding down his own speech, reminded graduates to acknowledge the people who helped them reach their milestones – the parents, teachers, professors and mentors "who opened doors" for them.
"As you make strides in the world, I challenge you to open a door for someone else – as often as you can."
Media Contact
Greg Muraski
Media Relations Manager
301-405-5283  
301-892-0973 Mobile
gmuraski@umd.edu 
About the University of Maryland's Robert H. Smith School of Business
The Robert H. Smith School of Business is an internationally recognized leader in management education and research. One of 12 colleges and schools at the University of Maryland, College Park, the Smith School offers undergraduate, full-time and flex MBA, executive MBA, online MBA, business master's, PhD and executive education programs, as well as outreach services to the corporate community. The school offers its degree, custom and certification programs in learning locations in North America and Asia.