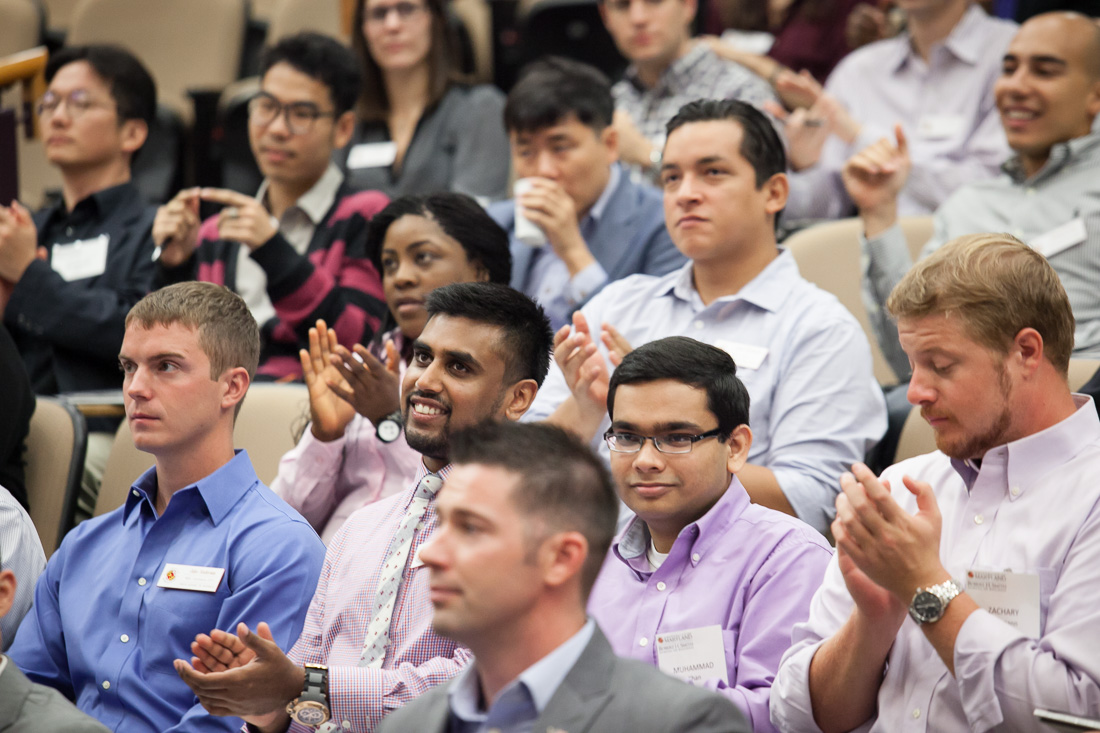 Incoming full-time MBA students at the University of Maryland's Robert H. Smith School of Business didn't have to wait long to meet employers and learn what kind of talent they want to hire. A panel of corporate recruiters, including four Smith MBA alumni, shared career advice and answered questions during orientation Aug. 10-21, 2015.
The panel is part of a career kickoff designed to help the 99 students in the class of 2017 add clarity to their job searches early in the MBA experience. "If you approach the world with clarity, the world will respond with clarity," said panelist Jeff Knabe, MBA '02, a marketing manager at McCormick & Company.
Other orientation activities organized by Smith's Office of Career Services included seminars on personal branding, social media strategy, communication, and critical thinking. The career kickoff will culminate with a case challenge that requires teams to combine all of their learning in one activity.
Jeffrey Kudisch, assistant dean of corporate relations and managing director of the Office of Career Services, said the Smith School will help incoming students keep the momentum going during the next two years with a range of customized services.
"Our commitment is to tailor our coaching to you," Kudisch told the students. "We won't treat you all the same."
As part of this effort, Julie Neill will serve in the Office of Career Services as an ombudsman for international students. The new position will benefit about one-third of incoming full-time MBA students, who come from outside the United States. Neill will host Google Hangouts on Fridays to help international students adjust to U.S. culture, and she will stay current on issues related to work permits and visa sponsorships.
Another change for the 2015-16 school year will be fewer but bigger networking events designed to connect full-time and part-time MBA students with each other and the alumni community. "We'll set you up for all kinds of opportunities," Kudisch said. "It's Terps helping Terps. We pull each other up the ladder as we go."
Overall, incoming full-time MBA students in the class of 2017 have an average age of 28 and have worked an average of 5.2 years. Nearly one-fifth have military backgrounds, and about one-fourth are persons of color. About 39 percent of incoming full-time MBA students are women, up from 34 percent in fall 2014.
"This is the best full-time MBA community that there is," Smith Professor Joe Bailey told the students during another orientation activity. "There really is something special about Smith. We're all here to learn, and we're all here to help each other learn."
Want to find out more about our Smith MBA program? See options in this MBA comparison chart.
Visit our Facebook page for photos of orientation.
Daryl James, Office of Marketing Communications
Media Contact
Greg Muraski
Media Relations Manager
301-405-5283  
301-892-0973 Mobile
gmuraski@umd.edu 
About the University of Maryland's Robert H. Smith School of Business
The Robert H. Smith School of Business is an internationally recognized leader in management education and research. One of 12 colleges and schools at the University of Maryland, College Park, the Smith School offers undergraduate, full-time and part-time MBA, executive MBA, online MBA, specialty master's, PhD and executive education programs, as well as outreach services to the corporate community. The school offers its degree, custom and certification programs in learning locations in North America and Asia.