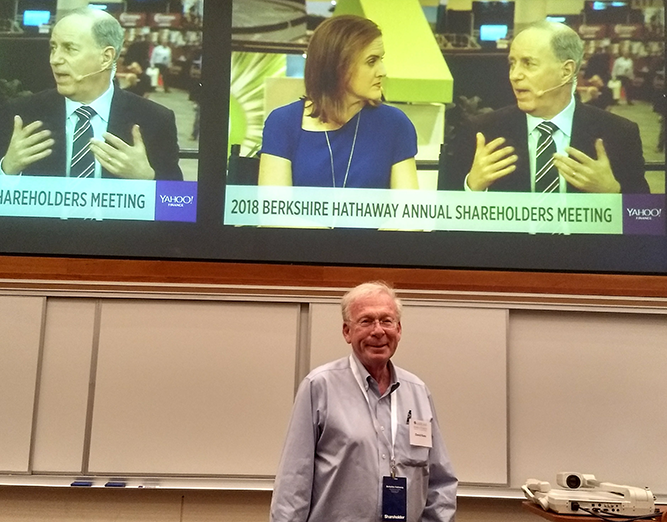 Since 2006, finance professor David Kass has led students from the University of Maryland's Robert H. Smith School of Business on an annual trek to Omaha, Nebraska, to partake in the Berkshire Hathaway Annual Shareholders Meeting. This year he and Smith School finance professor Elinda Kiss tried something different. They hosted more than 100 students, faculty and staff for a "Watch & Learn" event on May 5, 2018, at Van Munching Hall.
Beginning at 9:45 a.m., the 7-hour event was live-streamed via Yahoo Finance into Frank Auditorium, and the two professors answered questions and provided insights into some of Warren Buffett and Charlie Mungers' investment strategies.
Kass, a clinical professor with the Department Finance and the faculty champion for the Sophomore Finance Fellows program, maintains a Smith School "Warren Buffett" blog. He also contributed a chapter to a recently published book, "Warren Buffett Shareholder: Stories from Inside the Berkshire Hathaway Annual Meeting."
In the book, edited by L. Cunningham and S. Cuba, Kass wrote, "The Berkshire Meeting weekends are a perfect combination of education and entertainment." Kass's chapter details past excursions when students could "mingle with both other university students and longtime Berkshire investors from all walks of life."
More than 40,000 people from all over the world descend on Omaha for the two-day event, and the presentation and Q&A session is live-streamed to 3 million people worldwide in English and Chinese.
This year, thanks to the dedication of Kass, many MBA, MS and undergraduate students were able to benefit from listening to the "Oracle of Omaha" and from Kass's expertise while staying right here in College Park.
Media Contact
Greg Muraski
Media Relations Manager
301-405-5283  
301-892-0973 Mobile
gmuraski@umd.edu 
About the University of Maryland's Robert H. Smith School of Business
The Robert H. Smith School of Business is an internationally recognized leader in management education and research. One of 12 colleges and schools at the University of Maryland, College Park, the Smith School offers undergraduate, full-time and flex MBA, executive MBA, online MBA, business master's, PhD and executive education programs, as well as outreach services to the corporate community. The school offers its degree, custom and certification programs in learning locations in North America and Asia.