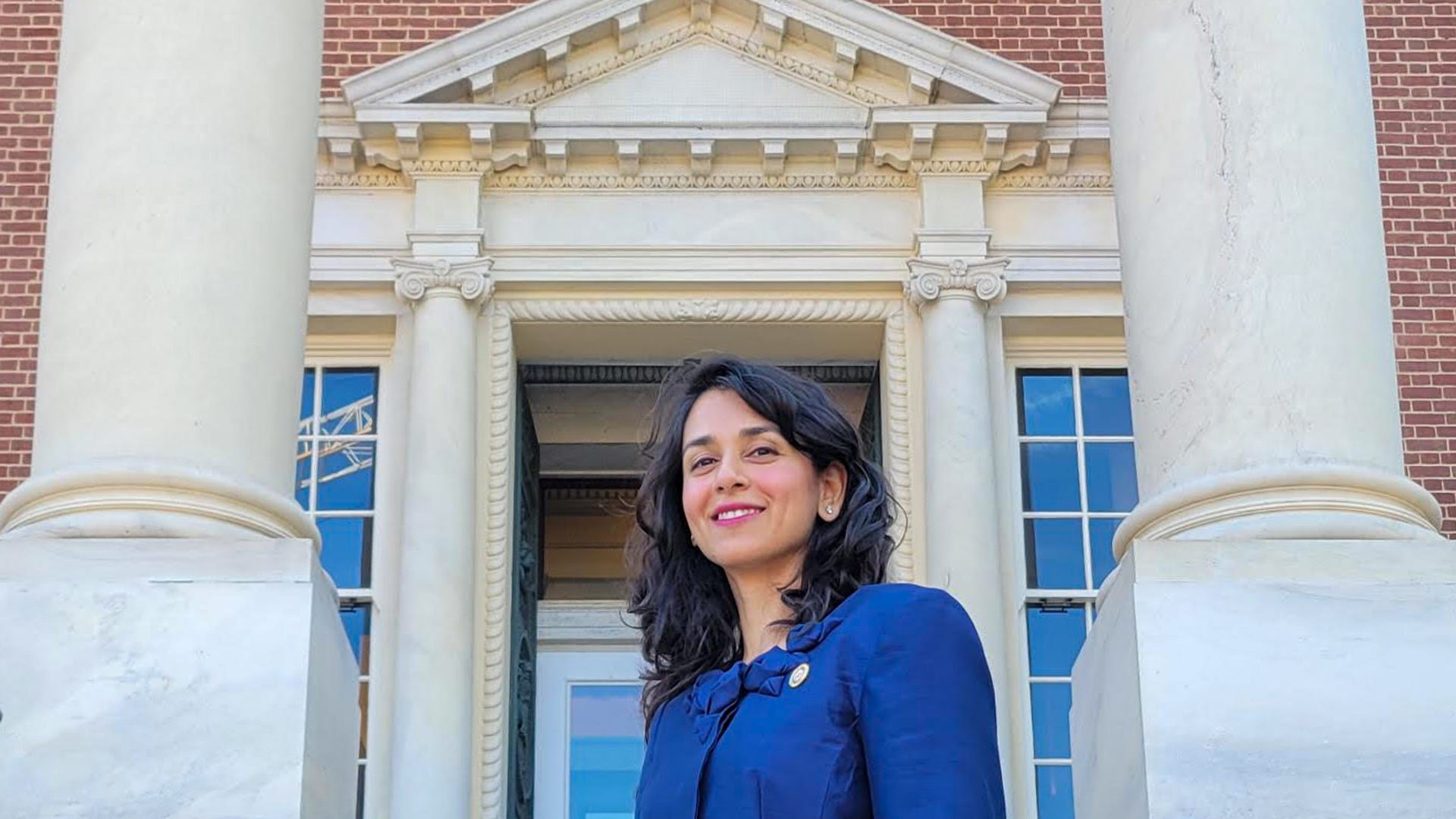 Through the courses and workshops that Sarah Wolek '01 teaches on self-leadership and flourishing, the Robert H. Smith School of Business faculty member helps students work toward full and authentic lives informed by factors such as purpose, community, nature and prosperity.
Now, as a newly appointed member of Maryland's House of Delegates, she hopes to do something similar for her constituents in District 16 and residents across the state.
She was sworn in by House Speaker Adrienne A. Jones on April 3, after Gov. Wes Moore appointed her based on a nomination by Montgomery County's Democratic Central Committee. Wolek, the state's first Muslim woman in the General Assembly (and currently the only Muslim member and only South Asian woman), fills a vacancy in the House of Delegates left after former Del. Ariana Kelly was appointed to the State Senate.
"I have always been drawn to work where I can make a positive impact," said Wolek. "Seeing the positive impact on students and wanting to do it on a broader scale" was part of what made her seek this position.
[New Lab Has Students Envision a 'Whole, Full Life,' Along With a Career]
Wolek was one of 18 residents of District 16 (including Bethesda, Chevy Chase and Potomac) who submitted applications to the Democratic Party's central committee in the county, which recommended its choice to the governor.
The candidates appeared together for two public forums, introducing themselves and their platforms and taking questions from viewers over Zoom. "We had a very brief time to answer those questions," said Wolek. "It was challenging, but it had to be that way because there were so many of us." (One of the central committee members referred to the event as "District 16's Got Talent.")
Wolek, who has been assigned to the Appropriations Committee, is focused on championing those with complex medical needs and disabilities; her late younger sister lived with serious medical conditions throughout her life, requiring Wolek and her parents to navigate the grueling day-to-day routine of advocating for her needs. Her priorities also include early childhood workforce development, pathways to homeownership, reimaging education and encouraging "flourishing," which she defines as learning a skill set that enables people to reach their potential.
"I fundamentally believe that if each of us had the skills and the space to explore who we are and what we want, and intentionally develop that as a human being—not necessarily as an employee, but just as a human—it would be transformative for our world," said Wolek, who, before coming to the university in 2017, worked for the U.S. Department of Housing and Urban Development, the Department of Treasury, the White House Office of Management and Budget, and other federal agencies.
Wolek had one week to get adjusted to life in the Maryland State House before the legislative session ended on April 10. That meant seven days to meet colleagues from across the state, go through basic onboarding and vote on bills related to health care, gun violence and education. "It was dramatic," Wolek said of sine die, the last day of the 90-day session on April 10, when lawmakers gathered for a marathon session that went until midnight and included some raucous back-and-forth.
"We're excited to have her," said House Majority Leader and fellow District 16 Del. Marc Korman. "She's got government experience and a great focus on mental health and well-being. I think she's going to be a great contribution to the overall House of Delegates and our District 16 team." (The third District 16 delegate is Sara Love.)
During recess, Wolek will meet with constituents to learn about the issues that are important to them, she said. Hearing from neighborhood leaders, small business owners, local nonprofits and local PTA members will give her added perspective on what's going on in the district. Wolek noted a rise in anti-Semitic incidents as a worrying trend that she is eager to discuss with residents.
Though Wolek will balance her responsibilities of being a professor and delegate throughout the year, her focus in the fall will be on teaching, and in the spring on legislating. "One role will inform and enrich the other," she said.
Wolek hopes that her status as the first Muslim woman in the House of Delegates will enable an array of girls in the county to see themselves in her shoes. "I'm the first Muslim woman, but I know I won't be the last," she said.
– This article originally appeared in Maryland Today and is republished here with permission.
Media Contact
Greg Muraski
Media Relations Manager
301-405-5283  
301-892-0973 Mobile
gmuraski@umd.edu 
About the University of Maryland's Robert H. Smith School of Business
The Robert H. Smith School of Business is an internationally recognized leader in management education and research. One of 12 colleges and schools at the University of Maryland, College Park, the Smith School offers undergraduate, full-time and flex MBA, executive MBA, online MBA, business master's, PhD and executive education programs, as well as outreach services to the corporate community. The school offers its degree, custom and certification programs in learning locations in North America and Asia.