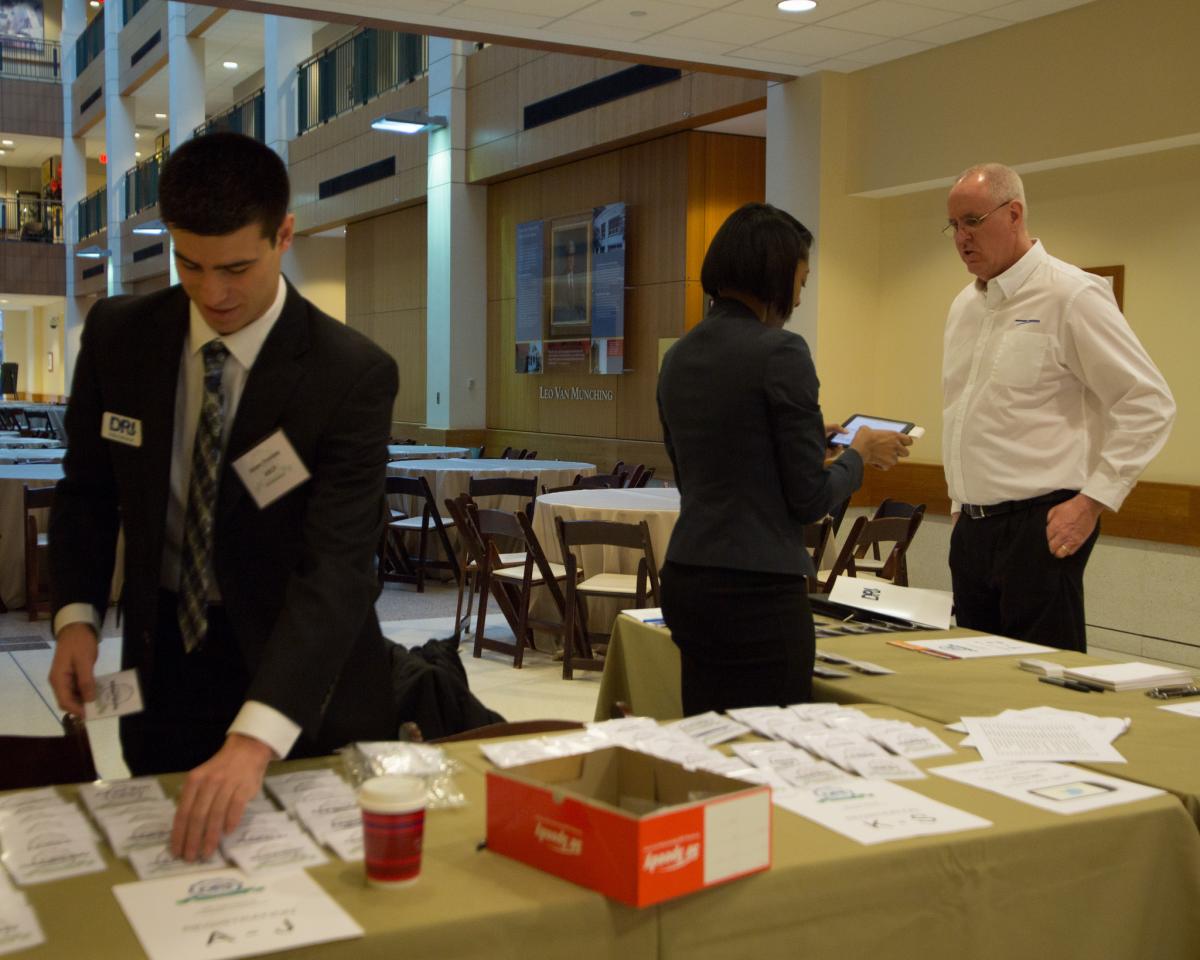 On April 10, 2015, the University of Maryland's Robert H. Smith School of Business partnered with Disaster Recovery Institute (DRI) International to hold DRI's first collegiate conference. More than 100 DRI-certified professionals, business continuity planning leaders and students were in attendance.
DRI helps organizations prepare for and recover from disasters through thought leadership, education and accreditation. DRI President Al Berman welcomed attendees and discussed current issues and careers in business continuity planning (BCP). Berman said that BCP is a relatively new area and the conference is a great informational exchange that will also introduce students to potential career opportunities. Many companies can't fill the current demand for available BCP positions, he said.
The goal of the DRI Collegiate Conference is to provide DRI's certified professionals, as well as other professionals and students in related fields, an opportunity to experience and develop thought leadership in business continuity and resilience.
"Every time I speak to an audience I remind them that first and foremost DRI is an organization about people," said Russell Wooldridge, director of business development at DRI, in his opening remarks. "People who do the job of business continuity, more often than not, are people who have had the job of business continuity thrust upon them. Through these Collegiate Conferences, DRI International will take a significant step in changing the way people come to this profession. And, while we have events planned in the coming year at Dominican University of California, Centennial College in Toronto and St. John's University in New York, we will always be able to say that the path to changing business continuity for the better started right here in College Park."
Sandor Boyson, research professor and co-director of the Smith School's Supply Chain Management Center (SCMC), discussed cyber supply chain risk management (CSCRM) and revolutionizing the strategic control of critical IT systems. CSCRM is a new discipline designed to help business continuity executives address the challenges of the rapid globalization and outsourcing of IT systems. CSCRM combines elements of cybersecurity, supply chain management and enterprise risk management into a new and powerful concept to exert strategic control over the end-to-end processes of a focal organization and its extended enterprise partners.
 "The Supply Chain Management Center was excited to partner with DRI on this event and expose our graduate and undergraduate supply chain students to industry best practices and the key thought leaders in the field of business continuity planning (BCP)," said Boyson. "We believe that students with exposure to this field will be attracted to the availability and quality of employment: companies are seeking to address the many risks they face operating globally and are recruiting the next generation of BCP leaders."
Other featured speakers included: Randy Jouben, director of risk management at Five Guys Enterprises; John Franchy, mission assurance continuity specialist for the Department of Defense; and Lorie Alioto, senior business continuity consultant at Wells Fargo. The event sponsor was Strategic BCP.
Are you a student looking to study business continuity planning at Smith? Find out how: www.rhsmith.umd.edu/lbpp.
- Alissa Arford, Office of Marketing Communications
Media Contact
Greg Muraski
Media Relations Manager
301-405-5283  
301-892-0973 Mobile
gmuraski@umd.edu 
About the University of Maryland's Robert H. Smith School of Business
The Robert H. Smith School of Business is an internationally recognized leader in management education and research. One of 12 colleges and schools at the University of Maryland, College Park, the Smith School offers undergraduate, full-time and flex MBA, executive MBA, online MBA, business master's, PhD and executive education programs, as well as outreach services to the corporate community. The school offers its degree, custom and certification programs in learning locations in North America and Asia.