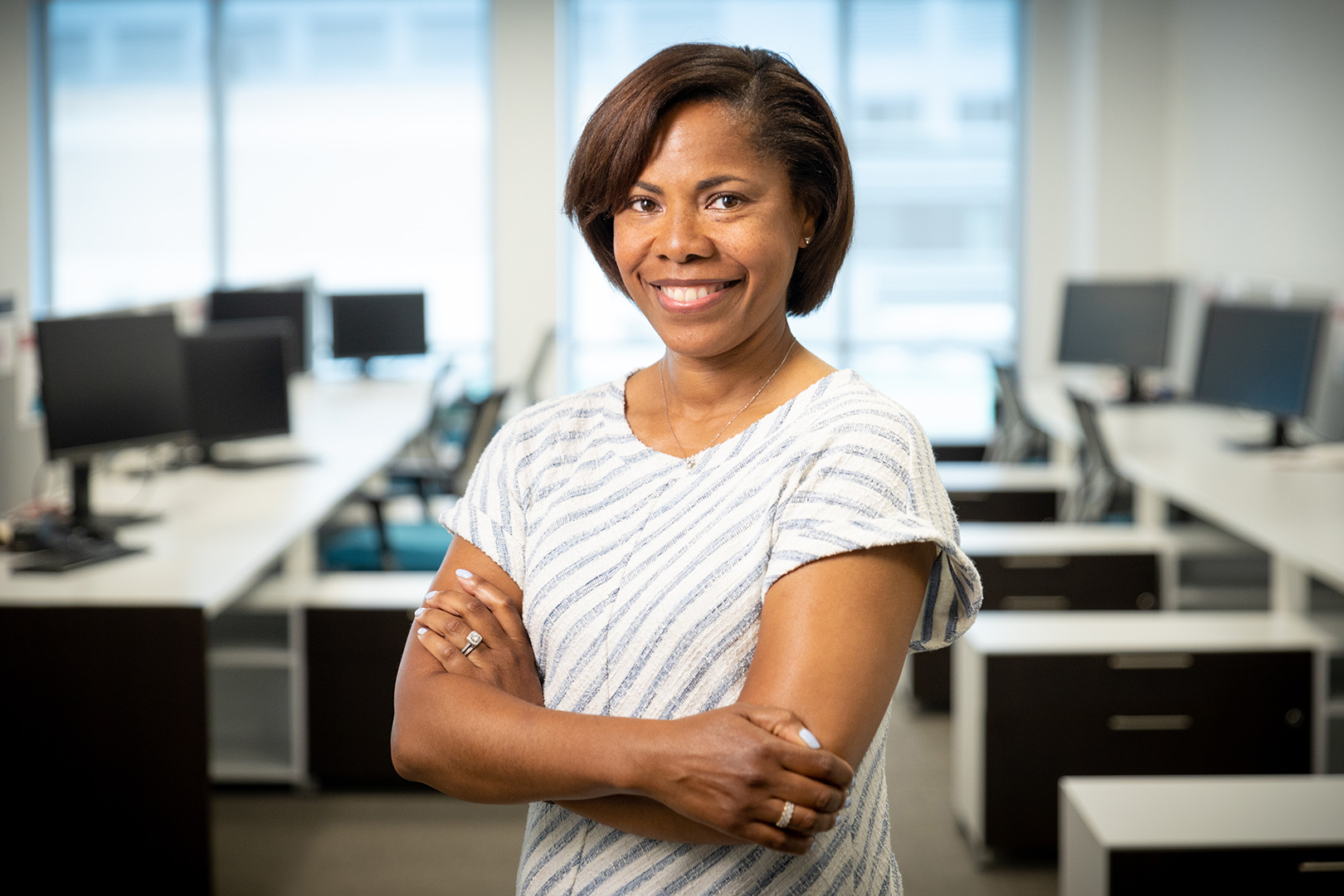 In 2018, when Kendall Holbrook walked into Dev Technology Group in Reston, Virginia, as the new CEO, she felt people treated her differently than they did the day before, when she was the vice president.
"I'm the same Kendall who worked here for eight years!" she recalls thinking. "I didn't think anyone should treat me differently."
She had to become "really intentional of what I say and how I say it," making sure to leave space for others to voice ideas.
As an African American woman CEO and working mother – in information technology, an area heavily dominated by men - Holbrook understands the weight of her words. One thing she's learned is that "companies and clients are really all about people."
"We bring with us to work not only what we know – knowledge, skills – we bring our families and our friends," she says. "So we make sure that we are treating people like people."
It was a lesson she figured out early, shortly before she pursued the part-time evening MBA at Smith. A computer science major in college, Holbrook started as a developer at a different company and decided it wasn't for her. "I didn't like my one-on-one relationship with the computer," she says. "I wanted to be with people."
Dev has 213 employees; 86 are women. It has a group within the company called Women in Technology at Dev (WITD, pronounced "witty") of which Holbrook is a dedicated member. The idea is to create a comfortable learning environment for women at Dev.
Though Dev is 40% women, she notes that only 12% of women are pursuing IT degrees. And in order to find more women leaders, she points out, "we've got to get more women into the field."
Holbrook makes it a point to reach out to women and girls and stir interest in STEM-related fields. She consistently volunteers with afterschool programs and is an active participant with the AnitaB.org organization, which is dedicated to women technologists.
She recalls a young girl sharing that she was often left out of group projects in her computer science classes because the boys didn't want her to join their groups.
"I stood up and said, 'it's painful, but don't quit. Believe us when we say the difficulties you have will pay off in the end.'" And for Kendall Holbrook, it certainly has paid off.
Media Contact
Greg Muraski
Media Relations Manager
301-405-5283  
301-892-0973 Mobile
gmuraski@umd.edu 
About the University of Maryland's Robert H. Smith School of Business
The Robert H. Smith School of Business is an internationally recognized leader in management education and research. One of 12 colleges and schools at the University of Maryland, College Park, the Smith School offers undergraduate, full-time and flex MBA, executive MBA, online MBA, business master's, PhD and executive education programs, as well as outreach services to the corporate community. The school offers its degree, custom and certification programs in learning locations in North America and Asia.