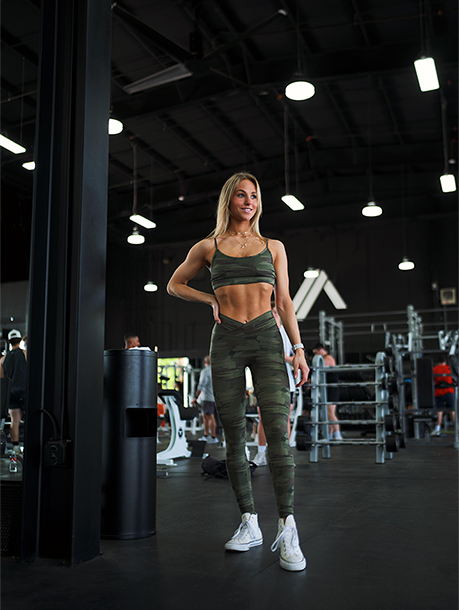 Ava Cyruli '22 needed an outlet to fill the void left by stepping away from her dancing career, so she turned to weightlifting. Now, she's sharing what she's learned along the way with thousands of people online.
Cyruli, founder and CEO of CYCYLIFTS LLC,–a one-on-one online fitness coaching service–says that she never set out to be a social media influencer, but rather it was something that was born out of her passion for helping others.
As a freshman marketing and dance double major at the University of Maryland's Robert H. Smith School of Business in 2018, Cyruli was excited at the opportunity to pursue an academic career that merged her personal and professional interests.
However, after sustaining multiple injuries during her first year at UMD that brought her dancing career to a close, Cyruli says the adjustment period that followed was difficult both physically and mentally, including her medically withdrawing during the 2019 spring semester to seek treatment for multiple eating disorders.
It was during her recovery process when Cyruli says her desire to get back in shape helped her discover a passion for fitness and nutrition. The start of a new journey, she says, was empowering and provided a similar sense of purpose to her dancing career.
"I found a really beautiful relationship with health and wellness, which was really wonderful. And when I came back to school, it was such a big part of my life," says Cyruli. "I just wanted to feel good and it became something that I felt so strongly about that I wanted to share it with others."
When friends and peers began approaching her for insights and advice on their own fitness journeys, that's when Cyruli says she felt encouraged to launch her dedicated weightlifting and wellness page on Instagram–cycylifts–which has garnered over 41,000 followers to date.
Cyruli says she started off sharing different workout routines, nutrition advice and stories about her own recovery. But as her following grew and sponsors began reaching out, that's when she says she realized that she had her own branded business that could be complemented by what she was learning in the classroom.
"I was taking what I was learning in my classes, like digital marketing, and applying it to my own hands-on, real-world experience," says Cyruli. "It was really nice because things move quickly on social media and yet here I was living in it."
Following her success on Instagram, Cyruli expanded her online presence to TikTok and YouTube, which enabled her to branch out and create other forms of content like vlogs and clips.
Seeing growth and engagement on those platforms as well, Cyruli says she's expanding her business by hiring assistants to manage operational tasks as she dedicates more time to participate in bodybuilding competitions. She won her first competition in April 2022 and subsequently became a nationally qualified bodybuilder in the National Physique Committee – the largest amateur bodybuilding organization in the United States.
Ultimately, the opportunity to share her passions and journey with others, Cyruli says, is one that she'll never take for granted. And the best part of it all, she says, is that she's just being herself.
"I've been asked about how I have such a loyal following and I think it's because I'm always authentically myself," says Cyruli. "People feel like they truly know me because I'm no different whether I'm online or offline, it's something I pride myself on. Maybe it's because I'm just a very open person and I don't really know any other way to live. But I really attribute that to my success."
Media Contact
Greg Muraski
Media Relations Manager
301-405-5283  
301-892-0973 Mobile
gmuraski@umd.edu 
About the University of Maryland's Robert H. Smith School of Business
The Robert H. Smith School of Business is an internationally recognized leader in management education and research. One of 12 colleges and schools at the University of Maryland, College Park, the Smith School offers undergraduate, full-time and flex MBA, executive MBA, online MBA, business master's, PhD and executive education programs, as well as outreach services to the corporate community. The school offers its degree, custom and certification programs in learning locations in North America and Asia.