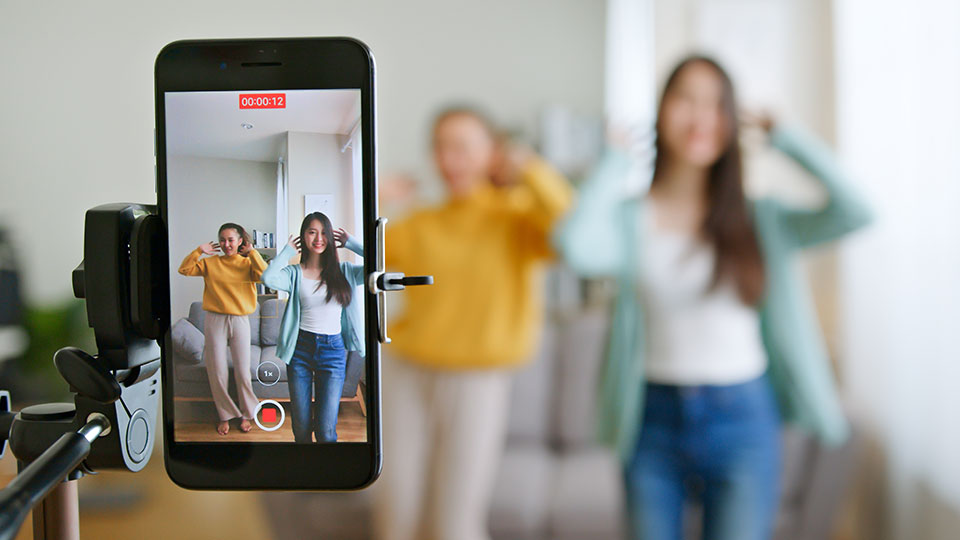 A new viral TikTok trend is music to the ears of women fighting against the gender gap in the music industry.
Research from the University of Maryland's Robert H. Smith School of Business identifies how the TikTok dance challenge phenomenon is helping female artists get more traction for their musical work.
Maryland Smith PhD candidate Yifei Wang, along with associate professor Jui Ramaprasad and co-author Anandasivam Gopal of Nanyang Technological University, presented the paper, "Dancing to the #challenge: The Effect of TikTok on Closing the Artist Gender Gap in the Music Industry" at the International Conference on Information Systems (ICIS) 2022, where it earned Best Paper in Track distinction and a nomination for the Best Overall Conference Paper Award.
"You know of Taylor Swift, Beyonce and other famous female artists and vocalists who have put out so many successful records, but that's not the whole story when it comes to the music industry," says Wang. "It very much remains a boy's club."
A Spotify-funded study concluded that women represented less than one-third of all performers and only 12.5% of songwriters across the 800 most popular songs from 2012 to 2019. There's a similar tune for Grammy award nominees between 2013 and 2020, with women accounting for only 11.7% of all nominations or a ratio of 7.5 men for every woman nominee.
Factors such as systematic discrimination, discounting of the abilities of women artists, unwanted stereotyping or sexualization and negative studio cultures have contributed to the existence of gender disparity in the music industry.
One of the largest points of disparity, however, pertains to female artists promoting their music or projects.
"This is recognized as the self-promotion penalty," Wang says. "Women are viewed as more assertive and competitive compared to their male counterparts."
Traditionally, women have turned to their label companies for promotion or social media platforms like YouTube or Instagram. These are relatively unsuccessful because more emphasis is placed on appearance rather than the music itself. 
Now, TikTok, with its short-form media format, is striking the right chord. Viral videos, like Doja Cat's 'Say So' hashtag dance challenge (HDC), make it so women can lean on other users to indirectly boost awareness of their music.  
"The combination of user-generated dance and music that characterize HDCs may serve as a music promotion modality by artists, especially women artists to have a fair shot at increasing the visibility of their work," says Wang. "It's extremely cost-effective and provides women with a safer environment to promote their music work."
Wang and the researchers gathered artist follower data from Spotify to examine the popularity proxy and accessed a musician database to identify an artist's gender and music genre. They also collaborated with a TikTok-authorized analytics company to identify if a song was associated with the challenge and whether it was initiated by a user or the artist.
The data suggests that artists with a dance challenge-related song achieve a significant daily increase in followership on Spotify compared to similar artists who do not have one.
"Women artists benefit significantly from HDCs – men benefit as well, but at a lower rate than women. The daily growth of Spotify followers increases by approximately 3% more for female artists than male artists, given an HDC-associated song," says Ramaprasad.
Just as it's now a valuable asset for female artists, Wang says it's also a win for social media platform management teams as the viral content helps increase user engagement while harboring a more inclusive environment.
She says the paper is hopefully a starting point for more research exploring the role of actionable technologically-driven remedies in mitigating gender disparity not just in the music industry, but everywhere.
"People seem to be very interested in looking at this intersection of diversity, technology and techno-platform promotion mechanisms," says Wang. "That's inspiring my future work in finding potential remedies to help close the gender and self-promotion gaps."
Read More: "Dancing to the #challenge: The Effect of TikTok on Closing the Artist Gender Gap in the Music Industry", presented at the International Conference on Information Systems (ICIS) 2022.
Media Contact
Greg Muraski
Media Relations Manager
301-405-5283  
301-892-0973 Mobile
gmuraski@umd.edu 
Get Smith Brain Trust Delivered To Your Inbox Every Week
Business moves fast in the 21st century. Stay one step ahead with bite-sized business insights from the Smith School's world-class faculty.