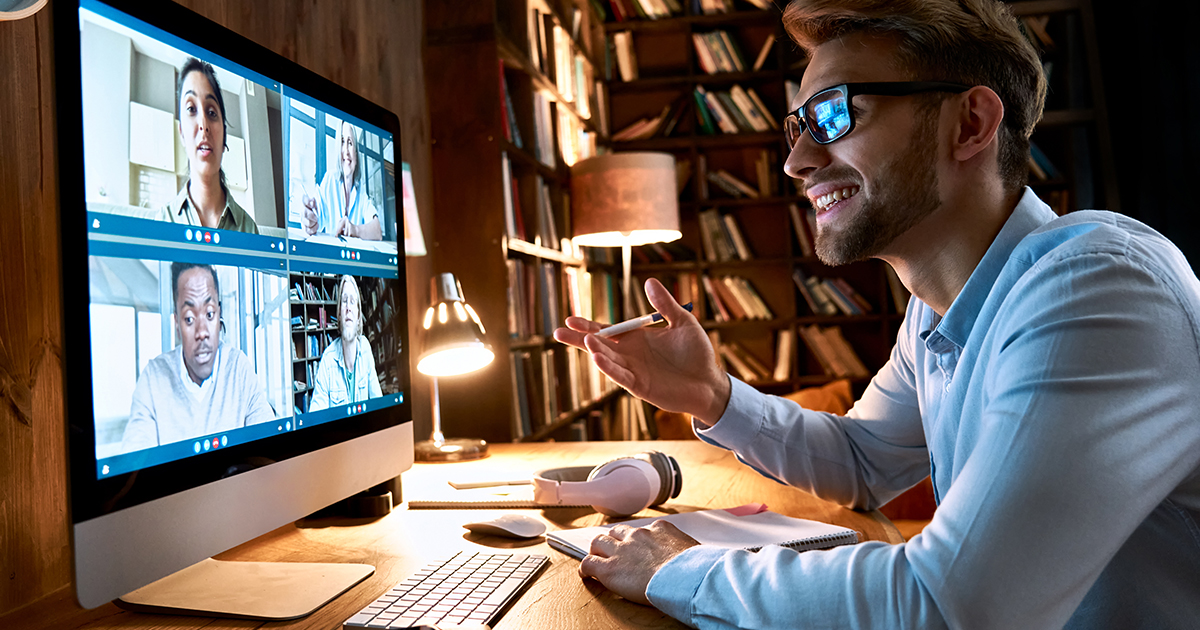 For more than a year, many of us have been working remotely as part of a dispersed team. But how efficient are those teams? New research from Maryland Smith's David M. Waguespack finds that dispersed teams succeed faster than teams working together in the same space. But dispersed teams are slower to abandon failing projects.
Waguespack, a management and organization professor, worked with Marie Louise Mors of Copenhagen Business School on the research, forthcoming in the journal Research Policy and featured in Harvard Business Review.
There is plenty of evidence for the benefits of dispersed teamwork, where individuals from diverse backgrounds, attitudes and capabilities come together across organizational or geographic boundaries to complete projects, the researchers say. The upsides of having this kind of diversity come with improved creativity and innovation. But prior research has also recognized potential for communication problems, cultural misunderstandings and disagreements when coordinating meetings.
Waguespack and Mors examined 5,250 work teams in an online community, where team members were dispersed around the globe and worked for a variety of organizations, including large ones such as Microsoft and Cisco. The teams had voluntarily come together to work on establishing internet standards.
Waguespack and Mors were surprised by what they found: dispersed teams were more efficient than non-dispersed teams, but only when the outcome of the project was successful. Co-located teams were quicker to abandon failing projects, but were less efficient in working on projects that did succeed.
"It's great when it's going great, but when it's not going great – which in this setting, is most of the time: 80% of projects fail – then it's going to be harder to quit," Waguespack says.
In the research sample, dispersed teams went through fewer iterations and were quicker at reaching success than teams that were working together in the same locations. Waguespack and Mors say that's likely because team members are more efficient with their time when it's more difficult to coordinate with people at different organizations or in other cities or countries.
Teams working together in the same physical space don't need to make a lot of extra effort to coordinate, so they have fewer incentives to get the project done quickly, say the researchers. But they also might be more likely to take on riskier projects.
Among the failed projects in the research sample, co-located teams abandoned theirs faster than dispersed teams, which toiled longer on projects that weren't working. Waguespack and Mors speculate that dispersed teams invest a lot of effort in projects upfront and want to see them through, or just believe they can overcome any hurdles. They also might have more difficulty communicating around a failure and deciding together when to quit than a team hashing it out in the same room. And that's not good for the organization.
"The worst outcome is to fail slowly," Waguespack says. "It's a huge opportunity cost."
Failing fast is a main tenet of "lean startup" entrepreneurship, he says, and critical for organizations that want to innovate without wasting too much time and money on projects that won't succeed.
"The real costs of dispersed teams lie with the failing projects that the teams are reluctant to abandon," write Mors and Waguespack.
So how can companies reduce the prolonged failures of remote teams?
"Be aware of the problem," Waguespack says. "If you're aware of this, and it's driven by some sunk-cost fallacies, then maybe it's helpful for the managers to step in and say, 'Good idea, but it's not going anywhere. Time to pull the plug and reallocate these resources.'"
Going forward, as many workplaces adjust to a hybrid work environment, managers need to help dispersed teams get better at failing fast, the researchers say. This will involve better screening and planning of projects, more frequent synchronous working, and more monitoring and intervention.
Waguespack and Mors say the pandemic's far-reaching experiment in dispersed work offers a chance for managers to assess what worked and what didn't for their teams. Will all this remote work make dispersed teams better at working – and failing – together?
"In some things, no," says Waguespack. "Time zones are still going to be time zones, language and cultural barriers will still be barriers. Maybe there will be some efficiencies in terms of now everyone has a better understanding of what it means to work remotely."
But regardless of where team members are working, managers need to ensure that the weaknesses of both dispersed and co-located teams are understood and properly addressed, he says.
"Knowing that failing fast is a problem and trying to balance it as an organization can determine how you should allocate your projects and expect them to progress."
Read the research, " Fast success and slow failure: The process speed of dispersed research teams ," in Research Policy.
Read " Dispersed Teams Succeed Fast, Fail Slow," in Harvard Business Review.
Media Contact
Greg Muraski
Media Relations Manager
301-405-5283  
301-892-0973 Mobile
gmuraski@umd.edu 
Get Smith Brain Trust Delivered To Your Inbox Every Week
Business moves fast in the 21st century. Stay one step ahead with bite-sized business insights from the Smith School's world-class faculty.