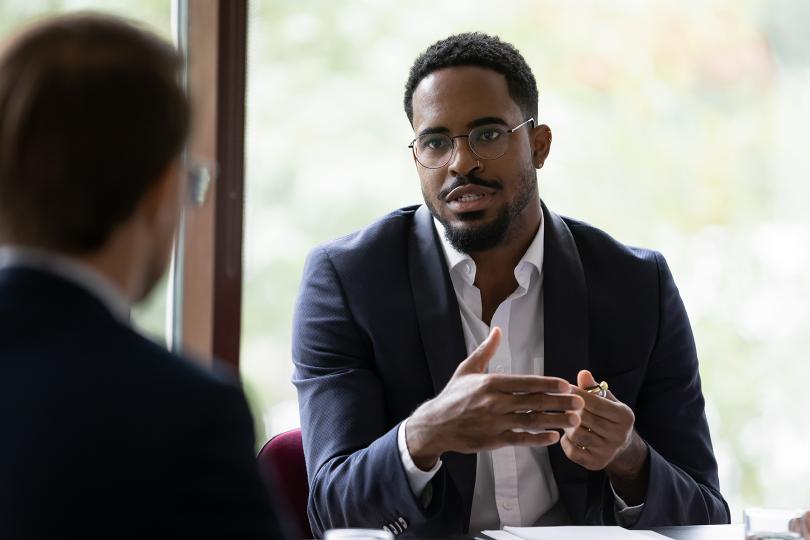 When asked if she would issue the same call to action to corporations she gave them in 2020, Professor Rachelle Sampson said "I would."
In September 2020, The Hill published an op-ed written by the University of Maryland Robert H. Smith School of Business associate professor of logistics, business and public policy and then-Smith PhD candidate Nathan Barrymore entitled, "If Black lives matter, transform your leadership team."  It came after George Floyd, Breonna Taylor and Ahmaud Arbery were murdered. Sampson and Barrymore described it as a time of "ongoing collective grief and outrage."
The co-authors also wrote: "Corporate leaders: do more than post a Black Lives Matter banner on company social media feeds and homepages. Reckon with the makeup of your boards of directors, top management and managerial teams. Look closely at their faces and backgrounds. If your leadership does not represent the nation's broader demographics, ask: Why might you be barring perspectives that make for increased creativity and innovation, more provocative discussions, greater resilience? Is there misalignment with our society's emerging sense of outrage at centuries of racial injustice?"
Nearly three years later, Sampson indicates she wouldn't change what she wrote back then but adds, "I would acknowledge the steps that everyone is taking towards DEI (Diversity, Equity and Inclusion) initiatives, some with a greater degree of sincerity than others. But, we know we're not there yet."
There was a feeling then and it still exists now that DEI initiatives are often just firms' way of paying lip service to diversity, while not actually making any changes. To that Sampson says "of course, in the same way, that in the environmental space, there are firms that greenwash – portraying to the outside world all the good deeds they're doing around the environment –meanwhile, they're dumping their toxic waste in the local river." When it comes to DEI "we know some firms similarly talk about DEI initiatives without making substantive changes. Some firms do this unintentionally and some do it intentionally."
The Washington Post reports as of October of last year, the Fortune 500 recorded six Black CEOs, barely more than 1 percent. That hasn't changed much from what the situation was in 2020. In the same article, a senior partner at Korn Ferry said while black employees in corporate America often "outperform and overperform" their white colleagues, they suffer from a lack of sponsorship from senior leaders that is critical in climbing the corporate ladder. Sampson feels, "it has to be a combination of more people who identify as BIPOC (Black, Indigenous, People of Color) in positions of power, so that naturally occurring kinds of mentoring activities happen more. People tend to mentor those with whom they identify and part of our identity is cultural and racial." She adds that senior leaders "who don't identify as BIPOC" have to be "willing to do the work of examining how they make decisions about whom to mentor and whom to promote" while recognizing they need to evaluate workers based on performance rather than subjective markers that often include bias.
In the end, in this look back at her op-ed Sampson concludes, "we all benefit from diversity of background and being exposed to it. It just makes for a richer life experience period. And it leads to more creative decision making, and better and more reasoned outcomes."
Media Contact
Greg Muraski
Media Relations Manager
301-405-5283  
301-892-0973 Mobile
gmuraski@umd.edu 
Get Smith Brain Trust Delivered To Your Inbox Every Week
Business moves fast in the 21st century. Stay one step ahead with bite-sized business insights from the Smith School's world-class faculty.