Artificial Intelligence for Business Leaders
A Professional Certificate Program
PROGRAM DETAILS
Start Dates: Enroll Immediately
Duration: 30 hours of content
Format: 100% Online
Tuition: $999
Program Description
The advent of Artificial Intelligence (AI) and Machine Learning (ML) has greatly altered the way we view and conduct business. AI provides business leaders with powerful new tools to understand and prioritize operations and leverage data in decision-making. The promise of AI/ML is in fully realizing the rapid pace of technological change and the constantly evolving set of interpretation methods available to business leaders.
The Maryland Smith AI for Business Leaders program is designed for business leaders who seek to leverage AI/ML to improve their businesses. The goal is to help you build a deeper appreciation for the possibilities of AI while recognizing its limitations and potential pitfalls. We will walk you through a series of domain-driven applications of AI. We will leverage the expertise and research prowess of Maryland Smith's faculty to examine the role AI plays in the domains of Supply Chain, Healthcare, Finance, Marketing, and People Analytics. While the domains are specific, the applicability of the concepts is broad to cover all business areas.
Why take this course?
This program is well suited for professionals who are analytically minded and are responsible for internal and/or external projects that focus on transformation, analytics, and outcomes. Specific role titles/functions include non-technical unit and division directors, business analysts, business planners, marketing analysts, procurement specialists, computer scientists, and programmers.
No coding experience is required or necessary.
By the end of this course, you will be able to...
Determine the value that advanced analytics can provide in corporate initiatives
Identify data requirements to conduct these initiatives
Explore current trends in the space of analytics
Discover methods and technologies used in the analytics domain
Evaluate do's and don'ts of analytics projects
In this module, you learn to identify the applicability and limitations of AI/ML. We will begin to develop your analytical mindset and get comfortable with the language of AI.  
This module will equip you to:
Establish reasons why business leaders need to learn AI. 
Define and utilize common AI/ML terms.
Explore AI concepts and discuss the evolution of AI/ML, including a summary of advances in algorithms, computing power, and data.
Discuss ongoing issues around potential societal impacts of AI. 
Determine the applicability of AI in tackling analytical problems and determine areas where business leaders should remain focused.
Prioritize organizational considerations when operationalizing an AI project.
In this module, you explore how AI/ML informs major decision-making efforts in operations and capacity building, such as supply chain demand shaping, promotional and inventory strategies, and building contingencies.
This module will equip you to:
Explain the applicability of Machine Learning (ML) methods to forecasting problems in the context of supply change management.
Examine the critical role data plays in the success of ML projects.
Discuss the potentials as well as the limitations of ML-based forecasting.
In this module, we will delve into customer segmentation and targeting strategies. We will explore industry-proven techniques for targeted marketing and discuss the critical components for developing effective targeted marketing capabilities: data management, analytical methods, and performance evaluation.
This module will equip you to:
Utilize internal sales data, loyalty data, and social media data to improve marketing effectiveness through customer segmentation, personalization, and targeted marketing.
Explore the challenges involved in handling data necessary for customer segmentation and targeted marketing.
Identify well-established and frontier methods of statistical machine learning for segmentation and targeted marketing.
Discover how ROI is measured when segmenting and targeting customers.
In this module, you will explore recent improvements in medical imaging and diagnostics that use deep learning to provide medical practitioners with new insights into patient care.
This module will equip you to:
Describe the fundamental concepts of deep learning.
Explore how deep learning models are built in Tensorflow and Keras.
Observe how deep learning is applied to image data in healthcare for diagnosis.
Design strategies to enhance trust of AI model adoption in your organization.
In this module, you discover the underlying factors that predict risk and the costs associated with it. Especially the risks associated with the interpretation of data.
This module will equip you to:
Explain the applicability of Machine Learning (ML) methods to forecasting problems in Finance and Risk Management.
Examine the importance of data in ML systems as the key differentiating factor for your business.
Introduce Regression and Classification Trees and Random Forests as flexible and powerful ML methods.
Discuss the potentials and issues with ML forecasting in Finance.
In this module, you will explore how human resources leverage new people analytics tools and techniques. Still, our focus will be on machine learning bias and algorithm fairness, which are central to any AI project whose outcomes impact people.
This module will equip you to:
Describe how bias arises in AI projects and when it matters.
Infer and cite how to monitor AI outcomes with respect to bias.
Explain the many HR processes that AI and analytics can support.
Format & Structure
The course is completely self-paced. It will take you approximately 30 hours to complete all six modules. Activities include video lessons, readings, and self-reflection activities. Upon completing this course, you will receive a certificate of completion: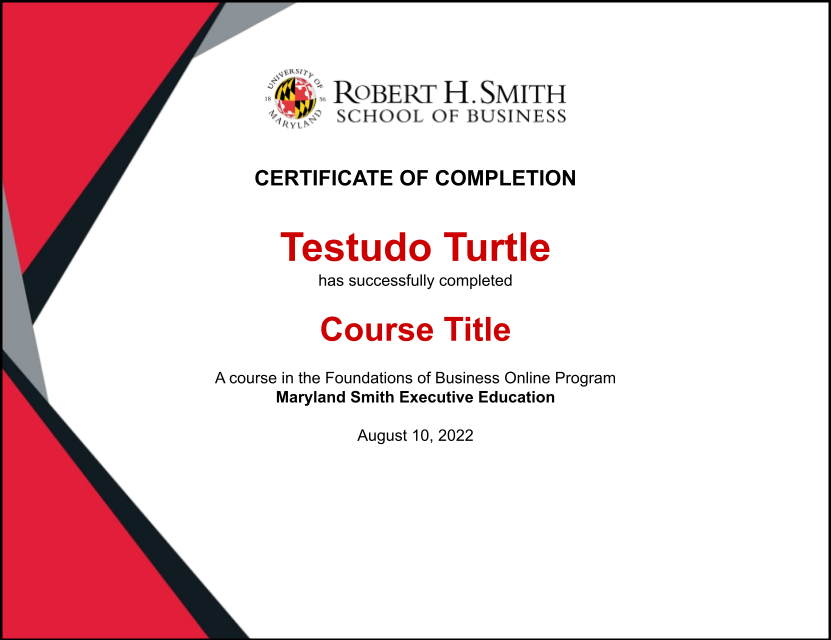 This is an asynchronous, self-paced course. That means that you can work at your own speed. There are review questions after most videos and reading. These questions are ungraded and designed for you to check your understanding of the content before moving on.
Executive Education Cancellation and Refund Policy
Virtual or in-person workshops with synchronous (real-time) delivery of content:
Cancellation requests must be submitted in writing at least seven days before the program start date to receive a full refund. No refunds are provided within seven days of the program start date, but participants may defer their enrollment to another session of the same program offered later.
Online courses with asynchronous (self-paced) delivery of content:
Online course purchases may be refunded within 14 days of purchase if the learner has not accessed the course.