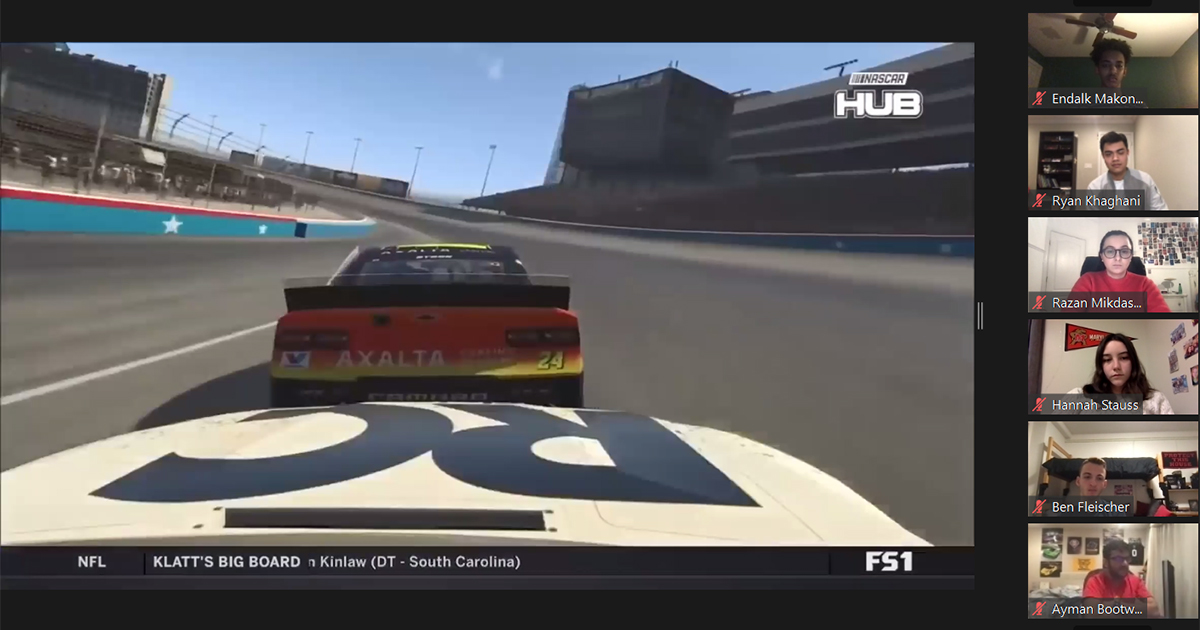 When Maryland Smith's College Park Scholars work with corporations, exciting things can happen.
This spring semester – and for the third consecutive year – 12 Smith freshmen and 17 sophomores from the Business, Society and the Economy living-learning program assisted Fox Sports University in marketing its NASCAR and iRacing properties.
From February to June, student teams were tasked with creating an actionable strategy that Fox Sports and iRacing can utilize in order to drive viewership for NASCAR iRacing on FS1 and the Fox Sports App.
At the conclusion of the project, students delivered their pitches to Fox Sports executives over Zoom and offered recommendations regarding taglines, commercial spots, social media content and off-air promotions.
"When you get our students going on a problem and they're able to see the real people behind it, they really rise to the occasion," says Jeff Miller, the project's faculty advisor and an adjunct faculty member at the University of Maryland's Robert H. Smith School of Business. "To watch them grab an idea and work it out over weeks is really awesome for me as an educator, especially when they're sharing those ideas with senior executives."
Watching undergraduate students pitch an idea to a corporate client, he says, is pretty cool too.
"They're getting exposed to a corporate environment where people don't pull their punches. Getting connected to that kind of feedback is a real eye-opener for students, and great for us because we understand how we can also improve across all of our fronts."
Sophomore Razan Mikdashi, who participated in the project as part of her 1-credit Scholars Capstone, says the experience is already paying dividends in her search for an internship.
The experience helped her refine skills in interacting with real-world clients and understanding the expectations and fast-paced timeline of a professional environment. Plus, the experience has become a point of conversation during every internship interview, she says.
"This whole experience – both the program and internship process – has only clarified my career goals and intensified my passion for working in the sports industry," says Mikdashi. "I hope to pursue this passion at further levels as I am seeking new unique opportunities where I can use the skills I refined to produce high-quality deliverables."
Media Contact
Greg Muraski
Media Relations Manager
301-405-5283  
301-892-0973 Mobile
gmuraski@umd.edu 
About the University of Maryland's Robert H. Smith School of Business
The Robert H. Smith School of Business is an internationally recognized leader in management education and research. One of 12 colleges and schools at the University of Maryland, College Park, the Smith School offers undergraduate, full-time and flex MBA, executive MBA, online MBA, business master's, PhD and executive education programs, as well as outreach services to the corporate community. The school offers its degree, custom and certification programs in learning locations in North America and Asia.