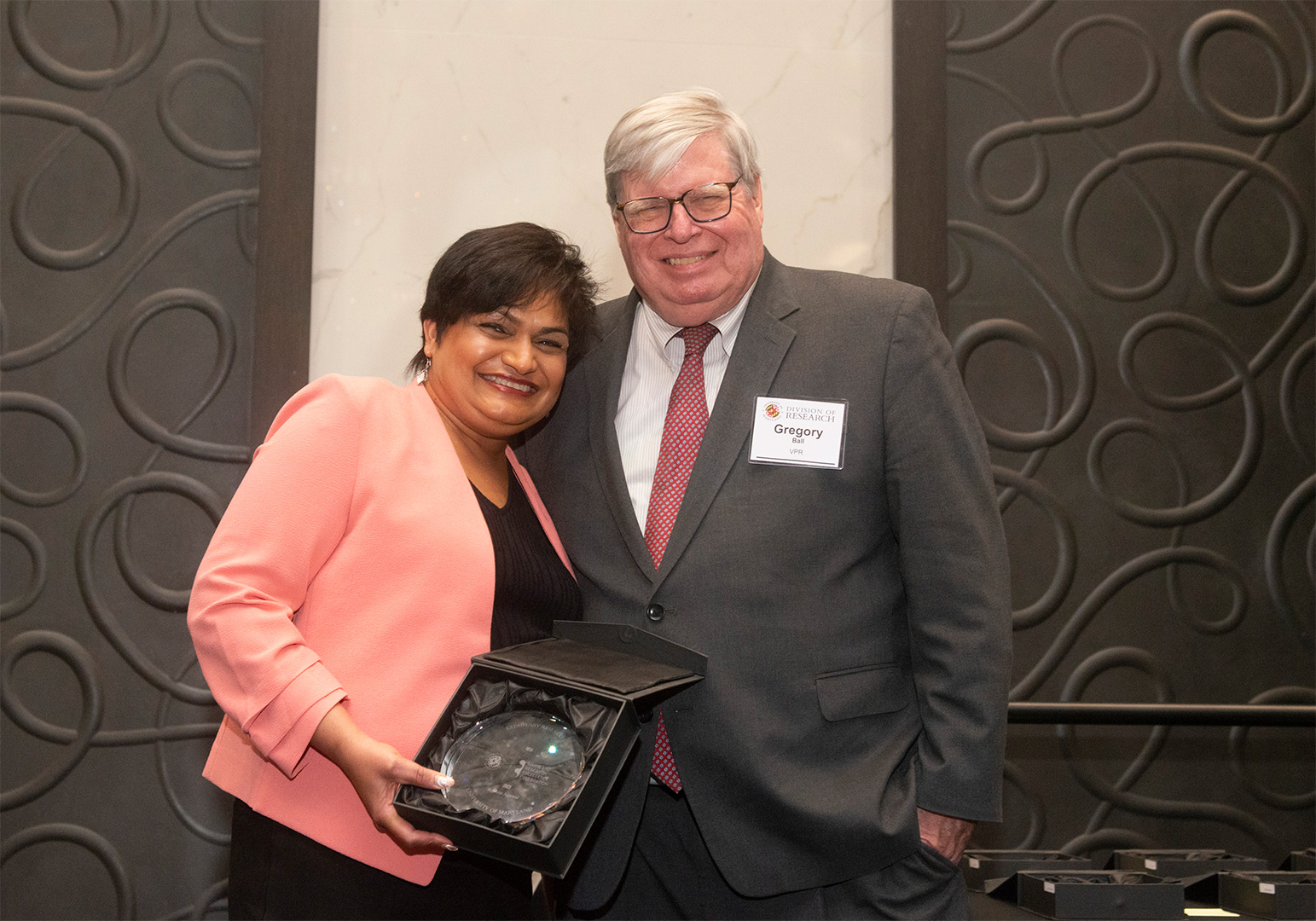 Rajshree Agarwal was recognized for her "insights into how innovation and entrepreneurship impact the evolution of industries, firms, and individuals," as part of the recent 2023 Maryland Research Excellence Celebration.
Agarwal, the Rudolph Lamone Chair of Strategy and Entrepreneurship and Director of the Ed Snider Center for Enterprise and Markets, was honored among other UMD faculty scholars and researchers at the March 28 event co-hosted by UMD Senior Vice President and Provost Jennifer King Rice and Vice President for Research Gregory F. Ball.
"Our scholarship and research contribute to society in so many ways, from fundamentally changing the way we look at the universe, to generating new insights and innovations that have a very practical impact on our lives," said Ball.
The event recognized Agarwal for more than 65 articles in leading economics and management journals and receiving more than $7 million in grants from prestigious foundations: 
Her research won a large number of research awards (e.g., Best published article award at Academy of Management Journal, Best paper award by the Academy of Management, and research excellence awards at University of Illinois as well as University of Maryland). In addition, Dr. Agarwal has held prestigious editorial positions, including her current role as the (co) editor-in-chief of Strategic Management Journal, a top journal in the field. Finally, Dr. Agarwal is the founding director of the Ed Snider Center for Enterprise and Markets, where she has led multiple efforts to translate scientific findings to the development of students – from high school students through graduate students.
Read more: Faculty Honored at 2023 Maryland Research Excellence Celebration.
Media Contact
Greg Muraski
Media Relations Manager
301-405-5283  
301-892-0973 Mobile
gmuraski@umd.edu 
About the University of Maryland's Robert H. Smith School of Business
The Robert H. Smith School of Business is an internationally recognized leader in management education and research. One of 12 colleges and schools at the University of Maryland, College Park, the Smith School offers undergraduate, full-time and flex MBA, executive MBA, online MBA, business master's, PhD and executive education programs, as well as outreach services to the corporate community. The school offers its degree, custom and certification programs in learning locations in North America and Asia.