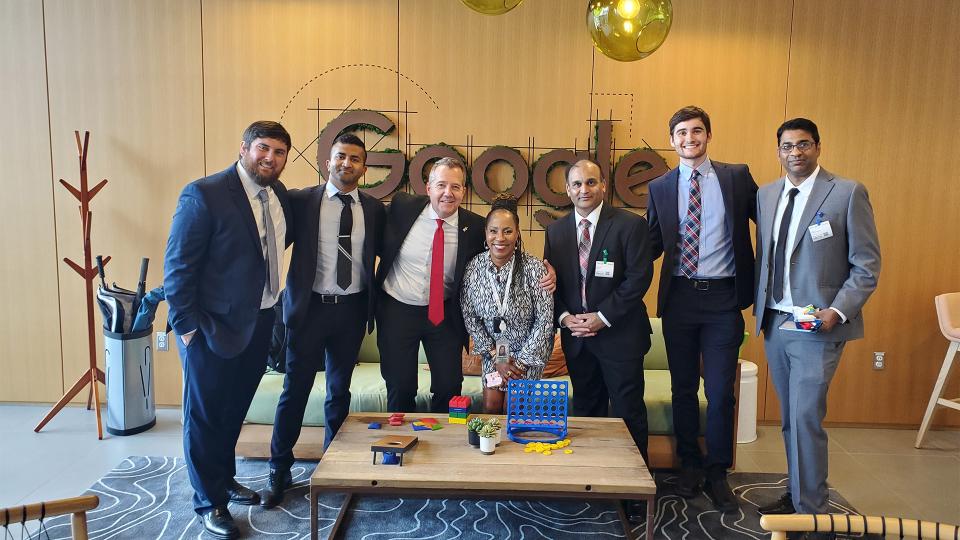 This past summer, students in Smith's Flex MBA program worked on consulting projects with top organizations, including Google, Major League Baseball, Allegiant Air, and the Maryland Department of Veteran Affairs. They traveled to New York, Las Vegas, and in and around Washington, D.C., to present findings to clients, who were "quite impressed," said Roy Thomason, who organized the projects as a lecturer in Smith's management and organization department.
"These projects were fun for the students, with great learning outcomes and networking opportunities," said Thomason. 

"The projects are completed as the MBA Consulting Practicum course, a key part of the Flex MBA curriculum and a culmination of everything students learn in the program," said Rosellina Ferraro, associate dean of MBA programs. "Experiential opportunities, such as these, separate the Smith School Flex MBA program from many of the other MBA programs serving working professionals." 
The course consists of semester-long consulting engagements with clients – in this case, taking place during several weeks over the summer of 2023. Additional projects were led by clinical professors Nicole Coomber and Neta Moye, who both also serve in assistant dean roles at Smith.
Subodh Apte '23 was part of a team that completed a project for Google on generative artificial intelligence, where the students applied what they had learned in several MBA courses. He said the experience enhanced his professional skills and knowledge, gave him industry insights and networking opportunities, and helped him clarify his personal career goals.
"This consulting class surpassed my expectations, allowing me not only to collaborate with a leading company but also to delve into cutting-edge technology," said Apte. "The Google executives were exceptional. Their supportive, active involvement ensured an enriching learning experience, allowing for a comprehensive understanding and application of the subject matter, ultimately contributing to the realization of my academic and professional objectives."
Giving Smith students more of these kinds of hands-on learning opportunities is all part of a push by Smith Dean Prabhudev Konana, who earlier this year launched the Office of Experiential Learning (OEL). The goal, says Konana, is "to increase career success odds for students and provide opportunities for our students to get the type of real-world, practical learning that will make them the most sought after by employers when they graduate."
OEL recently released its annual report, which details how students have worked with alumni and corporate partners and highlights ways to get involved with experiential learning. Included in that report are the projects Thomason's MBA students worked on.
Here's a roundup of the consulting projects the MBA student teams worked on: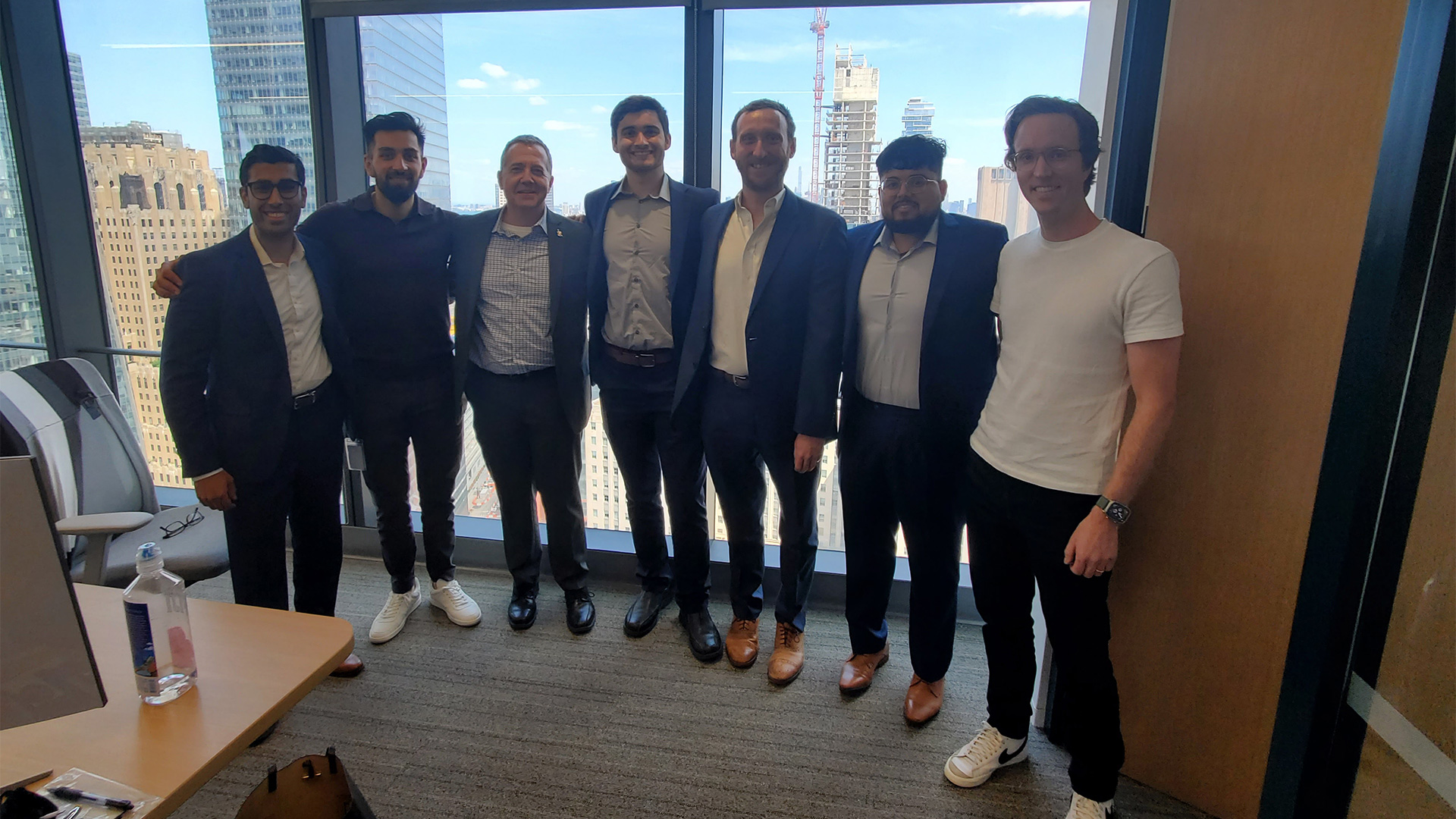 Adonis, a healthcare revenue management technology company, asked the Smith consulting team for data-driven strategies for how to tailor their product to meet the needs of larger hospitals. The team's research involved long-form interviews with healthcare executives and a paid survey. They presented their findings at Adonis' headquarters in New York City.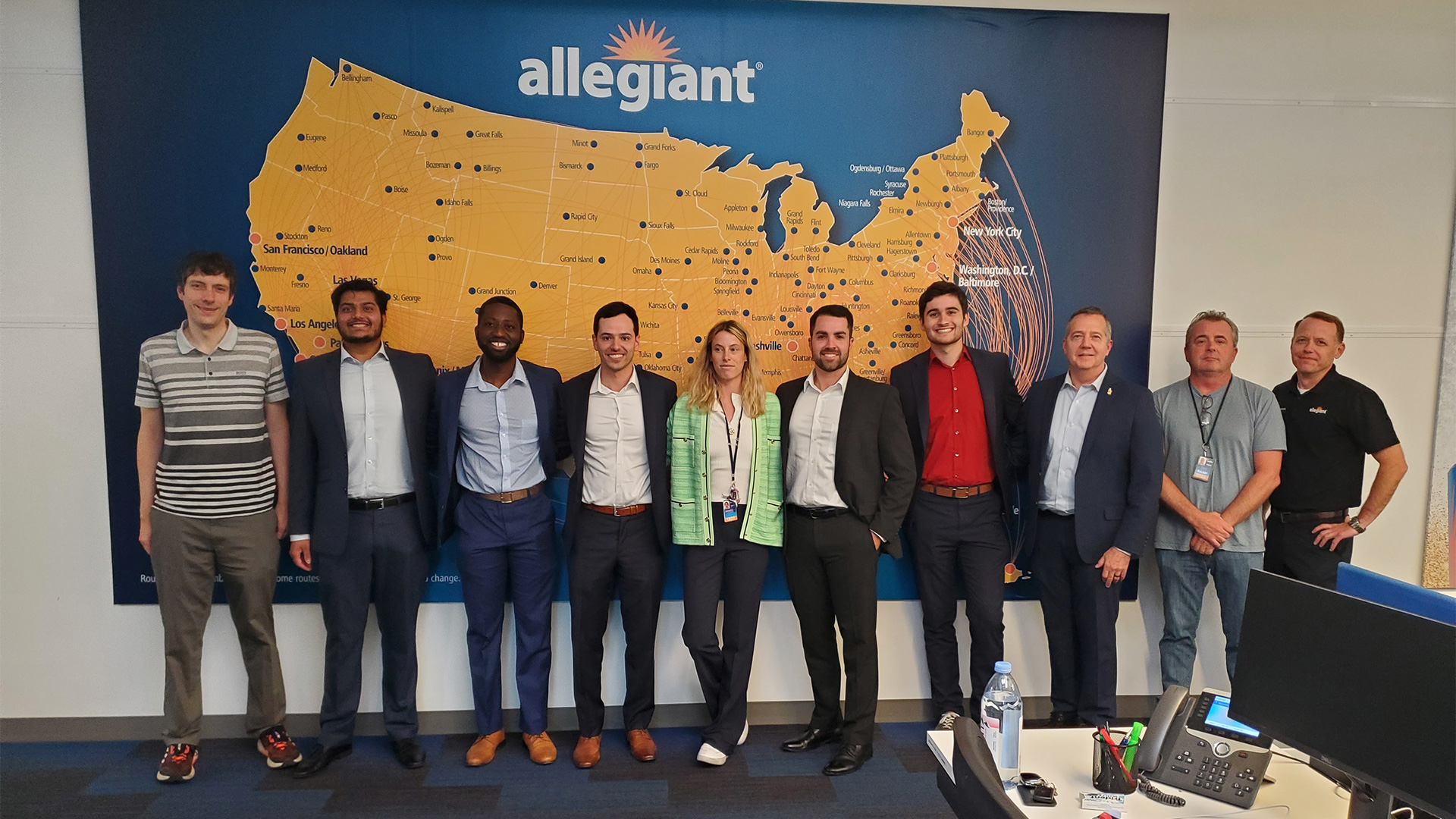 Allegiant Air tapped Smith students to help navigate their options for entering the air cargo market. The MBA consulting team provided a business case detailing the market entry options and data-driven recommendations, delivering their final presentation at Allegiant's Las Vegas corporate headquarters.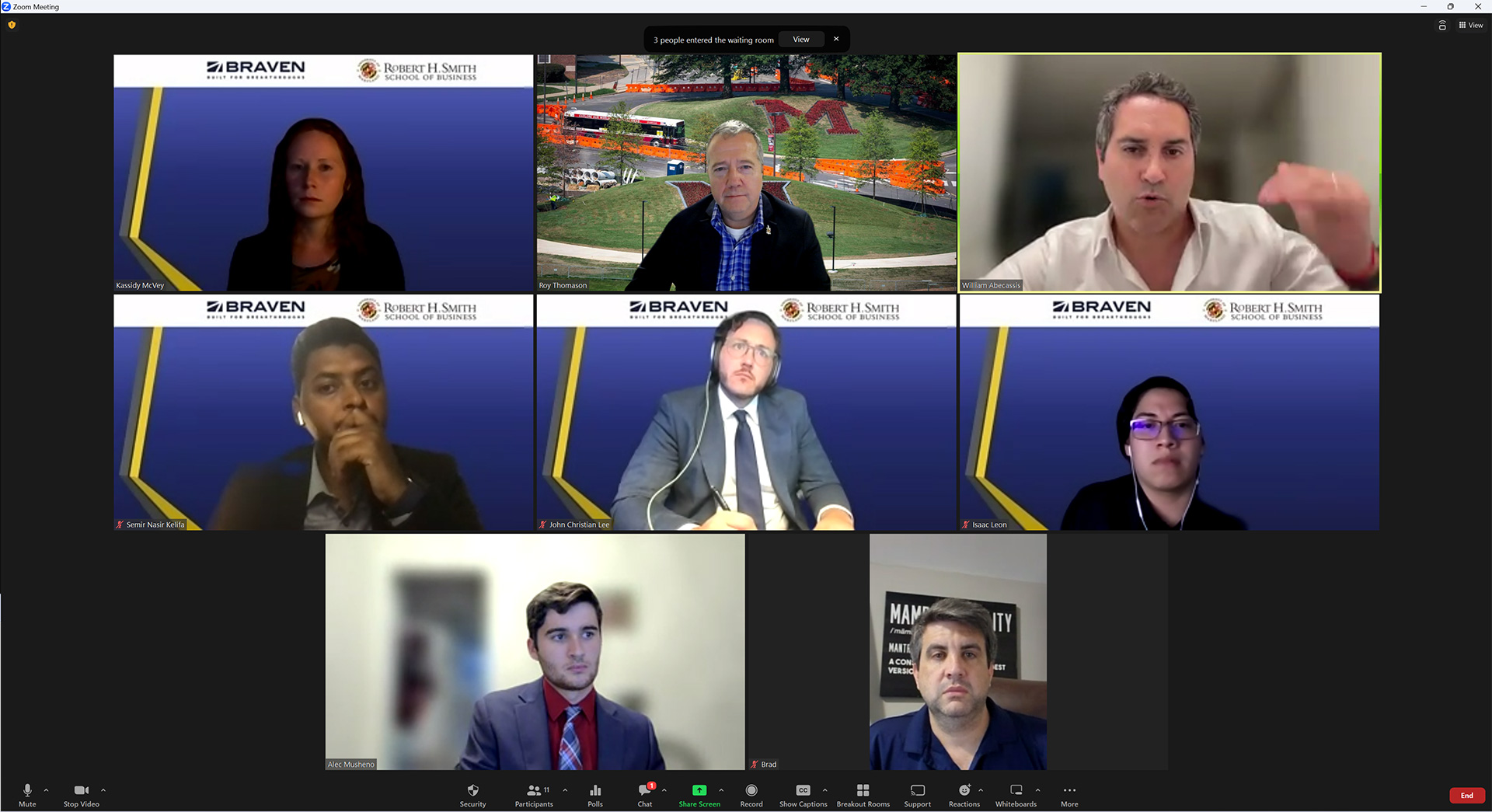 Braven Partners worked with Smith MBA students to assist the new early-stage investment firm built for breakthroughs within large, regulated sectors. The student teams researched why VC firms fail or shy away from early-stage investing within these large, regulated sectors.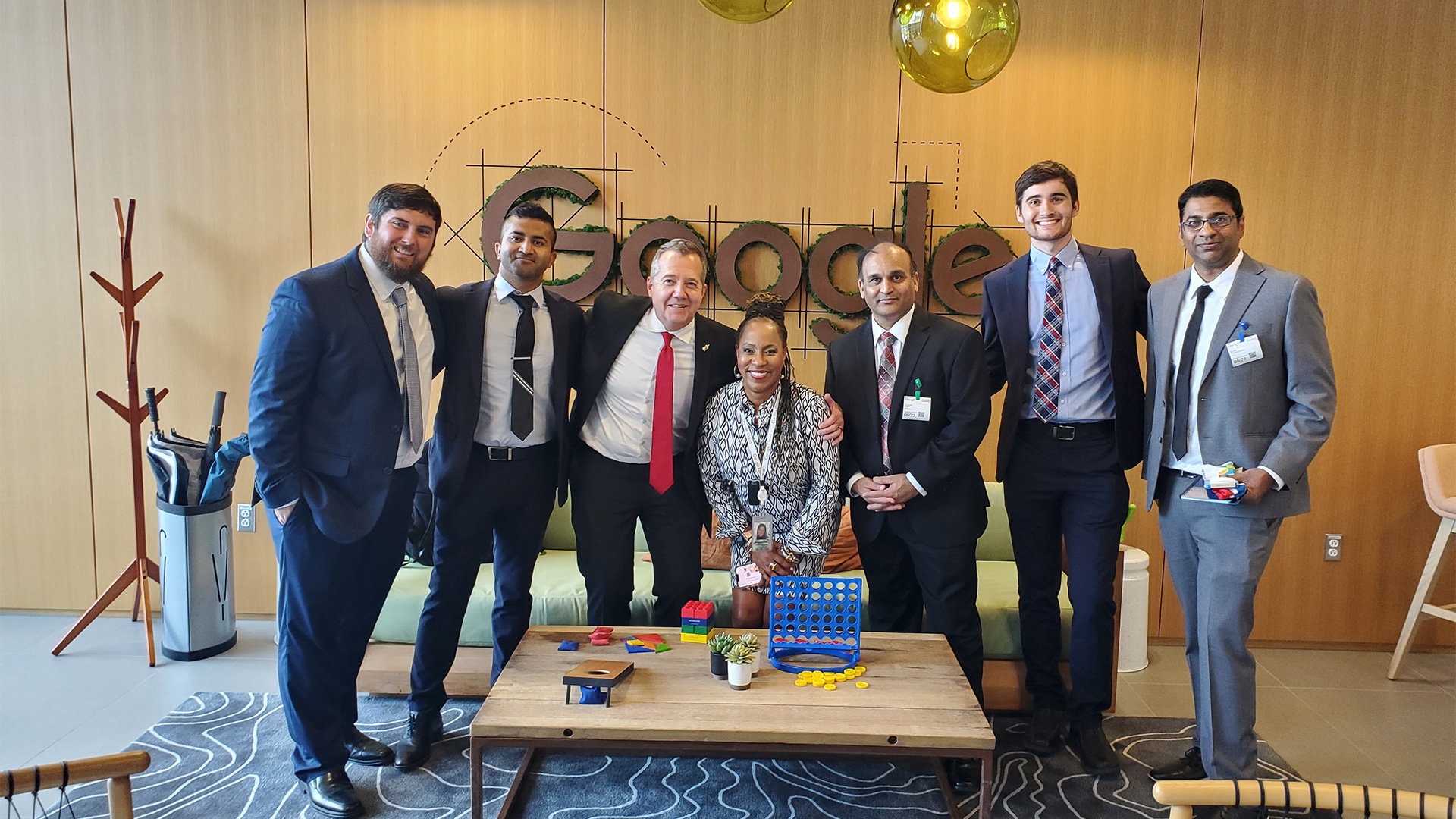 Google was looking for new ways to leverage its cutting-edge AI capabilities. The Smith consulting team provided a new product proposal for an AI education platform based on Google's AI infrastructure and delivered a working prototype in a final presentation at Google's Reston, Va., corporate office.
Maryland Department of Veterans Affairs (MDVA) was seeking advice on ownership and operations models for a new skilled nursing facility for Maryland veterans. The Smith consulting team evaluated three ownership models by benchmarked long-term care facilities across the United States to provide data-driven recommendations at a final presentation in Annapolis, Md. [Read more about this project Next Level Experiential Learning: Smith MBA Candidates Collaborate with the State of Maryland to Improve the Lives of Military Veterans]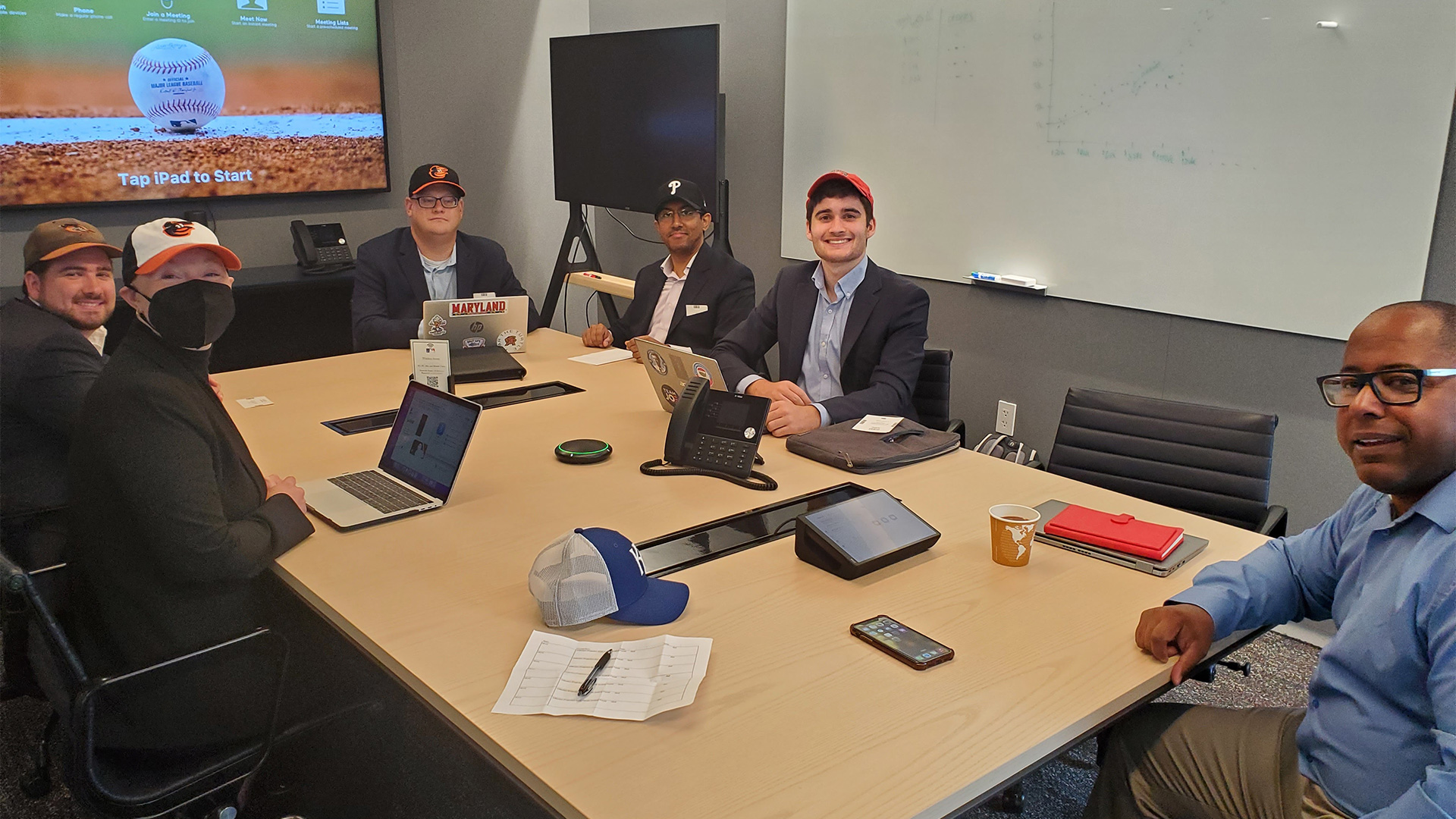 Major League Baseball asked Smith students to provide recommendations on reshaping the MLB broadcasting model to address the decline of regional sports networks and problems with local game blackouts.
Myma.ai, a New Zealand-based firm that provides a generative AI-based sales and customer service assistant to hotels, asked Smith students to provide a return-on-investment calculator for prospective and an accompanying paper detailing the benefits of myma's product.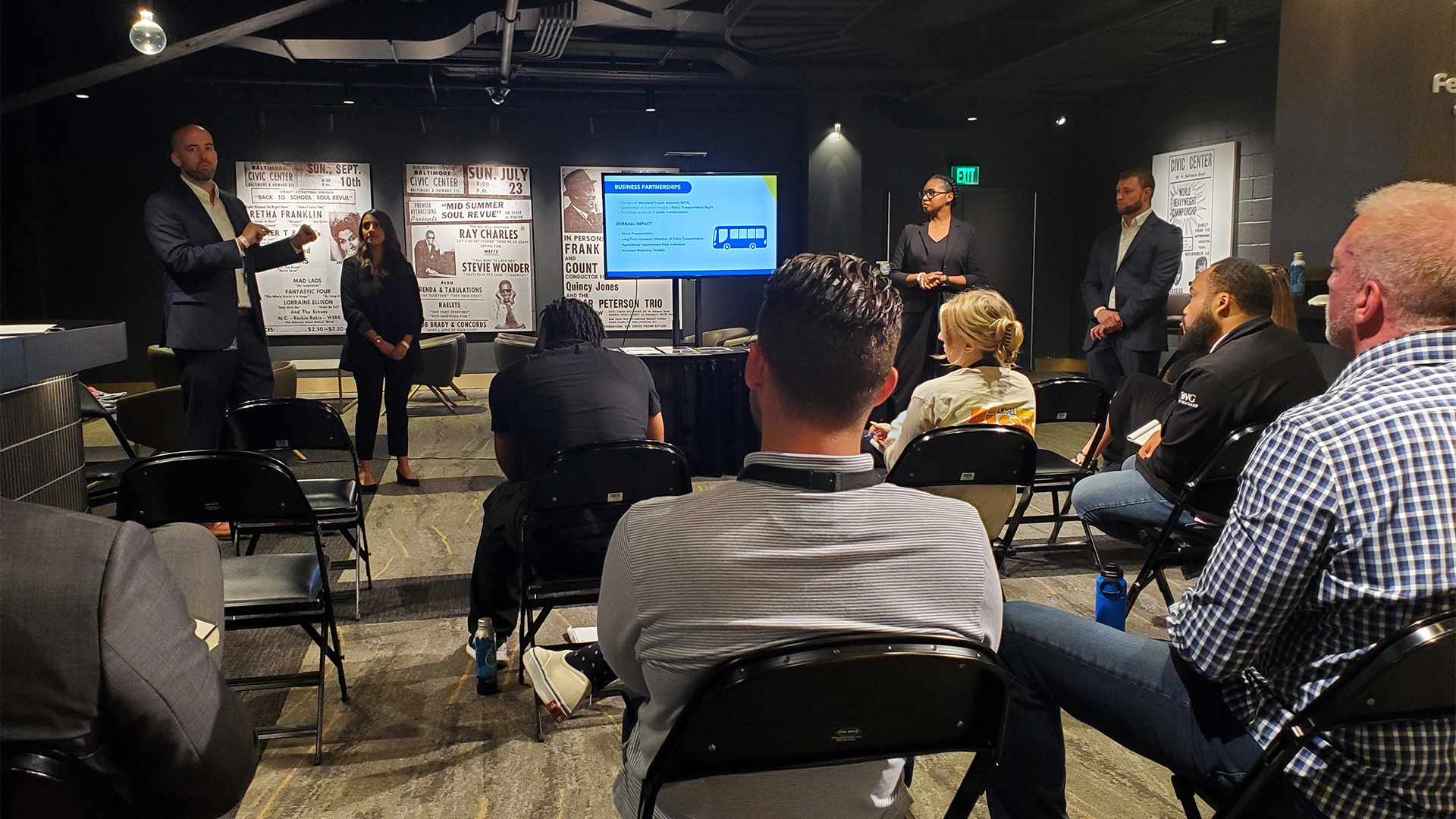 Oak View Group, a global sports and entertainment company that owns and operates CFG Bank Arena in Baltimore, asked the Smith student team for recommendations for enhancing the guest experience in the areas immediately surrounding the arena. The team's final presentation was delivered at the arena.
UM Ventures called on Smith students to help commercialize an impact-absorbent gel material invented at the university. The MBA consultants evaluated over a dozen product options and provided a detailed go-to-market strategy for four different product categories.
Media Contact
Greg Muraski
Media Relations Manager
301-405-5283  
301-892-0973 Mobile
gmuraski@umd.edu 
About the University of Maryland's Robert H. Smith School of Business
The Robert H. Smith School of Business is an internationally recognized leader in management education and research. One of 12 colleges and schools at the University of Maryland, College Park, the Smith School offers undergraduate, full-time and flex MBA, executive MBA, online MBA, business master's, PhD and executive education programs, as well as outreach services to the corporate community. The school offers its degree, custom and certification programs in learning locations in North America and Asia.