"It's moving to me that our project will in some small way impact the future of veteran care. Isn't that what we all want in life, to leave our corner of the world a little better than we found it?"
Those are the words of Jennie Smith, an eldercare executive and member of the Robert H. Smith School of Business MBA team that recently consulted with the Maryland Department of Veterans Affairs (MDVA). They offered recommendations on forthcoming decisions concerning the state's veteran retirement programs. For fellow Smith MBA team member Quintin Steele – a U.S. Army veteran who's now serving in the Maryland National Guard – both the project and learning were personal. He says, "while everybody generally supports veterans, relatively few people understand the unique challenges" they face.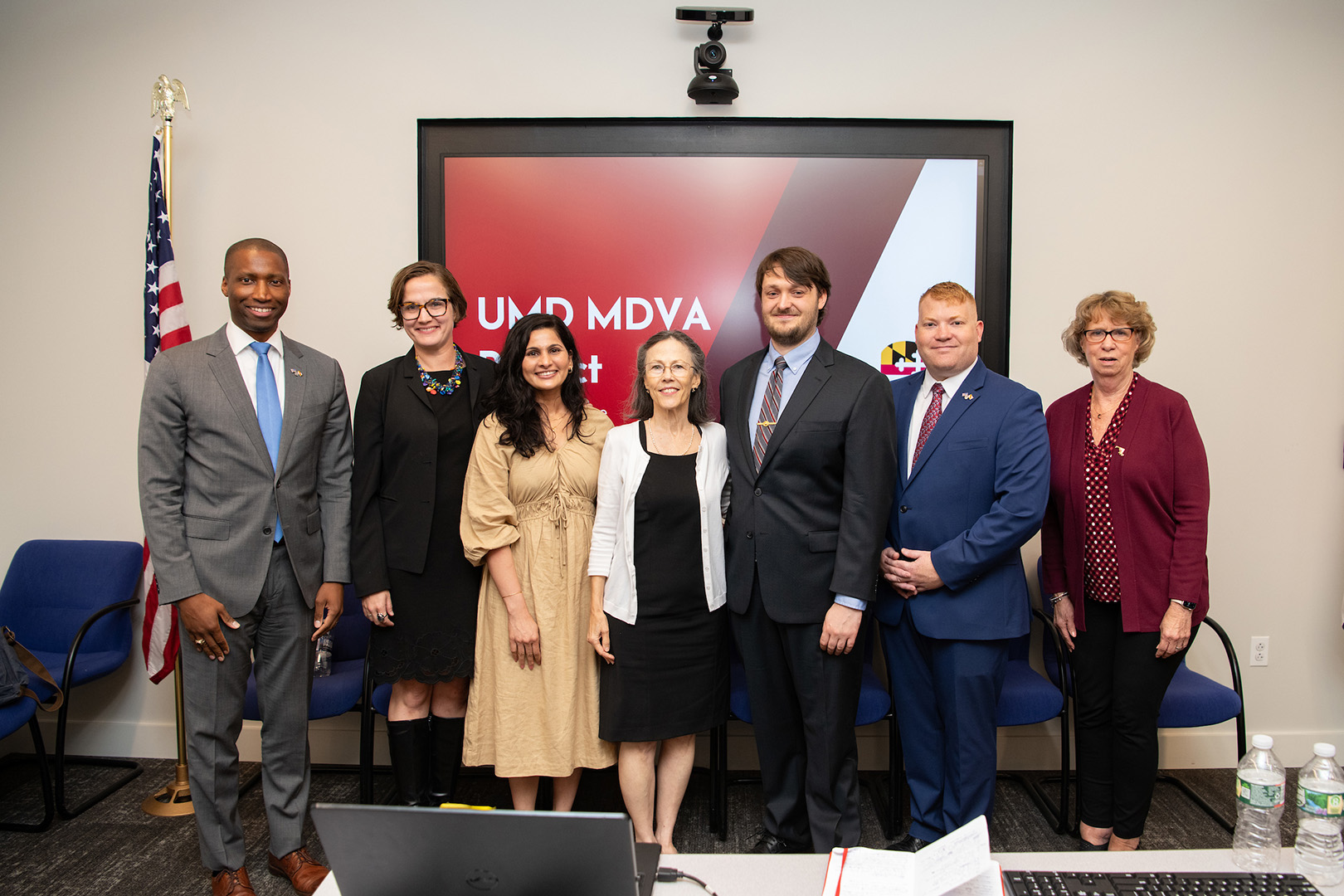 Steele, Smith and two other MBA candidates completed an experiential learning project that culminated in a presentation on August 23 at the Annapolis Historic Post Office. Smith MBA alumnus and MDVA Secretary Anthony Woods, Carmel Roques, secretary of the Maryland Department of Aging, and Carol Beatty, secretary of Maryland's Department of Disabilities, were in attendance along with staff members from each of those agencies.
The MBA team's research focused on identifying the most caring and sustainable business model for future Maryland veteran retirement facilities, including one currently under construction in Sykesville. Biotech quality analyst Beena Kalavadia was on the team, and said addressing the needs of the state's veterans should be tailored "to the needs of each patient and their caretakers while providing traditional nursing homes that are "community-based, smaller facilities with more emphasis towards home-based care."
Marine veteran software engineer Joey Morrison rounded out the group. What stood out for him was how little research and data on state VA homes is publicly accessible across the country. But he said once he found the right people to interview, "they were more than happy to discuss their programs." Smith ended the experience with a new perspective. "I learned that making business decisions is a mixture of analytical research, empathy for your stakeholders, instinct, calculated risk-taking, clarity of judgment, solid teamwork and the willingness to be okay with ambiguity."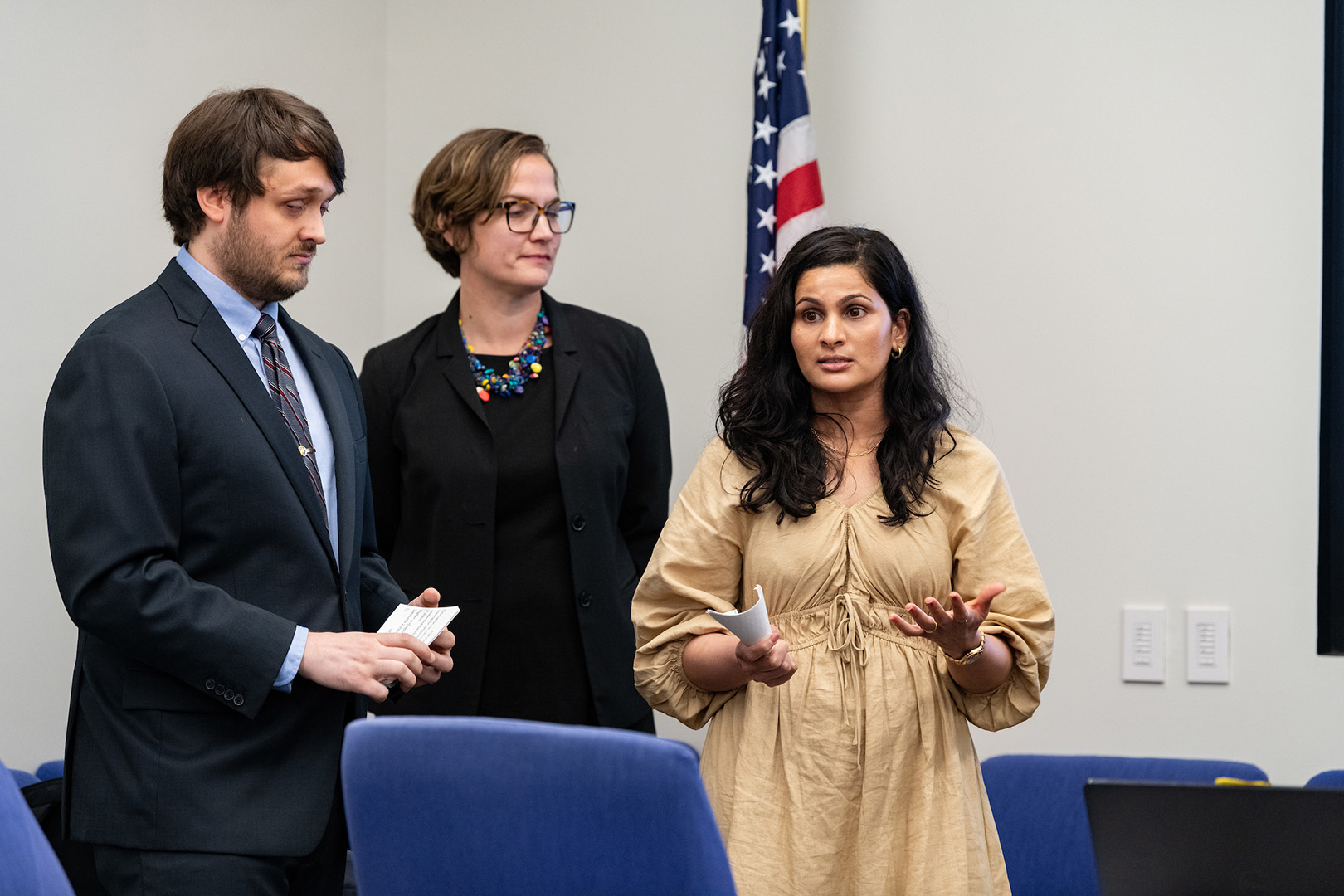 The consulting project strengthened the bond between the Smith School and Maryland officials. It's a connection that will continue to grow with additional projects and new MBA teams.
The "fresh perspective on the challenges and opportunities my department faces in providing services to Maryland's veterans really elevated our thinking," said Secretary Woods. "As a Smith school alum, it was great to engage with the next generation of well-rounded public servants coming out of the MBA program."
Media Contact
Greg Muraski
Media Relations Manager
301-405-5283  
301-892-0973 Mobile
gmuraski@umd.edu 
About the University of Maryland's Robert H. Smith School of Business
The Robert H. Smith School of Business is an internationally recognized leader in management education and research. One of 12 colleges and schools at the University of Maryland, College Park, the Smith School offers undergraduate, full-time and flex MBA, executive MBA, online MBA, business master's, PhD and executive education programs, as well as outreach services to the corporate community. The school offers its degree, custom and certification programs in learning locations in North America and Asia.