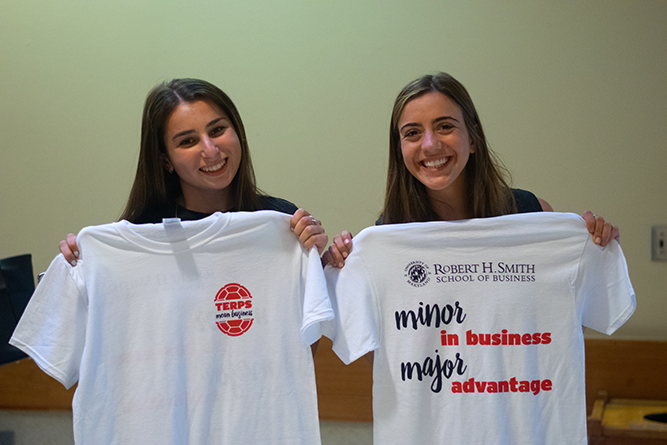 Undergraduate student Aleah Green, class of 2021, broadcast journalism and African American studies major, writes about Minors Orientation Night, held on Sept. 5, 2018, at the University of Maryland's Robert H. Smith School of Business.
"Terps Mean Business" is a motto broadcasted all over the Robert H. Smith School of Business. It's now a phrase that applies not only to those in business majors but also to the fairly new minors program.
On September 5, 2018, the Smith School hosted a Smith Minors Orientation Night for students new to business minors. The minors program which began in 2014 has now taken off. With around 500 current minors students and 250-280 newly admitted students, it can only go up from here.
As hundreds of enthusiastic students gathered in the Smith School to network with faculty and other students like themselves, Victor Mullins, associate dean of undergraduate programs, advised them to follow the mantra of being "FEARLESS." "You're Framing, Examining, Resolving, Listening, Empathizing, Setting expectations and Socializing," he said.
Nicole Andrews, a junior communications major and business analytics minor and Taylor Johnson, a junior economics major and general business minor found themselves doing just that.
Both on the pre-law track, they found themselves intrigued by their minors in an effort to broaden their horizons. "The Smith school comes with such a great reputation and I think that's something everyone wants to be a part of," Johnson said.
As one of the founding members of the minors program, Dr. Protiti Dastidar, lecturer in the management and organization department at the Smith School, is proud to see the enthusiasm that students in the minors exhibit as "it's wonderful to see things come into fruition," she said.
She was able to witness a former minors student, Zach Plotkin, return to the Smith school as a recruiter for Deloitte Consulting.
The three minor options include business analytics, general business, and innovation and entrepreneurship. Melanie Ashton, assistant director in the undergraduate program, is looking forward to seeing the program expand and the introduction of two to three more minors programs within the next few years.
Media Contact
Greg Muraski
Media Relations Manager
301-405-5283  
301-892-0973 Mobile
gmuraski@umd.edu 
About the University of Maryland's Robert H. Smith School of Business
The Robert H. Smith School of Business is an internationally recognized leader in management education and research. One of 12 colleges and schools at the University of Maryland, College Park, the Smith School offers undergraduate, full-time and part-time MBA, executive MBA, online MBA, specialty master's, PhD and executive education programs, as well as outreach services to the corporate community. The school offers its degree, custom and certification programs in learning locations in North America and Asia.