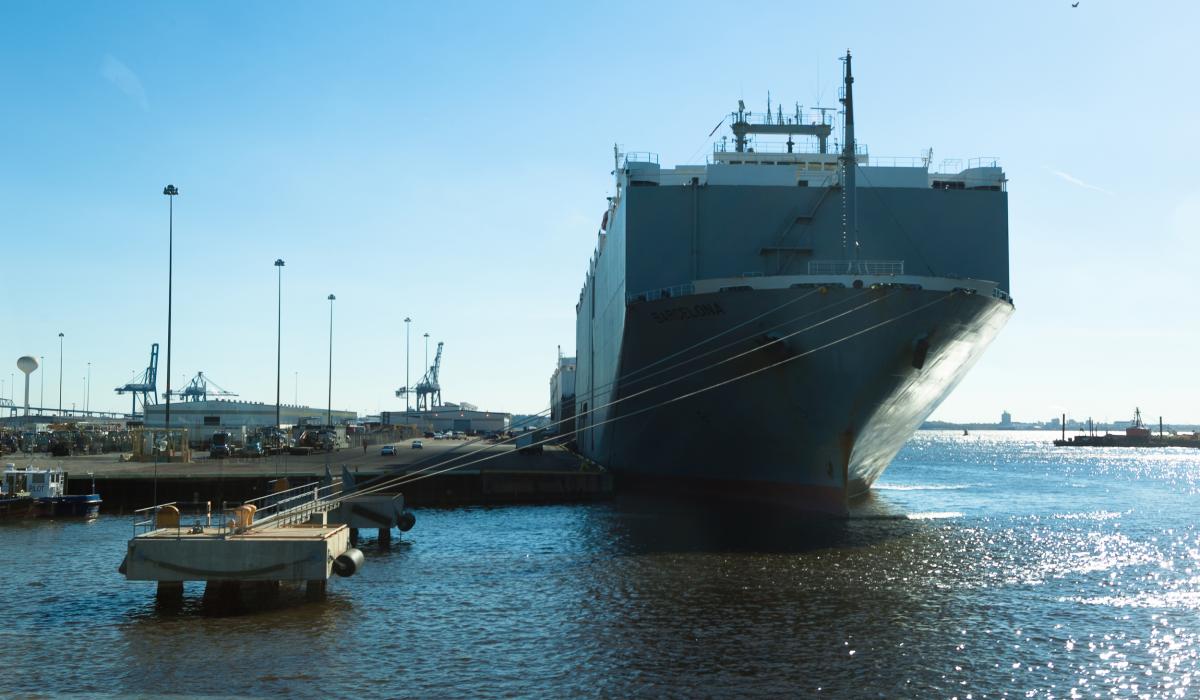 Supply chain experts at the University of Maryland's Robert H. Smith School of Business have spurred the implementation of a new system that will accelerate trade and save U.S. businesses money and time.
Soon, the current paper-based system required by the U.S. government to import or export cargo will give way to the new "single window," electronic data collection process, dubbed the International Trade Data System. It becomes mandatory in February 2016.
U.S. Customs and Border Protection has been developing the single window system for more than 15 years, and now agents are urging importers, exporters, customs brokers and forwarders to ramp up their use of the automated platform.
Small-to-medium sized companies that depend on global trade stand to be key benefactors, Smith School logistics professor Sandor Boyson says. "Processing and approval times will shrink dramatically."
Boyson, who co-directs the Smith School's Supply Chain Management Center, helped support  this new e-business platform as chair of the IT and Data Subcommittee of the Department of Commerce's Advisory Committee on Supply Chain Competitiveness.
His task force's research was supported by Smith supply chain management PhD candidate Matthew Innes and Smith MBA student Gordon Culver.
Boyson's subcommittee studied the status of the emerging system and proposed a series of recommendations to accelerate its deployment. The recommendations included deeper White House engagement in the planning process; the appointment of a chief technology officer; a fast-track system development process; and extensive pilot-testing by significant industrial-user communities at ports, airports and truck cargo processing points. "These recommendations were embraced by Customs and Border Protection and built into its implementation strategy," Boyson says.
A subsequent presidential executive order for "Streamlining the Export/Import Process for America's Businesses" noted the single window "will dramatically reduce the time and expense for business to move the more than 50 million containers … that cross our borders each year."
In the expiring system, businesses submit data, often as paperwork, to multiple agencies through various channels. Under the single window, the trade community will file through a single portal to reach all 47 agencies that have filing requirements for various types of shipments.
"This system is going to streamline about $4.2 trillion of goods crossing our border," says Bruce Harsh, a liaison to the IT & Data Subcommittee as director of distribution and supply chain at the International Trade Administration. "This subcommittee played an integral part in moving the single window development forward."
Timing Critical
Boyson says timing is critical for the single window.  "Regional trading blocs are rapidly forming with automated trade and customs systems that support cross-border transactions," he says.
For example, as a result of the Transpacific Partnership Agreement, the U.S. trading community will need to synch with the Association of Southeast Asian Nations, which attracts the largest U.S. overseas direct investment, he says. The Southeast Asian association has adopted a regional system across 10 countries, which leverages Singapore's single window technology. The Singapore system in its first year of operations (1989) saved the city-state $1 billion in trading costs.
"In North America the value of U.S. trade with NAFTA partners Mexico and Canada in 2014 was worth more than all its trade with Japan, China, India, South Korea and Russia combined," Boyson says. "Trade with just Mexico has grown sevenfold from NAFTA's start in 1993."
The new system will sync with Mexico's single window trading system, which was implemented in 2012. Boyson says. "We must help facilitate trade with our neighbor for our own economic benefit, since about 40 percent of the value of Mexico's exports to the U.S., and more than 30 percent of its exports to the rest of the world, are based on U.S.-sourced content."
U.S. Secretary of Commerce Penny Pritzker, in a letter to Boyson, noted that his work supports U.S. commitments to border management and such initiatives as the High-Level Economic Dialogue with Mexico  and North America Leadership Summit. "Your leadership and vision have been critical," she wrote.
Media Contact
Greg Muraski
Media Relations Manager
301-405-5283  
301-892-0973 Mobile
gmuraski@umd.edu 
About the University of Maryland's Robert H. Smith School of Business
The Robert H. Smith School of Business is an internationally recognized leader in management education and research. One of 12 colleges and schools at the University of Maryland, College Park, the Smith School offers undergraduate, full-time and flex MBA, executive MBA, online MBA, business master's, PhD and executive education programs, as well as outreach services to the corporate community. The school offers its degree, custom and certification programs in learning locations in North America and Asia.