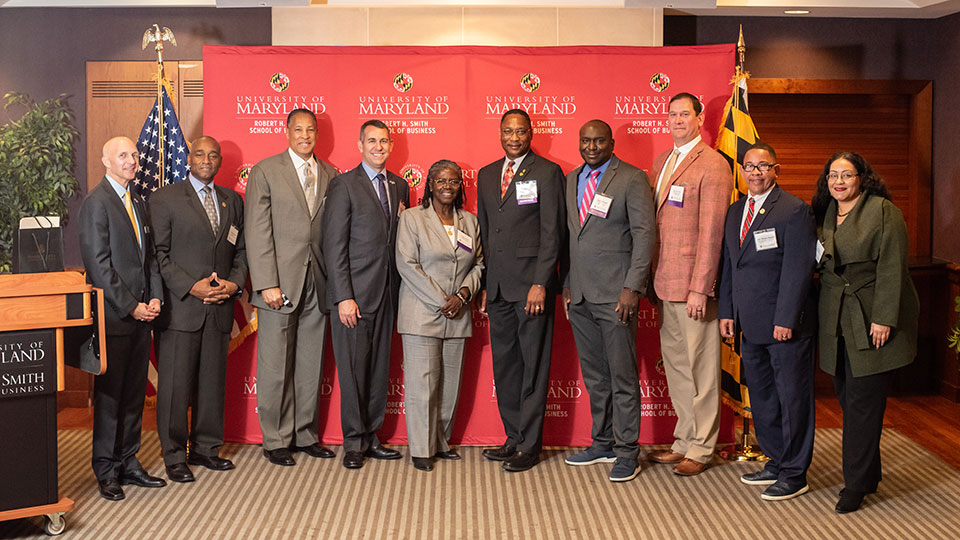 The University of Maryland's Robert H. Smith School of Business hosted government, civic, and business leaders at a celebration in Van Munching Hall on Nov. 1 honoring veteran-owned businesses and the impact they have in the state of Maryland and beyond. The event was co-sponsored by the Maryland Governor's Office of Small, Minority and Women Business Affairs; the U.S. Small Business Administration's (SBA) Mid-Atlantic Veteran Business Outreach Center; and the Smith School's Dingman Center for Entrepreneurship, the Center for Global Business and the Initiative for Veteran Lifelong Leadership. It featured state Sen. Michael Jackson, chair of the Maryland Senate Veterans; state Del. Mike Rogers, chair of Maryland House of Delegates Veterans Caucus; Smith School Dean Prabhudev Konana; other distinguished federal and local agency representatives; and more than 50 owners of Maryland veteran small businesses.
November is National Veteran and Military Families Month, and this was Smith's  way to kickoff a full slate of activities around this year's Veterans Day. The celebration was also part of the  SBA's National Veterans Small Business Week 2023, Oct. 30 through Nov. 3 – the 10th annual recognition of active and retired military members and military spouses who run businesses. According to the SBA, each year, veteran-owned businesses  employ over 5 million Americans and generate $1.3 trillion in total sales for the U.S. economy.  More than 50,000 of those veteran-owned small businesses are registered in Maryland.
The ceremony also recognized eight exemplary owner-veterans and their five veteran-founded enterprises, driving impact in and from Maryland.  Each owner received a certificate of appreciation from the Maryland Department of Veterans Affairs, and each business received a citation from the Maryland Senate. They were selected as representatives of the diverse and enduring impact of all veteran entrepreneurs, founders and professionals in attendance.  Following the awards, veteran owners and veteran supporters in attendance enjoyed a public-private networking reception.
"Our legacy of educating service-connected students eager to found and run Maryland businesses dates back more than a century," said Konana. "We are honored to help honor these five enterprises and their veteran founders as representatives of the amazing impact all veteran businesses have in our state." 
It's all part of two initiatives at the Smith School led by Frank Goertner, director of federal and veteran affairs. The Initiative for Veteran Lifelong Leadership aims to coalesce university and community partners to promote veterans as strategic assets for a united economy. In parallel, the Future of Government Management Initiative at Smith connects business, government and academic leaders to build tomorrow, together. 
"We are working to expand  Smith's role as a partnering platform to advance veterans and others focused on business-to-mission solutions for Maryland and America," said Frank Goertner, director of federal and veteran affairs at the Smith School. "We see the business of government as everybody's business and the success of veterans as everybody's success."
"Veteran-owned small businesses impact our economy and the communities we live in," said Danielle Davis, compliance manager of the Veteran-Owned Small Business Enterprise program in the Maryland Governor's Office of Small, Minority & Women Business Affairs. "We hope to bring like-minded veteran small business owners together, because when we are unified, no matter what branch of military service served, our state benefits as a whole."
"We want to give service members, veterans, military retirees and their spouses and dependents access to all the programs and support available to them," Tina Edwards, veterans business specialist in the Mid-Atlantic Veterans Business Outreach Center. "The SBA's Boots to Business program helps transitioning service members, veterans, and military spouses gain the knowledge and skills needed to start, run, and grow a small business. They go through the tough and time-consuming process of starting and growing a business, and we take this opportunity to honor and support their efforts.
The five small businesses and veteran founders honored at the event were:
Assault Forward:  Army combat veterans Shah Chowdhury, MBA '17; Joe Himpelmann, MBA '17; and Joshua Mendoza, MBA '17 conceived of Assault Forward while using their GI Bills to pursue MBAs at the University Of Maryland's Robert H. Smith School of Business.  An SBA certified 100% Service Disabled Veteran Owned Small Business, Assault Forward features 100% Made in America products. Since launching their e-commerce website with a single American Flag lapel pin design in 2018 they have grown through additional online sales channels, retail partnerships, and custom and bulk orders for businesses, non-profits, and universities across the United States. The Co-founders have mentored dozens of their fellow Veteran entrepreneurs through the Bunker Labs Veterans-in-Residence program and have donated pins to transitioning service members as they leave active duty and seek their first post-military employment through their mission of empowering Veterans to share the story of their service
ReefPoint Group:  A graduate of the U.S. Naval Academy in Annapolis, Jeremy Toton, MBA '08, founded Reef Point Group in 2009 following active duty service as a Navy Supply Officer and earning an MBA at the Smith School. A service-disabled veteran-owned small business, ReefPoint Group aims to ensure other veterans and service members receive the finest healthcare and support services in the nation. Reefpoint Group has since grown to include 136 employees, 32% of whom are veterans. 
Warrior Centric Health:  In 2008, Ron Steptoe, a West Point grad with a family military history stretching back to the Revolutionary War, teamed with Dr. Evelyn Lewis, a retired Navy doctor and service-disabled veteran with 25 years of service, to found WCH in order to offer healthcare facilities serving service-connected patients with the tools to deliver better outcomes to this large, diverse population and improve care to individuals of all socio-economic and ethnic stripes within that population, thus improving health equity in two ways.  The company has grown to support seven full-time employees.   
Woodview Orthodontics:  Following eight years of active duty service with the Air Force, Dr. Robert K. Mensah studied orthodontics at Howard University and founded RKM Orthodontics which then purchased Woodview Orthodontics which was an existing orthodontic practice. The practice operates with eight full-time employees and has grown by 33% in the past five years providing care to thousands of patients. He's worked diligently to ensure patients across the full socioeconomic spectrum have access to orthodontic care and takes pride in the broad and lasting impact he provides in the lives of his patients. Mensah continues to serve in the Air Force Reserves.
MD Veterans Chamber of Commerce:  The Maryland Veterans Chamber of Commerce was founded in 2020 by Army veteran Emmett Roberts to support and encourage businesses of military veterans throughout the state of Maryland. A member of the National Veteran Chamber of Commerce, the chamber is organized for veterans, by veterans, to promote entrepreneurial efforts and provide education for these businesses to increase economic value.
Media Contact
Greg Muraski
Media Relations Manager
301-405-5283  
301-892-0973 Mobile
gmuraski@umd.edu 
About the University of Maryland's Robert H. Smith School of Business
The Robert H. Smith School of Business is an internationally recognized leader in management education and research. One of 12 colleges and schools at the University of Maryland, College Park, the Smith School offers undergraduate, full-time and flex MBA, executive MBA, online MBA, business master's, PhD and executive education programs, as well as outreach services to the corporate community. The school offers its degree, custom and certification programs in learning locations in North America and Asia.