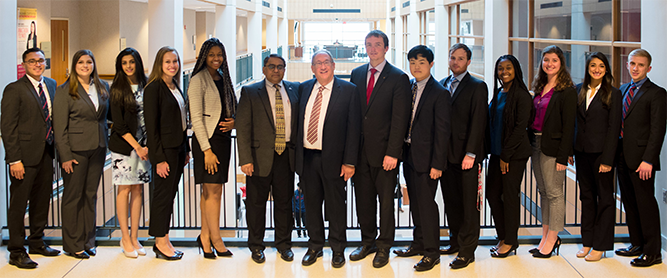 Shyama Srikkanth, '19, contributed to this article. She is an Undergraduate Program Assistant working toward earning dual degrees in Operations Management & Business Analytics and Environmental Science and Politics.
On April 19, 2018, the Accounting and Information Assurance Department (AIA) at the University of Maryland's Robert H. Smith School of Business hosted its annual Accounting Teaching Scholars (ATS) reception and dinner. The event honored the current class of ATS fellows, welcomed the newly selected students into the program, celebrated ATS alumni and offered appreciation for the program's corporate partners. It was hosted by the AIA department chair Martin Loeb and the faculty champions of the ATS program, Progyan Basu and Gary Bulmash.
"The ATS dinner has become a grand reunion of our ATS alumni. It is always great to see them and hear their success stories in the professional world. Networking with our ATS alumni is a wonderful opportunity that helps inspire our current and incoming scholars," stated Basu, who is also a clinical professor in the AIA department.
Graduating seniors Allison Herskovitz and Kyle Brown reflected on their experiences with the Smith School and the impact of serving as a teaching assistant to scores of underclassmen.
"ATS enabled me to give back to the Smith School community and add value in ways I did not expect," said Brown. "I was able to not only be a teacher but a career mentor for underclassmen taking the course who wanted insights into the accounting externship and internship searches. It was a very rewarding experience participating in this program. It enabled me to play the same role that my teaching assistants played for me when I was an underclassman."
Herskovitz echoed his sentiments. "Participating in the ATS program has been one of the highlights of my Smith journey. Through our leadership, guidance, and expertise as TAs, we encourage students to feel the way about accounting that our TAs and professors inspired us to feel. Even if they are initially apprehensive, we can help them to see that accounting actually can be fun. Had I not discovered my love of accounting, I would not have taken advantage of so many of the opportunities that have defined my college experience. I hope that my time as a TA will have that same impact on my students."
Cullen Taylor, '20, was one of several student award recipients. "This award is beyond an honor. I started my journey at the University of Maryland as an engineering major lost about my future and career. I decided to begin taking business classes and quickly developed a relationship with Professor Basu. Through him I had the opportunity of following my passion for teaching as a GSS leader and finding my career path, choosing accounting and finance as a major and choosing to pursue public accounting. I am incredibly excited to attend EY's Emerging Leaders Program this summer and find my path following graduation."
Attendees enjoyed networking with representatives from ATS's accounting partners: Aronson, BDO, Baker Tilly, CohnReznick, Deloitte LLP, EY, Grant Thornton, Heim Lantz, KPMG, PwC LLP, RSM, and the SC&H Group.
This year's alumni talk was given by Nick Zemil '10, a tax associate with a Washington, D.C. firm. "My experience at Smith," said Zemil, " has shaped my career more than I often think. Not only were the classes useful and the professors knowledgeable, but I was able to develop skills like public speaking and management through programs like the Accounting Teaching Scholars. I am glad that as an adjunct faculty member I can now use what I learned to help current Smith students succeed in business and in life."
Jim McKinney, a clinical professor, who has led Smith students on several winter break accounting-focused global courses added, "It is a fun event with good food and great people!" Beginning in New York City, McKinney's 3-credit course titled "Europe and the US: Accounting's Future, Present, and Past" takes students to the offices of the major accounting firms in Italy, the United Kingdom, and France.
"Our Accounting Teaching Scholars Dinner remains the showcase for the crown jewel of our undergraduate accounting program. Talks by current ATS students Allison Herskovitz and Kyle Brown demonstrated why our ATS student are in such high demand with employers," Loeb said, summing up the evening's events.
The Smith School's accounting program was recently ranked 12 out of 600 nationwide.
Media Contact
Greg Muraski
Media Relations Manager
301-405-5283  
301-892-0973 Mobile
gmuraski@umd.edu 
About the University of Maryland's Robert H. Smith School of Business
The Robert H. Smith School of Business is an internationally recognized leader in management education and research. One of 12 colleges and schools at the University of Maryland, College Park, the Smith School offers undergraduate, full-time and flex MBA, executive MBA, online MBA, business master's, PhD and executive education programs, as well as outreach services to the corporate community. The school offers its degree, custom and certification programs in learning locations in North America and Asia.