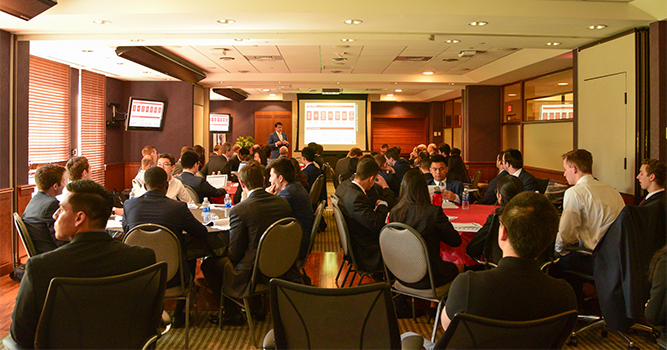 On the morning of May 4, 2018, Lemma Senbet Fund fellows presented their final reports to Alex Triantis, dean of the Smith School, and the Smith Foundation Board. Seniors David Niezelski and Jacob Biedronoski led the presentation, highlighting overall gains and successful decisions made over the past year. While the equity market for the past 12 months gave the team reasonable hurdles in finding value-driven theses, the cohort persevered and ultimately achieved higher returns than previous years. Humbly, the team attributed their success in part to legacy portfolios and the luck of inheriting a good hand that allowed them to play their cards right. However, the team also made critical changes to their benchmarking and performance evaluation strategy.
Founded in 2006, and modeled after the Robert H. Smith School of Business's enterprising Mayer Fund, the Lemma Senbet Fund is a rigorous year-long experiential learning course that gives 12 students (2 portfolio managers and 10 analysts) the chance to manage an over $1 million endowment fund. During the course of an academic year, these finance students make long-term investment decisions based on rigorous financial analysis and tested methodologies in order to appreciate the Fund's value.
Niezelski, the fund's performance portfolio manager, provided insight on the team's approach. "By creating a decision tracking tool using the Google Finance plugin, our analysts were able to observe relative performance on a trade-specific basis using live quotes. This allowed for a timelier understanding of the impact of individual decisions while also providing an additional set of aggregate performance metrics at the end of the year," he said. This "lightbulb moment" helped the team stay on top of markets news, industry cycles, and economic swings and, according to Niezelski, have an infrastructure in place to react accordingly in order to maximize position returns.
"40-50 hours over 10 days was sometimes necessary to make sure we are always ready to buy or sell our positions," noted Biedronski, the fund's markets & external relations portfolio manager.
Together, the analysts and the portfolio managers, with helpful advice from fellows champion Sarah Kroncke, impressed Triantis and the Smith Foundation Board with their year-long financial performance and presentation.
"For me personally, Senbet provided a tangible skill set for equity valuation, an applied understanding of portfolio theory, and a unique opportunity to help facilitate the processes associated with running a fund. I learned how to work with others to make disciplined, timely decisions, and I left with an amazing group of friends and one of the best mentors I have ever had," remarked Niezelski. With a relative outperformance of 1.63% per executed trade, reflecting a substantial return above the portfolio as it was inherited this time last year, the team wrapped up the year with flying colors.
Kroncke recently selected another group of 12 students who will take over management of the fund for the 2018-19 academic year. The current Senbet Fund fellows are:
Jacob Biedronski, Markets & External Relations Portfolio Manager
David Niezelski, Performance Portfolio Manager
Sherry Levine, Consumer Discretionary Analyst
Paula Rabade, Consumer Staples Analyst
Joseph Cardarelli, Energy & Utilities Analyst
Brett Weidemeyer, Financials Analyst
Gang Lyu, Financials Analyst
Daniel Katz, Healthcare Analyst
Daniel Ogunlowo, Industrials & Materials Analyst
Derek Xiao, Industrials & Materials Analyst
Michael Du, Information Technology Analyst
Calvin Hou, IT & Telecom Analyst
Learn more about Smith's Undergraduate Fellows Programs.
Story and photos by Philip Peker '18, a marketing and business analytics major and a member of the Strategic Design and Innovation Fellows Program.
Media Contact
Greg Muraski
Media Relations Manager
301-405-5283  
301-892-0973 Mobile
gmuraski@umd.edu 
About the University of Maryland's Robert H. Smith School of Business
The Robert H. Smith School of Business is an internationally recognized leader in management education and research. One of 12 colleges and schools at the University of Maryland, College Park, the Smith School offers undergraduate, full-time and flex MBA, executive MBA, online MBA, business master's, PhD and executive education programs, as well as outreach services to the corporate community. The school offers its degree, custom and certification programs in learning locations in North America and Asia.