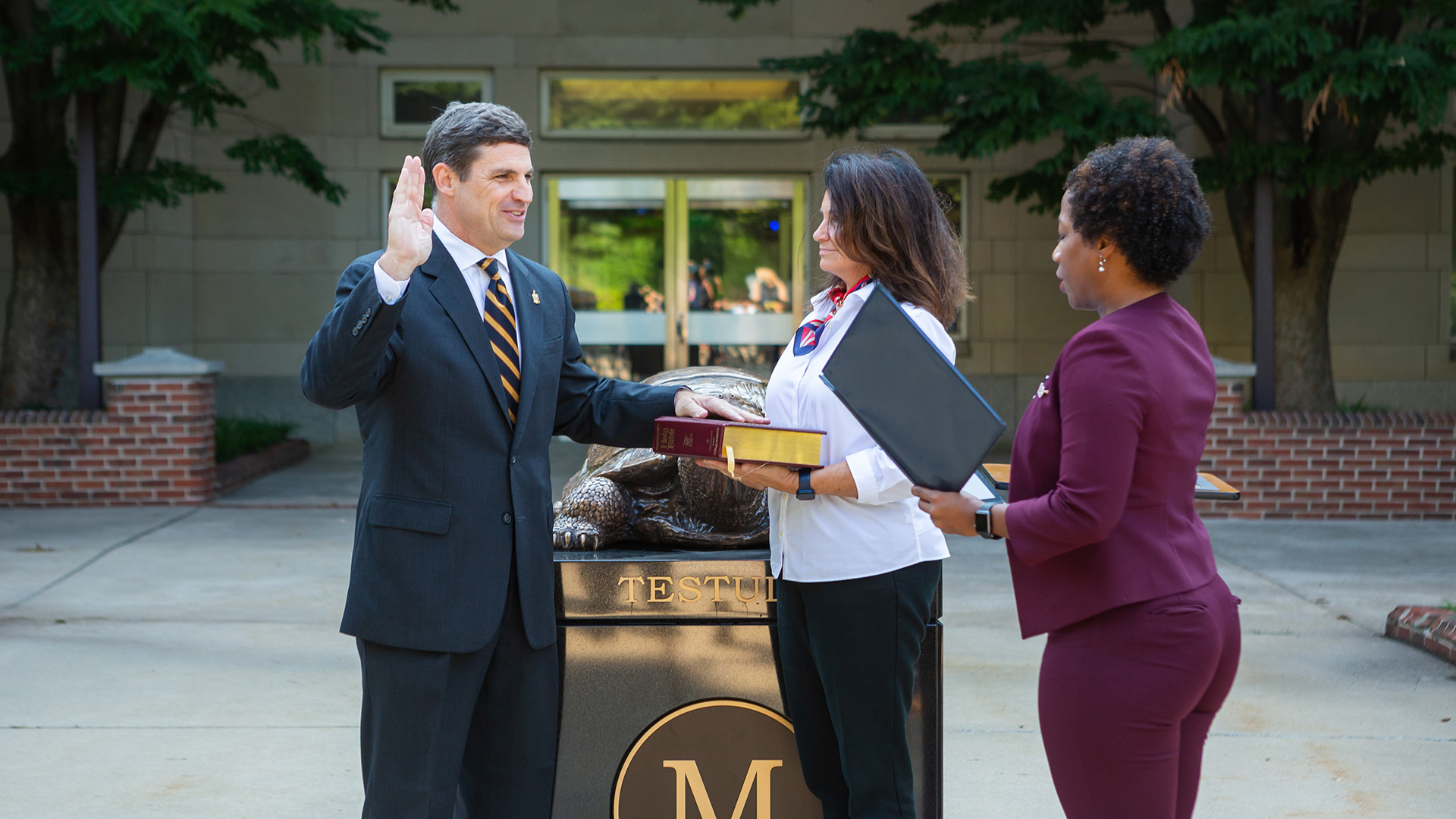 For Doug Peters '85, there's a tie to Maryland Smith that runs deep.
Now, the former Maryland state senator is helping others form a Maryland Smith bond of their own, establishing a Maryland Promise scholarship to help support need-based scholarships for UMD undergraduate students, with a preference for those who plan to study at Smith.
Peters worked to establish the endowed fund over the summer, as he retired from Maryland's state senate and was appointed to the University System of Maryland Board of Regents.
In a sunny ceremony in the Van Munching Hall courtyard, as he was sworn in as the newest member of the 21-member Board of Regents, he said it was a moment he'll always be proud of. Working on behalf of institutions across the university system, the 12th largest in the country, he said, is a privilege.
"I have seen throughout my career – and throughout my life – the transformative impact that our Maryland higher education institutions have on people's lives. To be involved in those universities, and to work toward their enduring successes, is an opportunity for which I am deeply grateful," he said.
Speaking at the swearing-in event. Maryland Smith Dean Prabhudev Konana said, "We're extremely proud to call him an alum – and to watch him take his oath in the courtyard of the Smith School is quite special. We recognize his significant contributions not only to the University of Maryland and the Smith School, but also to the state and its educational initiatives."
Peters will join the Board of Regents' finance committee.
"I think it's a great next step for me. I spent 15 years on the budget and tax committee and met a lot of presidents across our state's public schools and higher education institutions, so I feel like I am coming into this role with a great foundation," he said. "Now as part of the Board's finance committee, I'll continue that work to help make Maryland higher education the best in the nation. That's my goal."
Peters was first elected to state office in 2006 and served as majority leader of the state senate from 2016 to 2019. He represented District 23, which includes Bowie and parts of Upper Marlboro. He also served as the leader of the Capital Budget Subcommittee in 2019.
Media Contact
Greg Muraski
Media Relations Manager
301-405-5283  
301-892-0973 Mobile
gmuraski@umd.edu 
About the University of Maryland's Robert H. Smith School of Business
The Robert H. Smith School of Business is an internationally recognized leader in management education and research. One of 12 colleges and schools at the University of Maryland, College Park, the Smith School offers undergraduate, full-time and flex MBA, executive MBA, online MBA, business master's, PhD and executive education programs, as well as outreach services to the corporate community. The school offers its degree, custom and certification programs in learning locations in North America and Asia.