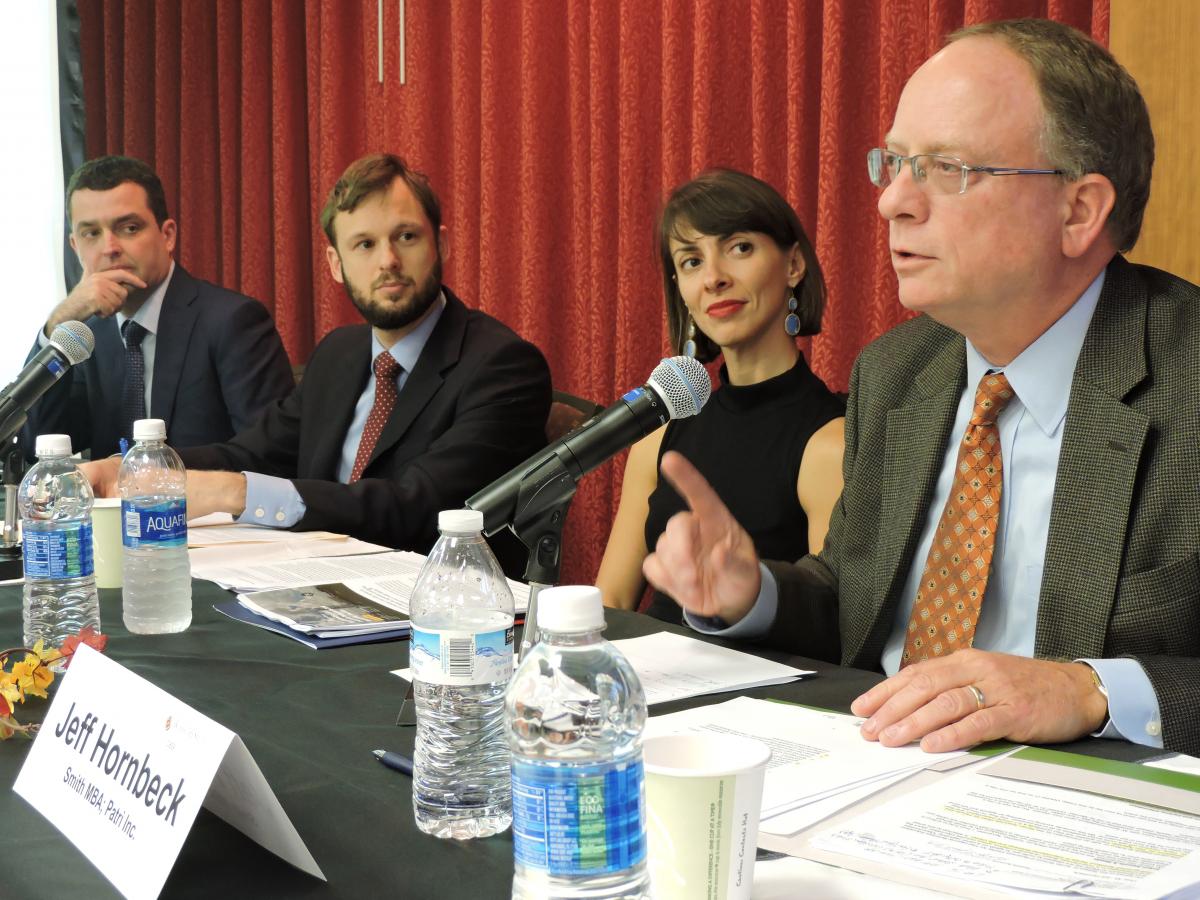 Post-Olympics Brazil faces challenges, but panelists were cautiously optimistic about the country's future during a Center for International Business Education and Research (CIBER) forum on Nov. 1, 2016, at the University of Maryland's Robert H. Smith School of Business.
"It's easy to be overly optimistic or under optimistic about Brazil at any given time," said panelist Jeff Hornbeck, former partner and managing director of PATRI Public Affairs in Brazil. "I think to be cautiously and patiently optimistic is correct, even though there's still some uncertainty."
Hornbeck, a Smith School MBA alumnus, said Brazil is moving in the right direction following a two-year fiscal crisis and presidential impeachment hearings. But he said ongoing public corruption investigations and a lingering recession will create a difficult environment for the country's new leader, Michel Temer.
"He has a very short window of opportunity," Hornbeck said. "We're talking, at most, one year to get things done before the 2018 elections become a major distraction."
Hornbeck said Brazil won't be able to fix everything all at once, but the country needs to make progress on at least three key reforms: social security pension overhauls, infrastructure investment and ratification of a constitutional amendment that would cap public spending for the next 20 years.
"From a business perspective, you are talking about a two- or three-year horizon before you start seeing things turn around," Hornbeck said. "This is going to take years to complete, but the point is to keep moving in the right direction."
The event, "Opportunities and Challenges for a Post-Olympics Brazil," was part of CIBER's Distinguished Speaker Series. Smith School strategy professor Paulo Prochno, a Brazilian native, moderated the discussion. Other participants included Andrea Murta, deputy director of the Adrienne Arsht Latin America Center, Atlantic Council; and Ricardo Daskal Hirschbruch, head of the Trade and Investment Promotion Section at the Brazilian Embassy to the United States.
"There are reasons for optimism, especially this year," Prochno said. "Top markets have been up almost 80 percent this year, and it seems that Brazil is fighting its way out of the crisis after two years."
Despite the recent challenges, Daskal Hirschbruch said Brazil remains the No. 8 country in the world in terms of foreign direct investment. "Brazil still attracts lots of investments," he said.
Media Contact
Greg Muraski
Media Relations Manager
301-405-5283  
301-892-0973 Mobile
gmuraski@umd.edu 
About the University of Maryland's Robert H. Smith School of Business
The Robert H. Smith School of Business is an internationally recognized leader in management education and research. One of 12 colleges and schools at the University of Maryland, College Park, the Smith School offers undergraduate, full-time and flex MBA, executive MBA, online MBA, business master's, PhD and executive education programs, as well as outreach services to the corporate community. The school offers its degree, custom and certification programs in learning locations in North America and Asia.