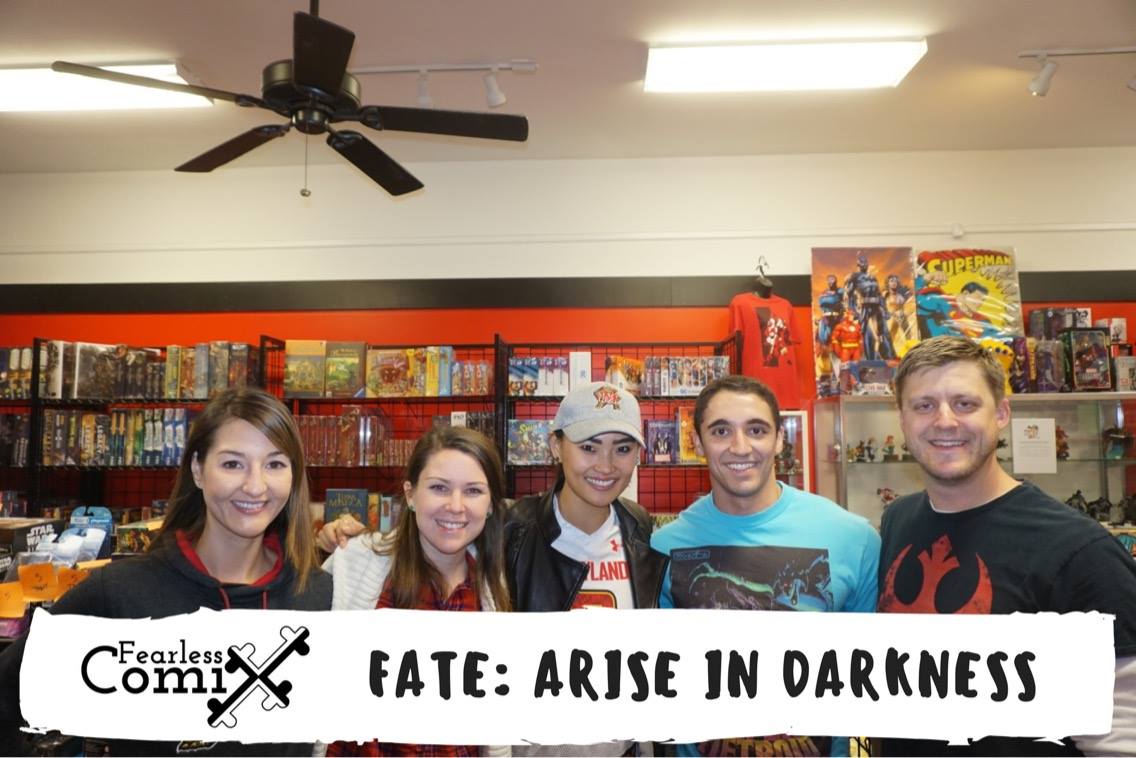 Online MBA students at the University of Maryland's Robert H. Smith School of Business tested their entrepreneurial ideas in a two-hour pop-up business challenge in fall 2017. More than 30 teams earned profits during the activity, led by Smith School professors David Kirsch, David Kressler, Azi Gera and Brent Goldfarb. Pop-up enterprises included:
Fearless Comix, which uses crowdsourced content and character inspiration as a way to get audiences involved in the comic book creation process. The company also provides contributors with the opportunity to have their faces drawn in the comics. During their two-hour entrepreneurship challenge, the business sought seed money for its premier comic, Fate: Arise In Darkness. The founders said Fearless Comix aims to revolutionize the comics industry by giving a voice to those who are unheard or underrepresented. They gather insights from fans of all genres — comics or otherwise — to find storylines, character traits and art styles that speak to audiences. "Crowdsourcing content will be the norm, as will bringing together a network of burgeoning artists and authors to share their voices and their stories," the founders wrote in a statement.
Crock Pot Life, a meal prep solution for terrible cooks. The founders created a cookbook for those who want a home-cooked meal but do not have the time or skills required. The cookbook includes 21 recipes, each with five ingredients or less. Every meal in the recipe book can be made in a crockpot to help customers save time and reduce the risk of burning the meal. "Most crockpot or slow cooker purchasers barely use their device," the founders wrote in a statement. "The recipe book gives crock-pot purchasers the chance to use the device more frequently and enjoy the benefits of their crock-pot." During the two-hour entrepreneurship challenge, the founders opened an Etsy Shop and created an Amazon e-reader, selling the recipe book for $0.99. The team promoted the digital book on Twitter and Instagram in addition to sending an email blast to their fellow online MBA students.
LIT Skills Academy, which provide youth basketball training. The company offered six-week sessions, including individual and team instruction. During the two-hour challenge, the team was able to make a profit of $1,173.00 at a minimal cost. "This experience taught me the importance of putting together a solid business plan and understanding your customer," founder LaShanda Gidney said. "A good marketing strategy is essential for success."
Furrever Home, a veterinary clinic that offers low-cost cat neutering services to the community. The business opened its first pop-up clinic in December 2017 in partnership with the Humane Society, which committed to bring 40 cats to the two-hour pop-up clinic. Those who brought more than 10 cats received additional discounts on the service. Additionally, the team gave each customer a coupon for a follow-up veterinary visit. "We charged $35 per procedure, which is about two-thirds of the regularly scheduled price," chief financial officer Padrais Melinowski said. One of the founders, Dr. Amanda Thoet, is a practicing veterinarian. This allowed the team to house the event at her veterinary clinic. The company purchased the sterilization equipment from her clinic and worked with volunteer vets to perform the procedure.
Other notable participants included:
Repalletize, which uses pallets to make handmade furniture.
SBM, which assists small businesses with social media strategy.
That's a Wrap, a gift wrapping and delivery service.
Sweet Tooth, which makes and delivers baked goods.
— Mamayaa Opoku, Smith School communications writer
Media Contact
Greg Muraski
Media Relations Manager
301-405-5283  
301-892-0973 Mobile
gmuraski@umd.edu 
About the University of Maryland's Robert H. Smith School of Business
The Robert H. Smith School of Business is an internationally recognized leader in management education and research. One of 12 colleges and schools at the University of Maryland, College Park, the Smith School offers undergraduate, full-time and flex MBA, executive MBA, online MBA, business master's, PhD and executive education programs, as well as outreach services to the corporate community. The school offers its degree, custom and certification programs in learning locations in North America and Asia.