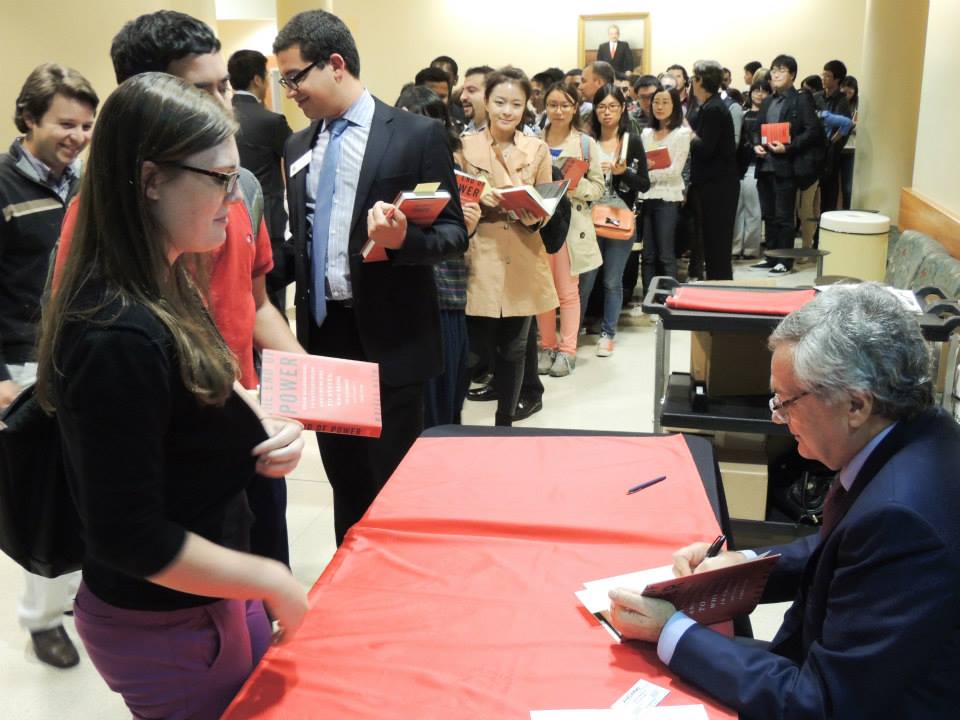 CEOs, politicians, religious leaders and generals can do less with their power today than they could in the past.  This is the central thesis of Moises Naim's new book, The End of Power: From Boardrooms to Battles and Churches to States, Why Being in Charge Isn't What it Used to Be, and it was the focal point of his remarks at the University of Maryland's Robert H. Smith School of Business on October 8, 2013.
Naim, a scholar at the Carnegie Endowment for International Peace, former Venezuelan Trade and Industry Minister, World Bank executive director and 14-year editor of Foreign Policy magazine, appeared in conversation with Kislaya Prasad, director of the Center for International Business Education and Research (CIBER) at the Smith School, for an event entitled "The Shifting Balance of Power in International Business and International Affairs." 
Naim outlined three fundamental shifts that have brought about the decay of traditional power:  the more revolution, the mobility revolution and the mentality revolution.  There are more of so many things in the twenty-first century:  more resources, more weapons, more people – particularly young people.  Indeed the world currently has the highest proportion of young people in history.  Secondly, people are now mobile in a way they have never been before and increasingly, they live outside the country of their birth.  Finally, the mentalities of populations around the world have revolutionized, as we have seen through the Arab Spring in a political context, but also through social shifts, such as the rate of divorce initiated by women in India and across the Gulf countries. 
"What does this mean for corporations?" Prasad wanted to know.  Naim pointed to a few changes with the help of the audience.  "Who knows ArcelorMittal?  Where does your Bud Lite come from?"  "Which company is taking over the middle market in the aerospace industry?"  His point was that the key corporations of today are from across the world, and have to be much more competitive and flexible as a result.  For instance, Carlos Brito is a Brazilian CEO of the Belgian company AB InBev which took over the iconic American brand Budweiser.  On the other hand, companies like Skype and Twitter are "born" multinational.  Regardless, with brand accidents up 60% and the time horizon for a CEO half of what it was in the 1980s, the playing field for corporations has changed fundamentally. 
Prasad said, "In his extraordinary new book, Naim demonstrates that power is not just shifting, but decaying.  In business, it has become slippery at the top for CEOs and leading companies alike.  Size is no longer the advantage it used to be, and big companies are increasingly challenged by micropowers that come from the most unexpected of places.  Naim explains why these changes are occurring, and how one can live and prosper in the new order."
Naim was at ease back in an academic environment, having been an economics professor and dean himself at Instituto de Estudios Superiores de Administración (IESA).  He readily took questions from the audience and was happy to provide professional advice when prompted.  "Versatility is the most important thing you will learn in school because you will work all over the world," Naim advised.  "Try to learn a lot about something that is hard – become a specialist in something." 
Following the discussion, Naim signed more than 150 audience members' books with the line running the length of Van Munching Hall.  Full-time MBA student Jose Castro said, "I was thrilled to have Dr. Moises Naim come to speak to us. As a Venezuelan student interested in global affairs, I follow Dr. Naim's career and his writing across many important newspapers. I even got the opportunity to speak to him and have him sign my book.  I cannot wait to start reading it!"
Smith's Center for International Business Education and Research (CIBER) sponsored this event with the generous co-sponsorship of Smith's Office of Global Initiatives and the Maryland Global Leaders Program, a joint program between the School of Public Policy and the Office of International Affairs.
Andrew Kneale, MBA Candidate 2015, Office of Marketing Communications
Media Contact
Greg Muraski
Media Relations Manager
301-405-5283  
301-892-0973 Mobile
gmuraski@umd.edu 
About the University of Maryland's Robert H. Smith School of Business
The Robert H. Smith School of Business is an internationally recognized leader in management education and research. One of 12 colleges and schools at the University of Maryland, College Park, the Smith School offers undergraduate, full-time and part-time MBA, executive MBA, online MBA, specialty master's, PhD and executive education programs, as well as outreach services to the corporate community. The school offers its degree, custom and certification programs in learning locations in North America and Asia.