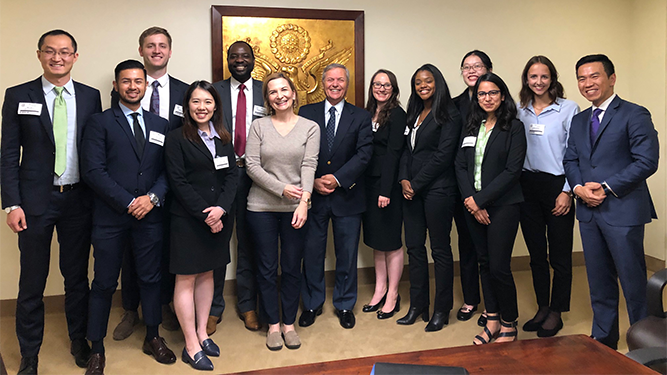 MBA students at the University of Maryland's Robert H. Smith School of Business had the opportunity to meet with and hear perspective from FDIC Chairman Jelena McWilliams in a Nov. 1, 2019 event at Maryland Smith arranged by Professor of Finance Haluk Ünal.
"The students (the majority taking Financial Stability and Risk Management courses in the program climbing among U.S. MBA programs in Bloomberg Businessweek rankings) had the rare opportunity to hear the Chairman's perspective on topics ranging from the importance of finding your professional purpose to more technical topics related to capital regulation, plus the Current Expected Credit Loss standard, and the rising importance of financial innovation in community banks," says Ünal, also special advisor to the FDIC Center for Financial Research.
Additionally, FDIC Deputy to the Chairman for Policy Arthur Murton provided insights into failed bank resolution, international banking regulation, and striking the correct balance between bank regulation and industry profitability.
"A key moment of the meeting was when Chairman McWilliams emphasized to the students that 'nothing substitutes for substance,'" Ünal says. "And that having an in-depth knowledge of and ability to speak on whatever industry, company or agency one works in will always serve them well."
"This is valuable advice that applies to all students within Smith and throughout the university, Ünal says. "And students all should strive to one day bring the knowledge and experience gained at Smith to their chosen careers, as Chairman McWilliams does to banking policy."
"This event," Ünal adds, "highlights the unique opportunities Smith students have in the greater D.C. area to meet with influential people such as Chairman McWilliams and be exposed to the type of work that awaits them outside of Van Munching Hall."
Reinforcing this experiential edge, Maryland Smith MBAs will meet and hear from President and CEO of the Federal Reserve Bank of Cleveland Loretta J. Mester in a fireside chat moderated by Ünal at noon Monday, Nov. 18 in Van Munching Hall.
Media Contact
Greg Muraski
Media Relations Manager
301-405-5283  
301-892-0973 Mobile
gmuraski@umd.edu 
About the University of Maryland's Robert H. Smith School of Business
The Robert H. Smith School of Business is an internationally recognized leader in management education and research. One of 12 colleges and schools at the University of Maryland, College Park, the Smith School offers undergraduate, full-time and flex MBA, executive MBA, online MBA, business master's, PhD and executive education programs, as well as outreach services to the corporate community. The school offers its degree, custom and certification programs in learning locations in North America and Asia.