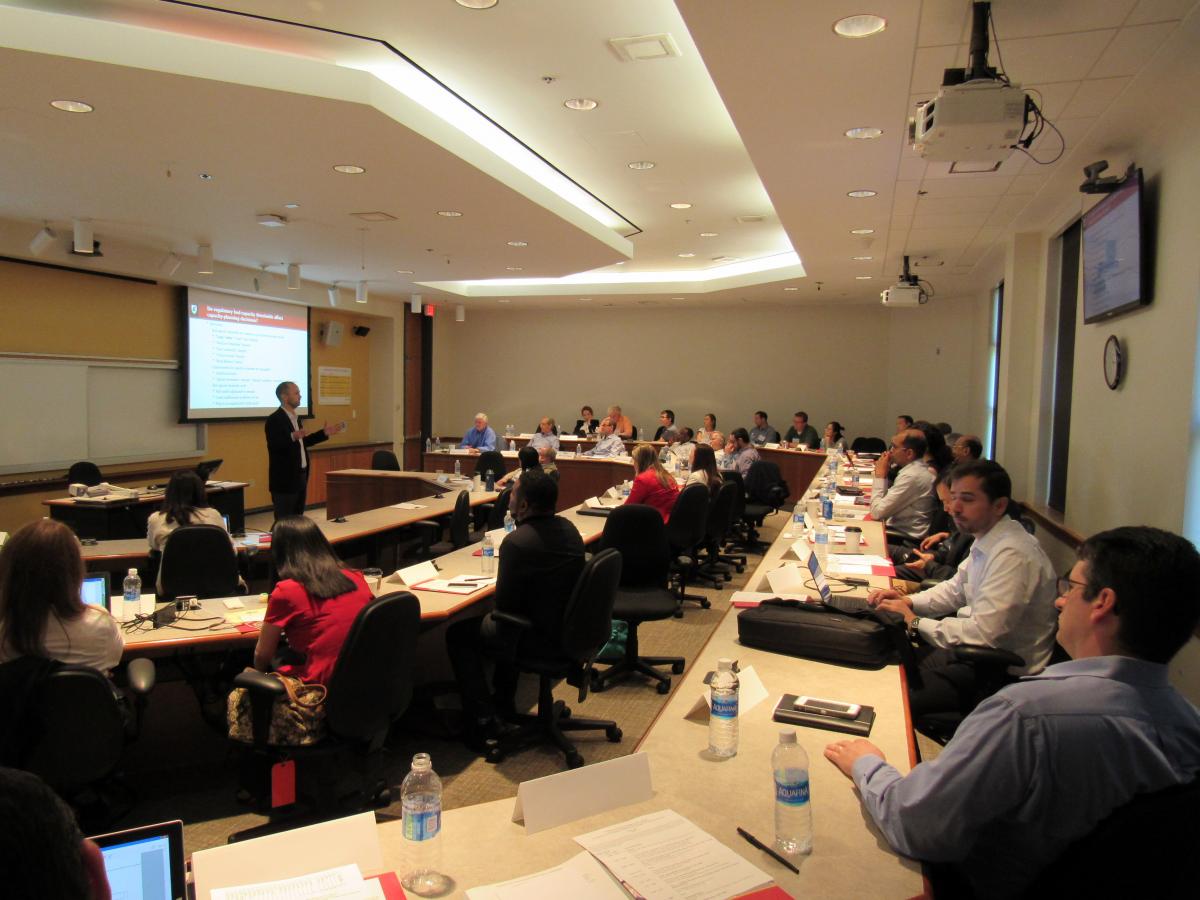 On June 9, 2017, the University of Maryland's Robert H. Smith School of Business hosted the 2017 Journal of Accounting and Public Policy (JAPP) Conference in College Park, Md. The theme of the sixth annual conference was, "The Interactions between Regulatory Institutions and Accounting: A Public Policy Perspective." The editors of JAPP are Lawrence A. Gordon and Martin P. Loeb, both professors of accounting and information assurance at the Smith School.
Distinguished speakers at the 2017 JAPP Conference were Wesley R. Bricker, Chief Accountant for the U.S. Securities and Exchange Commission, and Shyam Sunder, James L. Frank Professor of Accounting, Economics and Finance, Yale University.
"Academic research is valuable in providing theories, testable hypotheses, and evidence that help us to understand issues we frequently encounter in our work," said Bricker during his luncheon keynote address. "For example, we often talk about decision usefulness to investors of accounting information, and in assessing decision usefulness, academic research can provide empirical evidence based on market reactions to certain information, changes in company liquidity, and differences in how different types of investors react to certain information. These types of findings are identified and shared among the academic and professional staff in OCA, and also contribute to the work of the financial economists in other offices and divisions at the SEC."
Bricker suggested several topics for continued emphasis in accounting research, including: financial accounting, governance and controls, auditing, investment decision-making, and reporting of other information. Bricker's entire speech is available online.
The conference, now in its sixth year, becomes increasingly relevant each year, Gordon said, adding, "In today's interconnected digital world, firms need to think of cybersecurity as a fundamental aspect of internal control."
The conference location rotates among the IE Business School (IE), the London School of Economics and Political Science (LSE), and the University of Maryland's Robert H. Smith School of Business (Maryland Smith). Conference coordinators were Alnoor Bhimani (LSE), Salvador Carmona (IE), Lawrence A. Gordon (Maryland Smith), and Martin P. Loeb (Maryland Smith).
Next year, the conference will be held at LSE on June 7.
In addition to the distinguished speakers, the conference included the following research presentations:
CFO role and CFO compensation: An empirical analysis of their implications
Ariela Caglio, Università Bocconi – SDA Bocconi School of Management
Andrea Dossi, Università Bocconi – SDA Bocconi School of Management
Wim A. Van der Stede, London School of Economics and Political Science
The unintended consequences of emerging growth company status on IPO: Auditor risk and effort, valuation, and underpricing
Tiffany J. Westfall, Miller College of Business, Ball State University
Thomas C. Omer, University of Nebraska- Lincoln
Charity performance reporting, regulatory policy and standard-setting
Danielle McConville, Queens University, Belfast
Carolyn Cordery, Aston University
The stock market demand for environmental and social disclosures
Cristiana Bernardi, Roma Tre University
Andrew W. Stark, Alliance Manchester Business School, University of Manchester
The U.S. Medicare disproportionate share hospital program and its effect on capacity planning decisions
Beau Grant Barnes, Washington State University
Nancy L. Harp, Clemson University
Media Contact
Greg Muraski
Media Relations Manager
301-405-5283  
301-892-0973 Mobile
gmuraski@umd.edu 
About the University of Maryland's Robert H. Smith School of Business
The Robert H. Smith School of Business is an internationally recognized leader in management education and research. One of 12 colleges and schools at the University of Maryland, College Park, the Smith School offers undergraduate, full-time and part-time MBA, executive MBA, online MBA, specialty master's, PhD and executive education programs, as well as outreach services to the corporate community. The school offers its degree, custom and certification programs in learning locations in North America and Asia.