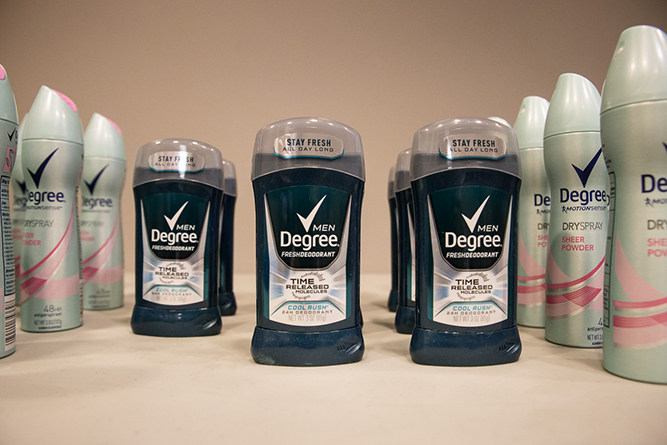 About 230 undergraduates in the University of Maryland's Robert H. Smith School of Business exercised and built on their accounting, marketing and management wherewithal in a Smith Live Case event on Oct. 10, 2017. Unilever and the Smith School's Office of Transformational Learning collaborated to organize separate sessions in Tyser Auditorium, where students broke out into small teams to simulate Unilever managers estimating market demand and determining a pricing strategy for a new, dry spray antiperspirant. The teams calculated operating costs and market prices to determine whether to pursue a "passive" (light advertising/low pricing) or "aggressive" (heavy advertising/high pricing) marketing approach (The latter was chosen).
The participating students additionally heard from and engaged in a Q&A with Unilever representatives. Logistics director Matt Algar overviewed the Unilever portfolio and its roots: a 1929 merger of UK soap maker Lever Brothers and Dutch margarine producer Margarine Unie, which mutually solved a supply chain challenge based in part on demand for a common material. The problem-solving parable primed the students' focus on their challenge to introduce a new product to the market.
Greg Will, a Smith alum and Unilever customer development team lead, set up the case parameters and afterward discussed, alongside Unilever's finance team representatives, how elements of the exercise connected to actual Unilever product marketing efforts. Unilever representatives also included recent Smith graduates in the Unilever Future Leaders Program (UFLP): Olivia Serrat (supply chain management and marketing '15), Allison Leap (supply chain management '17), and Meredith Soule (supply chain management and marketing '17).
Unilever has been engaging with Smith students for 10 years, including mini-case sessions in smaller classroom settings. The larger-scale "live case" session with Unilever, like the Oct. 10 gathering, is now in its third year. "We love doing these interactive sessions, as they can be mutually beneficial," said Max Cooper, a UFLP strategic planner for Unilever and a 2015 UMD civil engineering graduate, who also participated in the Smith-based Quality Enhancement Systems and Teams (QUEST) Honors Program. "There's always the opportunity to hear ideas from the students, while they experience and learn about industry practices and processes at Unilever and beyond."
Clinical Professor of Accounting Gary Bulmash teaches the sophomore-level core accounting course which provides the Unilever live case participants. He says the Unilever sessions, by incorporating accounting, marketing and supply chain fundamentals, are "a perfect fit" for his course, which is required of all business majors. The Unilever live case "consistently draws good feedback from the students, as they appreciate the experiential learning and career-networking opportunity," he added, based on two previous sessions.
The Unilever Live Case further exemplifies a Smith Office of Transformational Learning objective to "engage companies and Smith professors in activities to increase relevancy in student learning, along with the levels of engagement and excitement," said OTL instructional designer Natalie Janiszewski, who has coordinated recent similar activities for Smith students involving the likes of Pepsi, Target and KPMG. "Participating in these live cases also adds value to the students' Smith degree."
Media Contact
Greg Muraski
Media Relations Manager
301-405-5283  
301-892-0973 Mobile
gmuraski@umd.edu 
About the University of Maryland's Robert H. Smith School of Business
The Robert H. Smith School of Business is an internationally recognized leader in management education and research. One of 12 colleges and schools at the University of Maryland, College Park, the Smith School offers undergraduate, full-time and flex MBA, executive MBA, online MBA, business master's, PhD and executive education programs, as well as outreach services to the corporate community. The school offers its degree, custom and certification programs in learning locations in North America and Asia.