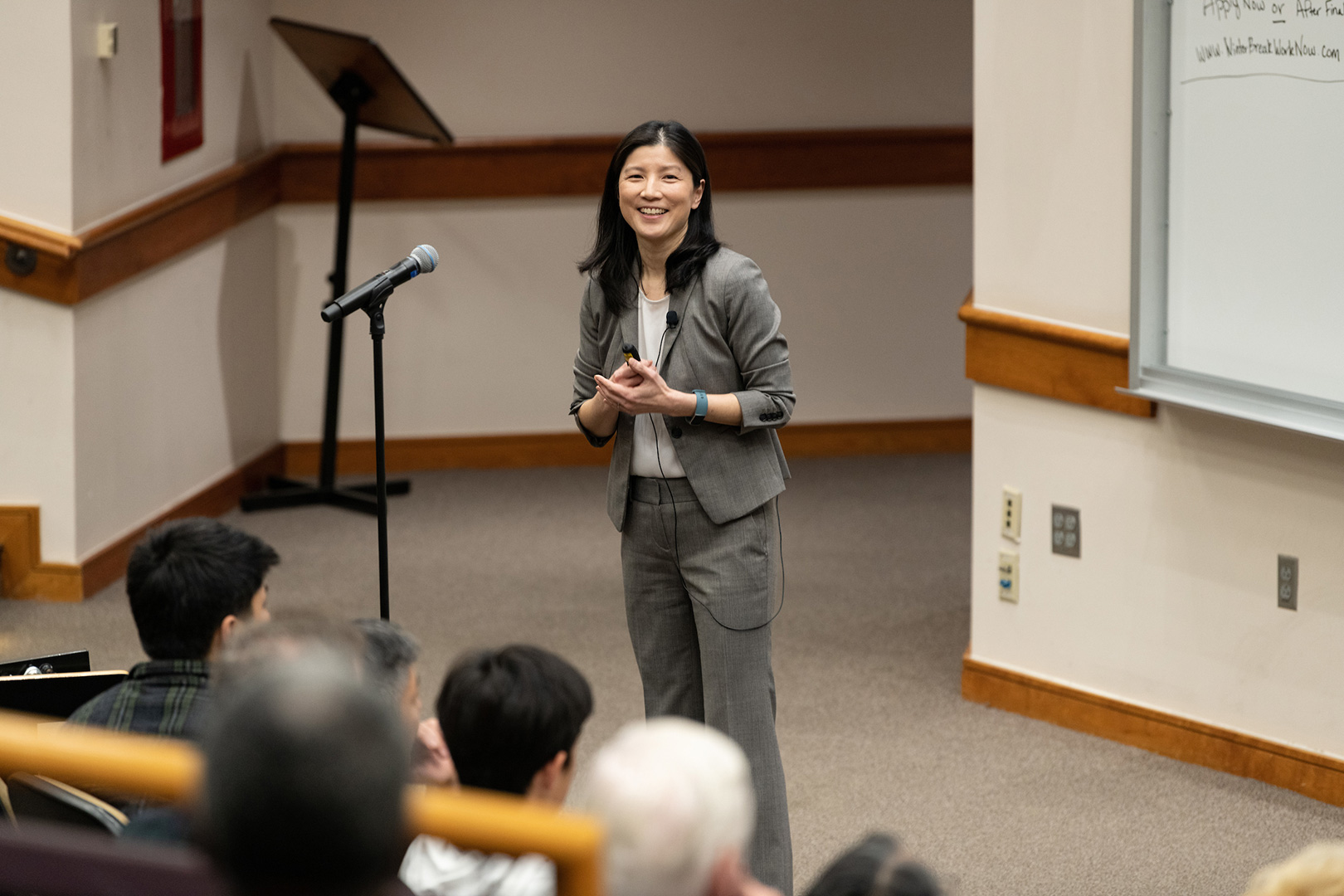 Since arriving at the University of Maryland's Robert H. Smith School of Business in 2008, Rebecca Hann has remained steadfast in her mission to positively impact her students and the world with her research. Those efforts recently earned her the University of Maryland Distinguished Scholar-Teacher award.
Hann, Dean's Professor of Accounting and Assistant Dean of Doctoral Programs at Maryland Smith, received the recognition for her outstanding research and instruction during her talk "The Power of Information and Transparency" held on Friday, Dec. 2 in Van Munching Hall.
The award, sponsored and administered by the Office of Faculty Affairs on behalf of Provost Jennifer King Rice and awarded to over 200 UMD faculty since 1978, marks the first time an accounting professor was granted the honor.
"I am truly, truly honored to be recognized as a distinguished scholar-teacher. It is very humbling to be in the midst of so many outstanding scholars and teachers here," Hann said during the event. "I want to express my gratitude to the many people who have helped me along the way."
Throughout her career at Maryland Smith, Hann's engaging teaching style in the classroom earned her significant recognition, including the Allen J. Krowe Award for Teaching Excellence twice and the Distinguished Teaching Award (Top 10% of MBA Core Courses) three times, among others. And over the last nine years, she has chaired nine PhD dissertations and assisted in placing her students in teaching and research positions at business schools across the country.
In accounting, Hann garnered praise from peers, academic bodies and top journal publications for her research on topics ranging from the impact of disclosure at the firm level to the connections between disclosure and the broader macroeconomy, and more recently climate reporting in the corporate environment.
Teaching primarily the financial core course in Maryland Smith's MBA program, Hann said that her research has enabled her to instill a sense of accounting's purpose in society to better engage her students.
"That gave me a sense of mission. What I've learned over the years is that I need a hook, kind of like a hook in a story before I get into the technical details," said Hann. "That's where accounting research comes in."
In her presentation during the event, Hann shared three research topics that have played a prominent role in her career. She began by detailing her work with capital market research – the notion that when companies have positive earnings news their stock price goes up, and down with bad earnings news.
In that line of research, she said there are two questions that are most important to ask, – which information is useful to the capital market, and what drives a manager's discretionary disclosure decision-making?
Unsurprisingly, Hann said, when companies provide more disaggregated segment information, it allows investors to see where profits are coming from, and that's useful to the capital market. However, not every company wants to operate that way.
"A lot of companies aggregate segment data to hide their bad apples. So there's a saying that sunlight is the best disinfectant. The accounting version of it is transparency is the best way to get rid of bad apples."
With respect to her research on productivity dispersion, which is the heterogeneity of productivity across firms, she said accounting can play a role by giving investors a greater idea about a company's level of productivity and providing insights into whether resources are being reallocated from the less productive to more productive firms.
"What we find is that industries with more transparent reporting tend to have smaller productivity dispersion, and that's indicative of more efficient resource allocation."
In more recent years, Hann has explored the intersection of accounting with environmental, social and governance (ESG) opportunities within markets. The question asked: is voluntary climate disclosure useful to investors?
Using the Paris Climate Agreement as a shock to future regulatory costs, Hann and her fellow researchers examined corporate conference call transcripts and determined whether the discussions in these conference calls affected the market's reaction to the Paris Agreement – an international treaty on climate change that aims to limit global warming to roughly 1.5 degrees Celsius, compared to pre-industrial levels.
They found that the market rewards carbon-intensive firms for being more transparent. When they talk more about their climate exposure and the opportunities that come with it, their market reaction is less negative.
"Transparency matters in the context of climate disclosure," said Hann. "In accounting, we always say what gets measured gets managed. And this is exactly how accounting translates into accountability."
As for what's next for her career, she said that she draws inspiration from a recent conversation with her father who tasked himself with learning how to draw despite never having done it.
"What's really inspiring for me is that he's continuing to learn new things. So I think that that's what I want to do – I want to explore new topics and I want to learn new things from my colleagues and from my students," said Hann. "And so my plan is to keep learning. That's it."
Media Contact
Greg Muraski
Media Relations Manager
301-405-5283  
301-892-0973 Mobile
gmuraski@umd.edu 
About the University of Maryland's Robert H. Smith School of Business
The Robert H. Smith School of Business is an internationally recognized leader in management education and research. One of 12 colleges and schools at the University of Maryland, College Park, the Smith School offers undergraduate, full-time and flex MBA, executive MBA, online MBA, business master's, PhD and executive education programs, as well as outreach services to the corporate community. The school offers its degree, custom and certification programs in learning locations in North America and Asia.