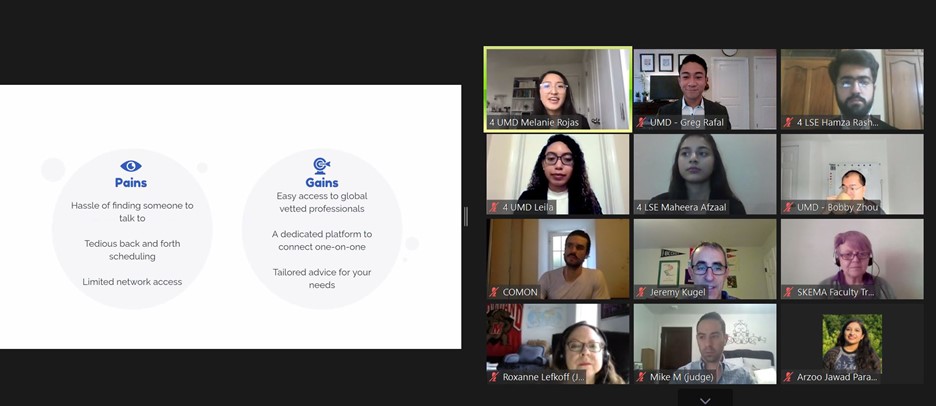 Image caption: Team 4, composed of students from Maryland Smith and the Lahore School of Economics, presenting their final case to the panel of expert judges, joined by members of the Maryland Smith community.
As part of the #KeepGlobalSmith campaign, the Robert H. Smith School of Business Center for Global Business at the University of Maryland held the inaugural International Business (IB) Agility Lab on October 23-30. This is the first of six IB Agility Labs that will take place this academic year. The IB Agility Labs are short virtual case competitions that allow undergraduate students to learn from global business leaders, collaborate with international peers, and focus on business resilience. During these labs, students benefit from exposure to an international company, work on teams with business students around the world, and gain hands-on case experience to build their resumes and CVs. Each Lab focuses on a functional area of business and features a live case from a company based outside the U.S. The winning team receives a certificate to honor their achievement.
Maryland Smith partnered with the Lahore School of Economics in Pakistan, the University of Navarra in Spain, and SKEMA Business School in France for this first IB Agility Lab that centered around a marketing case given by the marketing agency Com0n and startup studio BuildUp Labs based in Lisbon, Portugal. The case asked students to develop a market analysis and go-to-market strategy for Wyzr – a newly launched platform from BuildUp Labs.
Participating students received a formal introduction to the case and company, after which they were given under 24 hours to work with their teams to ideate and develop their presentations. The four finalists presented live to the Maryland Smith community, including a formal judging panel consisting of Roxanne Lefkoff, Clinical Professor and Associate Chair of Marketing at Maryland Smith, Michael Marcus '11, Brand Manager at Colgate-Palmolive, Rebecca Winner, Executive Director of Marketing and Communications at Maryland Smith, and Bobby Zhou, Assistant Professor of Marketing at Maryland Smith.
Congratulations to Daniela Artola-Brillas (UMD), Lukas Bronk (SKEMA), Abby Pineyro (UMD), Remco Van Den Bosch (SKEMA), and Théo Visentin (SKEMA) of team number eight for winning this inaugural case competition. Every team was challenged and worked hard to manage a complex team project across several time zones and continents. In reference to this experience, Dan Alpert '21 describes, "collaborating to make this large task more manageable was the first step to addressing the challenge and understanding how to tolerate ambiguity enabled us to do so. Being adaptable was key."
Applications have closed for the remaining IB Agility Labs this semester, but all are invited to sign-up to watch the final presentations for Accounting on November 13 and Analytics and Information Systems on November 20. If interested, apply now for the Finance, Management and Entrepreneurship, and Supply Chain Management agility labs taking place in spring 2021.
This event was supported in part by a Title VI grant program known as CIBE (Centers for International Business Education) administered by the U.S. Department of Education.
- By Jordan Heitzner, graduate assistant, Center for Global Business
Media Contact
Greg Muraski
Media Relations Manager
301-405-5283  
301-892-0973 Mobile
gmuraski@umd.edu 
About the University of Maryland's Robert H. Smith School of Business
The Robert H. Smith School of Business is an internationally recognized leader in management education and research. One of 12 colleges and schools at the University of Maryland, College Park, the Smith School offers undergraduate, full-time and flex MBA, executive MBA, online MBA, business master's, PhD and executive education programs, as well as outreach services to the corporate community. The school offers its degree, custom and certification programs in learning locations in North America and Asia.