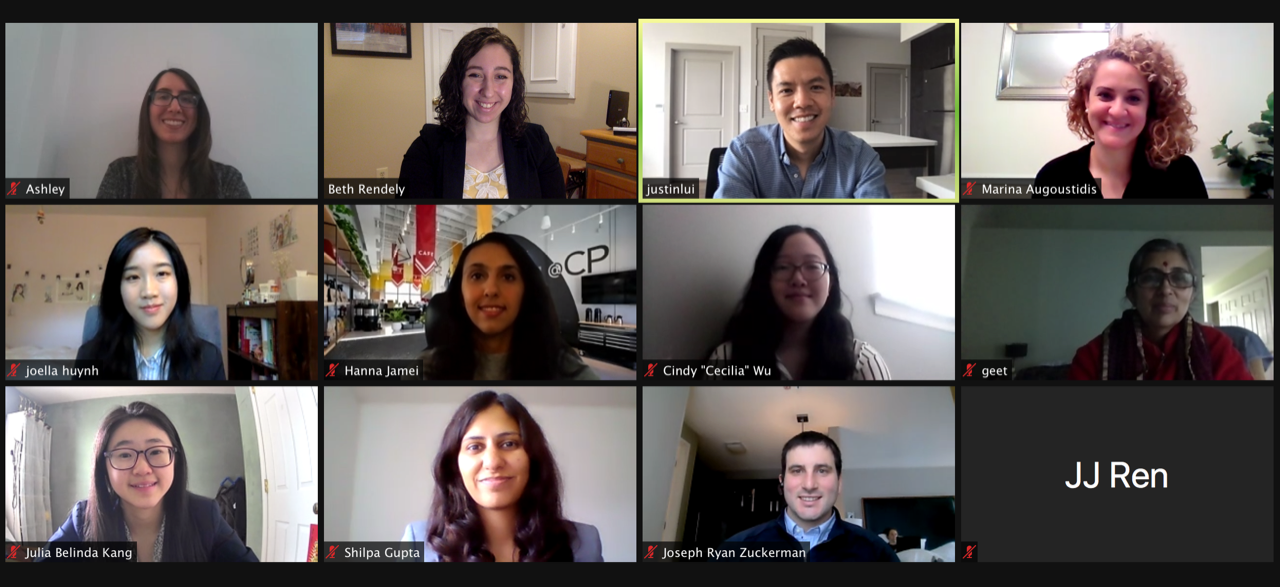 The Center for Global Business organized a virtual site visit with FlyWheel Digital for ten Maryland Smith students as part of the second International Business (IB) Trek in Maryland on Friday, April 30, 2021. The IB Trek in Maryland provides opportunities for undergraduate and graduate Maryland Smith students to learn from Maryland-headquartered companies about how they do business across borders and their industry and business culture, all while highlighting international business originating from Maryland.
Smith School alumni Ashley Kiani '17 and Justin Lui '14 returned to campus via Zoom as FlyWheel Digital representatives to share their stories and introduce the next generation of Smith School students to FlyWheel's operations, international strategy, and career opportunities. Lui, FlyWheel's chief of staff and culture, explained that the company's goal is to help brands grow their sales on e-commerce platforms. Students learned about company e-commerce strategies and customers' virtual habits, including how many pages online shoppers scroll, the importance of being among top listings in search results, and how to make a product page effectively sell an item.
Kiani, senior media manager on FlyWheel's Europe, Middle East, and Africa (EMEA) London team, spoke about the adaptations she made moving from the United States to England, as well as working with clients throughout Europe. While speaking about cross-cultural best practices, she stressed awareness of cultural differences such as communication tone, scheduling across time zones, and work-life balance. Kiani also addressed student questions about transitioning from graduating to working abroad, saying that although she encountered challenges, working in a global company became a rewarding long-term learning adventure.
Because FlyWheel Digital has offices in the US, London, Tokyo, and Australia, and supports brands all over the world, Kiani and Lui's presentation encouraged students to share their own experiences studying abroad and to ask about working internationally. One attending Smith School student said, "it was great to hear Ashley's experience... because I'm minoring in Chinese... so I've studied abroad at National Taiwan University and I definitely relate to what [she] had to say about the cultural differences [she] had to learn about."
Follow the Center for Global Business on Twitter @SmithGlobalBiz for other opportunities and events and join the center US Senator Ben Cardin at Maryland Business Adapts 20/21, an initiative honoring the resilience of five Maryland-based global companies, on June 3. Register for Maryland Business Adapts.
This event was supported in part by a Title VI grant program known as CIBE (Centers for International Business Education) administered by the U.S. Department of Education.
— Beth Rendely, current student in MS in Supply Chain Management
Media Contact
Greg Muraski
Media Relations Manager
301-405-5283  
301-892-0973 Mobile
gmuraski@umd.edu 
About the University of Maryland's Robert H. Smith School of Business
The Robert H. Smith School of Business is an internationally recognized leader in management education and research. One of 12 colleges and schools at the University of Maryland, College Park, the Smith School offers undergraduate, full-time and flex MBA, executive MBA, online MBA, business master's, PhD and executive education programs, as well as outreach services to the corporate community. The school offers its degree, custom and certification programs in learning locations in North America and Asia.