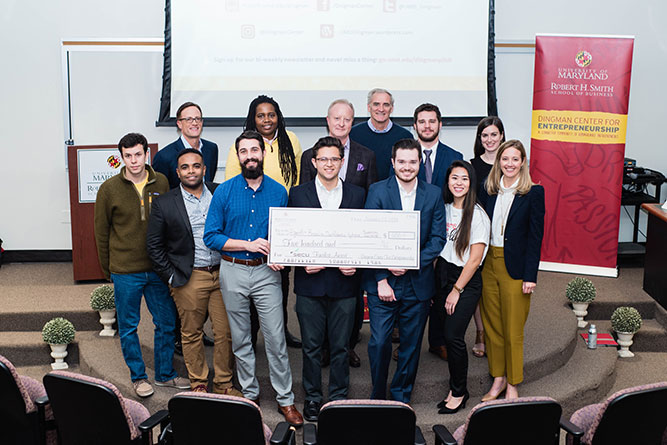 On November 22, 2019 in Van Munching Hall's Tyser Auditorium, the Dingman Center for Entrepreneurship at Maryland Smith hosted the semifinal round of Pitch Dingman Competition, featuring 10 undergraduate, graduate and PhD student-run businesses across University of Maryland, College Park. Each team who advanced to the semifinals was vetted through a quarterfinals round by a judges panel of alumni entrepreneurs and participated in mandatory workshops and advising sessions.
Congratulations to the five teams who will be advancing to the final round of the competition:
AlgenAir LLC – Dan Fucich, PhD '20, Kelsey Abernathy
AlgenAir LLC produces the Aerium, the world's first natural air purifier that uses algae to reduce carbon dioxide and produce oxygen as effectively as 25 house plants.
BraceLint, LLC – Daniel Raithel '20
BraceLint is a completely flat, single-use, and patent-pending version of the lint roller that allows anyone to freshen their clothing once they are out of the house.
Door Robotics – Joshua Ermias '20
Door Robotics is at the intersection of drones, virtual reality, and photography. They are launching a drone with an integrated virtual reality camera system. 
Hydraze– Charles Grody '20, Jack Sturtevant '20, Tuvia Rappaport '20
Hydraze Inc. has engineered automatic toilet flushing technology with the ability to reduce average toilet water consumption by 45%.
SweetsbyCaroline – Caroline Ta '21
SweetsbyCaroline is a thriving catering business that specializes in custom french macarons, cakes and cupcakes for parties and events.
Each of the five finalist teams receive an award from competition sponsor SECU for $500 and will go on to take the stage at the Pitch Dingman Competition Finals, where they will compete for the David & Robyn Quattrone Grand Prize of $15,000. The Finals event will take place on March 10, 2020 in the Grand Ballroom of Stamp Student Union.
This year's Pitch Dingman Competition Semifinals was a featured event in the Center's promotion of Global Entrepreneurship Week. The caliber of pitches at the Semifinals was a testament to UMD's recent rise in the Princeton Review and Entrepreneur magazine rankings to #7 in the country in undergraduate entrepreneurship education. The audience for the closed event was made up of students enrolled in entrepreneurship courses as part of Smith's Innovation and Entrepreneurship minor.
Congratulations to the remaining semifinalists on their impressive performance:
Gstyles – Goodness Ihekweme '21
Gstyles is a handmade custom clothing company that infuses Nigerian designs and influences into modern apparel.
ModBars, LLC– Jeff Su '21, Wyatt Talcott '21
ModBars, LLC provides delicious, nutritious protein snack bars that are both filling and allergen-free.
Pendulum Analytics, Inc. – William Sherman, MBA '19/MS '20
Pendulum Analytics, has a financial analytics platform that helps firms, like banks, extract valuable insight from their data to grow their profits.
Rendered Inc. – Saba Tshibaka '20
Rendered Inc is a sustainability-focused apparel company that vends high-quality thrifted clothing to combat the wasteful output of "fast-fashion" companies.
Savvy Tech – Thomas Savransky '20, Jonathan Schneider '20, Igor Savchenko '20 (UMBC)
Savvy Tech's Enly app is building exclusive technology that allows shoppers to virtually try on designer clothing to see their style and fit before ordering.
Each semifinalist was required to perform a 5-minute venture pitch followed by a 4 minute Q&A session from a panel of judges, including:
Dan Connors '82, General Counsel, xG Health Solutions
A frequent Dingman Fridays legal advisor, Connors has executive level in-house legal leadership experience building and delivering scalable legal and compliance services to growing technology companies. 
Jeff Grinspoon '90, MBA '95, Managing Director & Partner, VWG Wealth Management
Grinspoon has over 20 years of financial industry experience. He has been recognized nationally in the Forbes Top 100 Wealth Advisors list for 2016 and 2017. He serves on the Dingman Center Board of Advisors.
Cee Smith, Founder/CEO, Cee Smith Media Group; Founder/CEO, RainbowNoise
Smith is a serial Entrepreneur, Angel Investor and Ecosystem builder with a decade of experience starting and growing business, with a devotion to LGBTQ business advancement.
Keith Sullivan '82, Senior Advisor, InTandem Capital Partners
Sullivan has over 30 years of experience in forming and running healthcare businesses as co-founder and former CEO of ArmadaGlobal and former president and CEO of PERFORMAX, Inc. He is the 2016 recipient of Maryland's E&Y Entrepreneur of the Year award in Healthcare IT. He is a proud donor to the Dingman Center's Ladies First Initiative to increase the number of female and nonbinary founders engaged in entrepreneurship at UMD.
Le Marie Thompson '01, Founder, Nettadonna
An adjunct faculty member with Maryland's Entrepreneurship and Innovation Program, Thompson has over 10 years of experience with global 100 telecom companies including Iridium Sattelite LLC and Sprint-Nextel. She was selected by Fast Company magazine as one of the 100 most creative people in business and social good. 
Media Contact
Greg Muraski
Media Relations Manager
301-405-5283  
301-892-0973 Mobile
gmuraski@umd.edu 
About the University of Maryland's Robert H. Smith School of Business
The Robert H. Smith School of Business is an internationally recognized leader in management education and research. One of 12 colleges and schools at the University of Maryland, College Park, the Smith School offers undergraduate, full-time and flex MBA, executive MBA, online MBA, business master's, PhD and executive education programs, as well as outreach services to the corporate community. The school offers its degree, custom and certification programs in learning locations in North America and Asia.