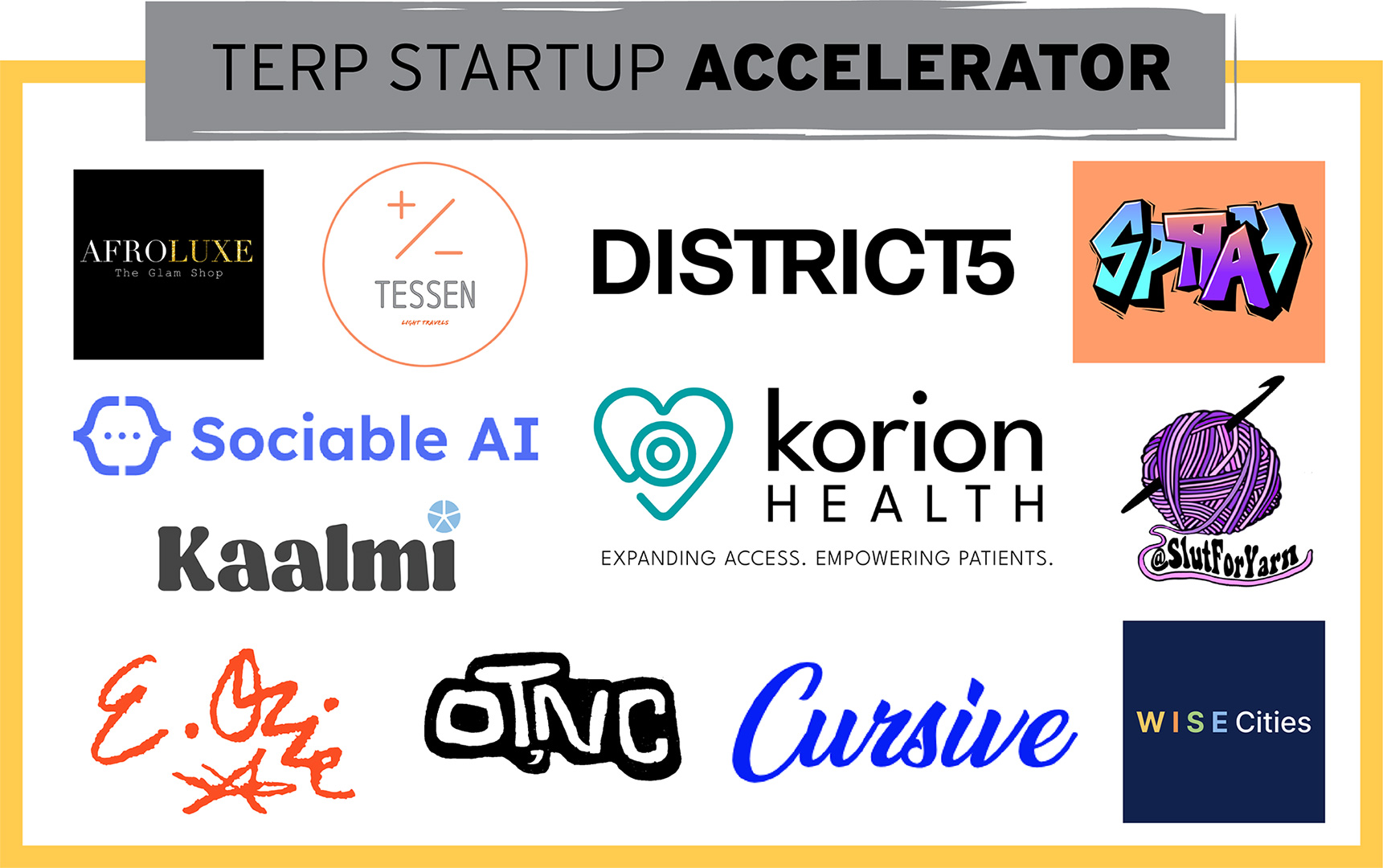 The Dingman Center for Entrepreneurship is pleased to announce that it has accepted 12 University of Maryland student teams into its 2023 Terp Startup Accelerator summer program. This is now the program's ninth consecutive year and the second year that the program will be held in The Loft at The Edward St. John Learning and Teaching Center (ESJ). The competitive cohort was selected from an applicant pool of 35 University of Maryland student venture teams.
Throughout the program's eight weeks, the students will participate in workshops and roundtable discussions throughout the summer. Each student venture team will also receive a stipend of up to $5,000 and a dedicated advisor to help them grow their businesses.
"This year we had a very strong pipeline of applicants and the cohort we selected is reflective of that," says Tsega Belachew, the Dingman Center's director of venture development. "I can already tell that our team is going to have fun with this ambitious bunch. Many of the ventures have already built an MVP/prototype and/or have customers! The industries span beauty, media, entertainment, technology (Artificial Intelligence), mental health, and product."
This year's cohort includes the following student ventures:
AfroLuxe Glam Shop – Chelsea Amadi '24 (Information Science)
AfroLuxe Glam Shop provides cosmetic products that celebrate the uniqueness and beauty of African American women.
Cursive Technology, Inc. – Joseph Thibault MBA '23
Cursive Technology, Inc. utilizes machine learning and other technologies to identify unique writers in a secure online text box to protect academic integrity from the risk of copy/pasting from generative artificial intelligence programs (such as ChatGPT) or contract cheating threats. The goal is to provide faculty and teachers with better tools for assessing student writing in the classroom, providing institutions a better solution for ensuring Academic Integrity.
DISTRICT5 – Sonny Tu '23 (Information Science), Alex Chen,'22 (Architecture), Peter Chun' 22 (Computer Science)
DISTRICT5 is a film and media production company that creates compelling and thought-provoking content across a range of platforms for consumers and businesses looking to connect to consumers.
E. Ozie Studios – Ijeoma Asonye '23 (Mechanical Engineering)
E. Ozie Studios is a multimedia creative house currently engaging young adults and the young-at-heart with the beauty of STEM and Art. E. Ozie Studios produces books, films, and other relevant merchandise to rise to the forefront of revolutionary conversations.
Kaalmi – Matthew Foulk '23 (Mathematics)
Kaalmi is a mental wellness company that offers sensory-based products for individuals with mental illnesses to complement their medication and therapy. The company's mission is to bridge the resource gap that exists in mental health treatment and empower individuals to take control of their mental wellness.
Korion Health – Akshaya Anand '23 (Computer Science)
Korion Health provides tools that empower people to conduct their own health screenings. The first product is an affordable stethoscope and user interface that guides individuals through properly recording their heart sounds.
Old Town, New Clothes – Brian Spinner '23 (Environmental Science and Policy)
Old Town, New Clothes is a sustainable clothing brand that continues to appeal to a growing following of 500+ supporters. The startup resells clothing and also makes custom clothing.
Slut for Yarn – Anna Boyd '24 (Plant Science)
Slut for Yarn involves creating and selling unique crochet hats, clothes, stuffed animals, accessories, and more. The company aims to combat the unethical practices in crochet sold in stores by big companies, and to change the negative connotation of the word "slut" to something empowering.
Sociable AI – Thomas (Sunghyun) Noh '24 (Immersive Media Design), Jenny (Seoyoun) Jeong '25 (Criminology and Criminal Justice)
Sociable AI is an innovative AI virtual influencer that helps teens struggling with mental health issues via Machine Learning. Sociable AI posts social media content advocating for teens, available to chat 24/7 to emotionally support teens on a personal level through a hyper-realistic language model.
Spray – Connor Hartzog '23 (Computer Science), Mari Ortega '24 (Immersive Media Design), Jason Fotso-Puepi '23 (Computer Science), Ajitesh Kaladi '25 (Immersive Media Design)
Spray is an augmented reality (AR) street art application that allows people, such as artists and creatives, to compose murals on real-world physical surfaces. Spray will provide users with the tools to beautify their world through immersive art.
Tessen – Celine Liptrot '24, Kilian Liptrot
Tessen designs and produces protective covers for large, high-quality lenses in the photography, scope, drone payload, and optical sight markets. Using a new, innovative, and patent-pending iris design, Tessen's "Lens Blade" product allows anyone to use their large high-quality glass optics in the field without having to ever remove their lens caps from their device.
WISE Cities – Marie Brodsky '24 (Mathematics), Katherine-Aria Close '23 (Graphic Design & Environmental Science)
WISE Cities is a women-run startup creating accessible technology for seniors experiencing social isolation to connect with their communities. The platform allows seniors to easily discover local groups and resources and gives community centers, city departments, and businesses the opportunity to share their services with this typically hard-to-reach audience.
Media Contact
Greg Muraski
Media Relations Manager
301-405-5283  
301-892-0973 Mobile
gmuraski@umd.edu 
About the University of Maryland's Robert H. Smith School of Business
The Robert H. Smith School of Business is an internationally recognized leader in management education and research. One of 12 colleges and schools at the University of Maryland, College Park, the Smith School offers undergraduate, full-time and flex MBA, executive MBA, online MBA, business master's, PhD and executive education programs, as well as outreach services to the corporate community. The school offers its degree, custom and certification programs in learning locations in North America and Asia.