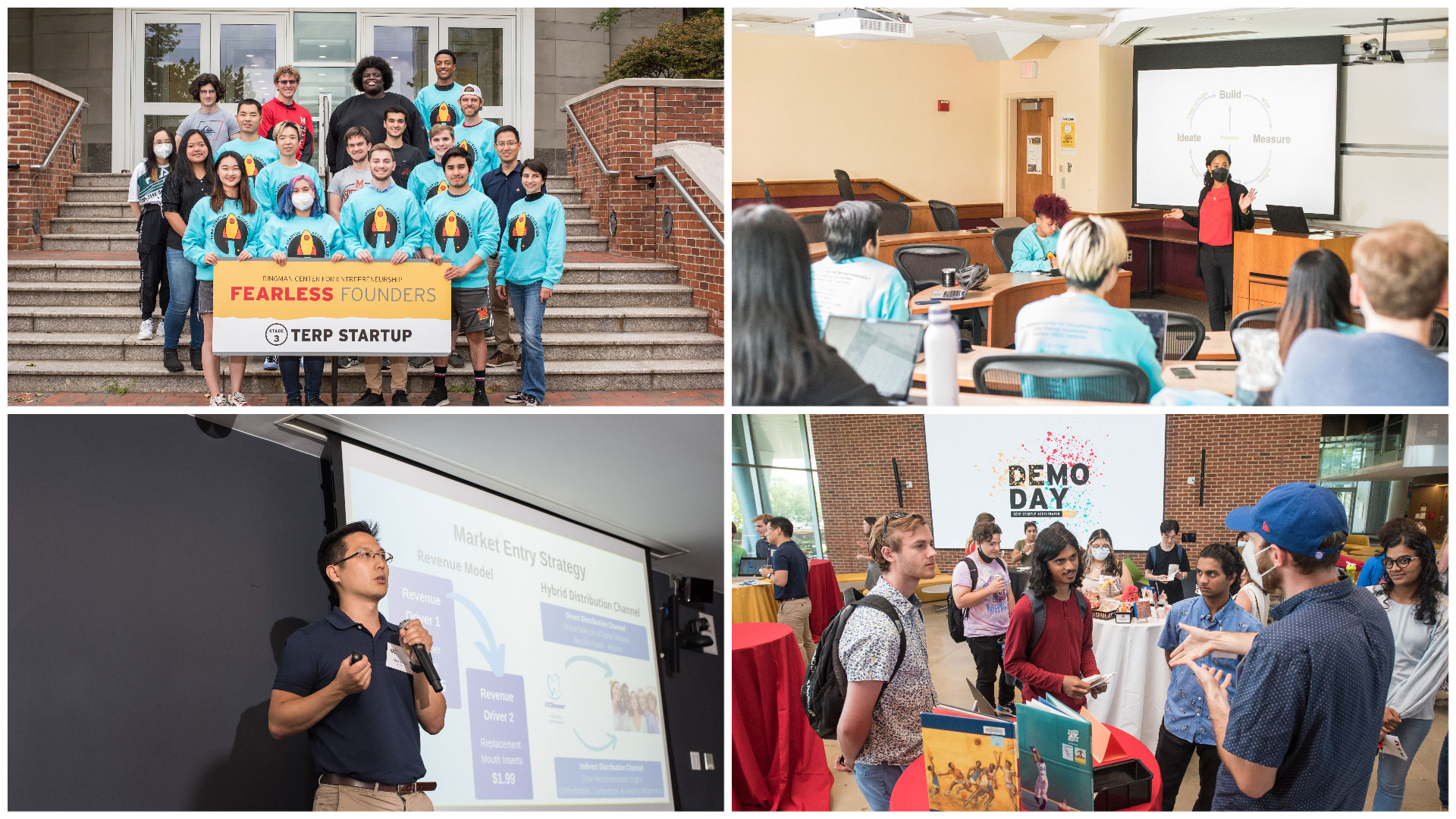 Terp Startup Accelerator is a summer program that helps student entrepreneurs make progress on their startups for eight weeks over the summer. By the end of the accelerator, students should have: made substantial progress on their product or service; secured or increased initial customers and partners; have the ability to make the "go/no-go" decision based on metrics and market indicators. Those selected for Terp Startup Accelerator will receive:
A cash stipend of up to $5,000.
Ongoing advising with venture mentors.
Access to exclusive workshops and other useful resources.
The opportunity to apply for a continuation of resources and non-dilutive funding during the academic year as a Terp Startup Fellow.
Candidates for Terp Startup Accelerator
Student entrepreneurs who have completed milestones from the New Venture Practicum stage by developing an MVP and are working on acquiring initial customers.
Students who have not participated in a Dingman Center program may apply. These students must have conducted initial customer discovery and should be in the stage of testing their prototype. 
Terp Startup Accelerator 2023 Cohort
Cursive Technology, Inc. – Joseph Thibault MBA '23
Cursive Technology, Inc. utilizes machine learning and other technologies to identify unique writers in a secure online text box to protect academic integrity from the risk of copy/pasting from generative artificial intelligence programs (such as ChatGPT) or contract cheating threats. The goal is to provide faculty and teachers with better tools for assessing student writing in the classroom, providing institutions a better solution for ensuring Academic Integrity.
DISTRICT5 – Sonny Tu '23 (Information Science), Alex Chen,'22 (Architecture), Peter Chun' 22 (Computer Science)
DISTRICT5 is a film and media production company that creates compelling and thought-provoking content across a range of platforms for consumers and businesses looking to connect to consumers.
E. Ozie Studios – Ijeoma Asonye '23 (Mechanical Engineering)
E. Ozie Studios is a multimedia creative house currently engaging young adults and the young-at-heart with the beauty of STEM and Art. E. Ozie Studios produces books, films, and other relevant merchandise to rise to the forefront of revolutionary conversations.
Kaalmi – Matthew Foulk '23 (Mathematics)
Kaalmi is a mental wellness company that offers sensory-based products for individuals with mental illnesses to complement their medication and therapy. The company's mission is to bridge the resource gap that exists in mental health treatment and empower individuals to take control of their mental wellness.
Korion Health – Akshaya Anand '23 (Computer Science)
Korion Health provides tools that empower people to conduct their own health screenings. The first product is an affordable stethoscope and user interface that guides individuals through properly recording their heart sounds.
Old Town, New Clothes – Brian Spinner '23 (Environmental Science and Policy)
Old Town, New Clothes is a sustainable clothing brand that continues to appeal to a growing following of 500+ supporters. The startup resells clothing and also makes custom clothing.
Slut for Yarn – Anna Boyd '24 (Plant Science)
Slut for Yarn involves creating and selling unique crochet hats, clothes, stuffed animals, accessories, and more. The company aims to combat the unethical practices in crochet sold in stores by big companies, and to change the negative connotation of the word "slut" to something empowering.
Sociable AI – Thomas (Sunghyun) Noh '24 (Immersive Media Design), Jenny (Seoyoun) Jeong '25 (Criminology and Criminal Justice)
Sociable AI is an innovative AI virtual influencer that helps teens struggling with mental health issues via Machine Learning. Sociable AI posts social media content advocating for teens, available to chat 24/7 to emotionally support teens on a personal level through a hyper-realistic language model.
Spray – Connor Hartzog '23 (Computer Science), Mari Ortega '24 (Immersive Media Design), Jason Fotso-Puepi '23 (Computer Science), Ajitesh Kaladi '25 (Immersive Media Design)
Spray is an augmented reality (AR) street art application that allows people, such as artists and creatives, to compose murals on real-world physical surfaces. Spray will provide users with the tools to beautify their world through immersive art.
Tessen – Celine Liptrot '24, Kilian Liptrot
Tessen designs and produces protective covers for large, high-quality lenses in the photography, scope, drone payload, and optical sight markets. Using a new, innovative, and patent-pending iris design, Tessen's "Lens Blade" product allows anyone to use their large high-quality glass optics in the field without having to ever remove their lens caps from their device.
WISE Cities – Marie Brodsky '24 (Mathematics), Katherine-Aria Close '23 (Graphic Design & Environmental Science)
WISE Cities is a women-run startup creating accessible technology for seniors experiencing social isolation to connect with their communities. The platform allows seniors to easily discover local groups and resources and gives community centers, city departments, and businesses the opportunity to share their services with this typically hard-to-reach audience.
Arch Dash - Ina Kovacheva '23 (Computer Science)
Arch Dash enables architects to make data-driven decisions that will result in healthier, efficient, and more sustainable building designs.
Bedtime Spories - Josh Doying MBA '23
For the sports fan with young children, Bedtime Spories provides a weekly opportunity to share their love of a team with the people they love by providing a subscription of tailored, bed-time stories and illustrations about the athletes on their team(s)
Em G Art Design Studio - Emily Garcia '22 (Studio Art & Art Education)
Em G Art Design Studio offers original handmade products suited as sentimental gifts, or as decorative elements to personalize everyday items.
EMPIRE 242 - Kang Ewimbi '23 (Entertainment Industry)
EMPIRE 242 is a record label that is run by artists for artists looking for an alternative path from the major recording companies because independence and ownership are paramount to creativity.
JuJu Food Delivery - Weixiang Wang '22 (Computer Science), Nanxin Luo '25 (Finance and Information Systems), Zeyang Liu '22 (Economics), Keying Sun '23 (Statistics), Liqianrui Yang '22 (Economics and Management), Zirui Zhou
For those who only have limited lunch break time but still want to have a variety of food options, such as college students and office workers, JuJu Food Delivery's service of group ordering is a new way that provides various food choices at a fairly low price punctually and conveniently, unlike canteens or traditional food delivery services.
Omega 3 - Edwin Bright Djampa '22 (Nutritional Food Science)
Omega 3 is the nutritional food brand pioneering the use of brain-boosting, organic ingredients without compromising quality, taste, or sustainability.
ReGlass - Bennett Greenspun '24 (Astronomy)
ReGlass is a company that makes glasses with interchangeable lenses for people who want a cheaper frame alternative, and people who want greater customization in fashion eyewear.
Sparza - Ryan Myer '22 (Finance), Kyle Sznoluch
Sparza aims to build community, strong connections, and laughter between family, friends, and even complete strangers.
Sustainabli - Alisha Pun '24 (Economics)
Sustainabli implements cost-effective programs in research institutions to facilitate scientist behavioral change towards reducing lab chemical, plastic, and energy waste.
UCleaner - Robert Choe PhD '23 (Bioengineering), Blake Kuzemchak PhD '23 (Bioengineering), Erfan Jabari PhD '23 (Bioengineering), Noah Eby PhD '23 (Bioengineering)
UCleaner aims to develop a product that facilitates oral hygiene for the vulnerable demographic of geriatric and hospitalized individuals with reduced fine motor skills.
Waveli - Rob (Diego) Castro '24 (Finance), Zach Lefkovitz '24 (Computer Science), Samai Patel '25 (Computer Science), Corbin Voorhees '25 (Aerospace Engineering), Joe Beckman '25 (Undecided), Matt Gashaw '25 (Computer Science), Edward Awe '25 (Finance, Government and Politics), Neil Kundagrami '24 (Computer Science and Math)
Waveli solves the problem of young adults looking for the best social events in their area by creating a network of hip, similarly-minded people who are going to those events.
Athenus Financial Group, LLC - Cameron Williams, '21 (Mechanical Engineering), Damian Shaw, '24 (Computer Science)
Athenus is a fintech company that leverages Machine Learning AI to allow our users to participate confidently in the foreign exchange market.
Cruising Altitude LLC - Alan Soclof, '22 (Management)
Cruising Altitude is a media company focused on inspiring the next generation of long-term investors. We are achieving our mission through a weekly newsletter filled with original stock analysis, a portfolio of stocks, GIFs, memes, and so much more!
Cyanwalet - Hsiaoting (Tim) Ko, MBA '21
CyanWalet is a crypto-based digital wallet platform for users to make P2P transactions with stable crypto coins.
Dorothy's Place - Mika Panday, '21 (Studio Art), Colleen Baldwin (Computational Physics), Olivia Bruno (Business Administration and Entrepreneurship Minor)
Dorothy's Place is an intuitive platform that allows for HIPAA-compliant photo sharing and the creation of medical timelines. Our mission is to help children with disabilities connect with their care teams on a personal level and to enhance the communication between their guardians and healthcare providers.
Fancy & Spicy - Brin Xu, PhD '22 (Sociology)
Fancy & Spicy is a digital culinary platform, emphasizing authentic Chinese food. We have a popular food blog, website, and published cookbook.
Onye Vé - Goodness Ihekwme, '21 (Marketing)
Onye Vé is a unique clothing brand for women and men.
JMakes3D - Jess Garnett '21 (Material Science and Engineering)
JMakes3D helps inventors and entrepreneurs get from ideation to functional prototypes by providing design, fabrication, and iterative product development services.
Lydia Liriano - Nishelle Oglesby '21 (Communications)
Lydia Liriano is a luxury candle company that strives to give black women high-quality self-care experiences that benefit mental health.
MarketTap - Peter Chun, '22 (Computer Science), Jay Patel, '22 (Information Science) Dakshay Mehta, '22 (Mechanical Engineering)
MarketTap is a mobile app for busy investors to stay current on their stocks with a real-time feed of all major updates, catalysts, and upcoming events, helping them save time and make informed decisions.
MARS Technology - Xiaohui (Sophie) Li, MBA '21
MARS was founded in order to bring the next generation of methane conversion technology to the market. The company is building an autothermal catalytic wall reactor that can convert methane waste to valuable chemicals with minimum energy input.
Mindgrasp.io - Thaibinh Cao, '23 (Computer Science), Rushil Joshi, '22 (Computer Science)
Mindgrasp.io is an AI-based web app that contains several language analysis models that help students read, write, and understand English in a more effective and interactive way.
North Star Creations - Mat Parsons, MBA '22, Daniel Yu, MBA '22
North Star Creations specializes in products to help children with emotional and social development.
Prommuni - Bradley Mascarenhas, '21 (Finance/IS), Karsh Patel, '21 (Computer Science)
Prommuni, short for "professional community", is a social networking platform where professionals connect with one another to create co-living groups and find housing.
Stan - Anaum Khan, '24 (Computer Science), Zack Khan, '19 (Computer Science)
Stan is the content creator loyalty platform where fans can earn points for engaging with their favorite creators' content and redeem them for exclusive creator prizes, such as a video shoutout.
Tiny Theatre - Ian Rosario, '22 (Architecture & Spanish)
Tiny Theatre provides fun, printable theatre activities that help elementary kids build social skills, confidence, & reading fluency.
Wise Legacy Finance - Wendy Rodriguez, '22 (Finance)
Wise Legacy Finance is a personal finance company that provides products and services to Gen Z and Millennials to take control over their money, make wise financial decisions and achieve their financial goals.
Blimp Logistics
Founder: Camilo Melnyk '21
Blimp Logistics provides a fast and robust drone delivery network for any business.
Founder: Crystal Pinckney '22
Crys&Co Beauty provides easy access to beauty products and services for students on campus.
Door Robotics, Inc.
Founders: Joshua Ermias '20, Vincent Jaugan '21
Door Robotics has developed a drone featuring an integrated, 360 virtual reality camera system.
ModBars, LLC
Founders: Jeff Su '21, Wyatt Talcott '21
ModBars, LLC produces delicious, customizable granola bars to accommodate unique dietary needs.
Founder: Harrison Burke '20
Morning Light fosters competitive Esports teams to make the jump to full-time professional sponsorships.
O•pal•es•cent Nails
Founder: Doyinsola Oladimeji-Stevens '20
O•pal•es•cent Nails creates affordable yet glamorous press-on nail looks.
OcuClips
Founder: Mohil Gupta '18, MS '19
InstaBeauty is a delivery platform where users order beauty goods with personal shoppers.
Founder: Jacques Marais '20
Sow Co. gives users an automated kit for growing a pound of microgreens per week in their home.
Founder: Sarah Lader '20
The Sustainable Socialite provides affordable, curated vintage-style fashion to support sustainable shopping.
Vitalize
Founders: Sanketh Andhavarapu '23, Veeraj Shah '21
Vitalize is a mobile app for physicians with activities to alleviate stress and reduce burnout.
Wanderlust Wardrobe
Founder: Lucy Bedewi '20
Wanderlust Wardrobe is a personal style consultant with a pricing model accessible to the average woman.
Azelle
Founder: Barathi Aravindan '22
Azelle sells charm bracelets with proceeds that support saving the Chesapeake Bay.
Blessed Braids
Founder: Nadia Edet '20
BlessedBraids is a business that provides quality protective hair styling for an affordable price.
BraceLint
Founder: Daniel Raithel '20
BraceLint's patent-pending bracelet-like design creates a more portable lint removal solution.
Break Box
Founder: Ryan Perpall '20
Break Box facilitates better glass recycling practices through fun bottle throwing experiences.
Code&Play LLC
Founder: Felipe de Padua, MS '19
Code&Play offers live online coding courses from real engineers for kids and teenagers.
InstaBeauty
Founder: Sadia Alao '20
InstaBeauty is a delivery platform where users order beauty goods with personal shoppers.
Hangry
Founders: Shehan Weeraman '19, Nick Adimi '18
Hangry is an online food ordering and delivery platform that delivers food via drones.
Iced Out Cosmetics
Founder: Isha Kamara '20
A cosmetics brand that celebrates beauty in people marginalized by societal standards.
MPLEX
Founder: Galen Stetsyuk '20
MPLEX is a virtual reality video game company creating a game worth getting a VR headset for.
NuroSTREAM
Founders: Steven Jettoo '20 (CEO), Kirsten Newman '15 (CMO)
NuroSTREAM is an app using neuroscience-based tools to help facilitate learning.
OpenPoll
Founder: Zachary Wynegar '20
OpenPoll allows decision makers to distribute surveys and collect responses more easily.
Pendulum Analytics
Founder: William Sherman, MBA '19
Pendulum Analytics provides a cost-effective approach to preventing financial transaction failure.
Sabreen Cosmetics
Founder: Kareemah Mustafa '19
Sabreen Cosmetics markets vegan and cruelty-free beauty products to women of color.
Savvy Tech
Founder: Thomas Savransky '20
The Savvy Tech app allows users to try out and buy designer clothing in a virtual marketplace.
Toucan
Founder: Shyon Parsadoust '19
Toucan is a collaborative e-commerce platform to help college students market their talents.
Aurora Tights
Founders: Jasmine Snead '18, Sydney Parker '18
Aurora Athletics is an athletic brand that designs performance gear for women of all complexions and sizes to create an atmosphere of acceptance within performance sports.
Citizens of Earth
Founder: Michael Sheehan '18
Citizens of Earth strives to support the health, happiness and harmony of communities through creating innovative and sustainable market solutions for health and environmental issues.
LzyFarmer
Founder: Robert Ginsberg, MBA '18
LzyFarmer is an app-based business that uses data-driven logic based on APIs and customer input/feedback to direct the customer on how to grow a successful home gardens.
Noble Uprising
Founder: L. Audrey Awasom '18
Noble Uprising delivers transformative workshops and experiences that equip homeless women to overcome barriers that prevent them from being successful in the workforce.
Olympus Projects
Founders: Zubin Gadhoke '19, Peter Robinson '19, and Mike Duquette '18
Olympus Management Group provides artists with the business insight and strategy needed to grow their brand and increase their exposure.
SLAY Naturals
Founder: Breonna Massey '18
SLAY Naturals is an all handmade skin-care line dedicated to making natural skin care mainstream.
Solr Tech, LLC
Founder: Alexei Onufrak '20
Solr Tech brings scalable and sustainable sources of energy to both businesses and communities through their innovative products.
Synapto
Founders: Anoop Patel '20, David Boegner '20
Synapto is an early-stage biotech venture revolutionizing the early diagnosis of Alzheimer's disease through portable Electroencephalogram (EEG) and artificial intelligence.
Tommy WARES
Founder: Tommy Piantone '18
Tommy WARES is an ethical t-shirt company that works with independent artists to fund social impact investment projects; their shirts are fair trade, 100 percent organic, and union-made in the U.S., and they have a tree planted for every shirt sold.
Verdant Innovatives, LLC
Founder: Anjik Ghosh '18
Verdant Innovatives addresses the lack of energy infrastructure and a need for renewable energy through the development of their small-scale vertical wind axis turbine.
2B
Founder: Nina Silverstein, MBA '17
2B is a children's clothing and book company aimed at inspiring children to dream and learn about what they want to be when they grow up. 2B seeks to close the information gap and increase access to opportunities for all children, regardless of socio-economic status, by empowering them to envision themselves as anything they want when they grow up.
Annie's Children
Founder: Katie Aranas '17
Annie's Children publishes children's books of folk stories from different countries to provide education to children in the orphanages in Ukraine, Russia and the Philippines.
Dark Sonar Technologies, LLC
Founder: Brian Freeman '19
Dark Sonar Technologies, LLC is a cybersecurity company that detects and prevents threats on websites and mobile apps by providing automated identity and access management software. They are a Software as a Service (SaaS) business with a managed services line which assists businesses with cybersecurity software integration and cybersecurity management.
Flee
Founder: Didac Hormiga '19
Flee is an interactive, location-based social media app that helps people find local events and entertainment.
FroDoh
Founders: Simon Amato '17, Holly Wilson '17, Alexandra Cimino '17, Diego Lyon '18
FroDoh is refreshing the industry by taking classic desserts and giving them a frozen twist. The Future is Frozen.
GlowGadget
Founder: Shane Salta, MBA '17
GlowGadget is a company that provides smart, wearable light-up devices, beginning with a digital LED shirt that you can control with your phone.
GRO Technologies
Founders: Abeeb Ayodeji '17, Dimitri Wolford '18
GRO Technologies was founded in 2017 by Dimitri Wolford and Abeeb Ayodeji to empower community organizing and promote grassroots involvement in the political process.
Senvision
Founders: Christopher Look '20, Sanna Madan '20
Senvision performs sentiment analysis on Twitter and news feeds from around the world to predict stock market movement. They use this information to help people invest worry-free.
Symbiont Health
Founders: Erich Meissner '18, Maria Chen '19, Kyle Liu '20
Symbiont Health has developed automated fall detection devices to account for the millions of elderly falls that are due to a sudden loss of consciousness.
CardBuddy
Founder: Sam Feldman '16
CardBuddy features stick-on phone wallets made of high-quality leather, presenting an upscale alternative to the common cheap plastic options.
CourseHunter
Founders: Aaron Bloch '18, Benjamin Khakshoor '18
CourseHunter aims to revolutionize the registration experience for undergraduate students through a web application that allows users to receive instant open seat notifications sent straight to their devices.
Curu
Founders: David Potter '18, Abb Kapoor '18, Giorgi Managadze '18
Curu is a web and mobile app that provides inexperienced credit card holders with centralized tools and knowledge to simplify credit management.
East Habesha
Founder: Saron Asfaw '18
East Habesha is an online cultural store dedicated to providing the Washington, D.C., metropolitan area with East African clothing, spices and accessories.
Nonich
Founders: Damar Bess '18, Henry Blanco, Rodrick Campbell
Nonich is a contemporary menswear clothing brand that blends aesthetics from Japanese street wear, Americana clothing and Western European outerwear, while incorporating details from the designers' personal life experiences and influences.
POSH
Founders: Nathalyn Nunoo '18, William Kwao '18, Elania Tait '18
POSH is a beauty consulting firm that provides a fun and reliable hands-free resource to clients seeking make up services for any occasion.
TapTime TV
Founder: Dustin Ecton '16
TapTime TV is a fully customizable entertainment channel placed in local bars and restaurants that lifts the weight of internal marketing for restaurants while providing an external advertising outlet for local businesses.
Vendoo
Thomas Rivas-Siles '16
Vendoo is a mobile application dedicated to streamlining the selling process for the online seller. Similar to Hootsuite, the app allows sellers to easily post on different marketplaces while also managing their items and messages all from one place.
Bethany's Organics
Founder: Bethany Monaghan '16
Bethany's Organics is on a mission to make healthy food more convenient, honest, delicious & environmentally friendly. The company uses only the highest quality ingredients, never sacrificing taste. All of its products are non-GMO, organic and vegan friendly. Its first product, Crustless Creations, is a healthy spin on your childhood favorite. Crustless Creations are crustless sandwiches filled with the perfect ratio of nut/seed butters & delicious fruit spread served on whole wheat bread.
Demere
Founders: David Engle '15, Tony Liang '17, Seean Kim '17
Demere.co is a virtual clothing platform that allows users to upload photos of their garments and within 20 seconds – based on age, gender, weather, and personal style – Demere can predict the best outfit for the user to wear in addition to notifying them of what to purchase online to add to their current wardrobe, as well as while they are shopping in physical stores.
Javazen
Founders: Eric Golman '15, Ryan Schueler '14, Aaron Wallach '14
Javazen promotes health in the coffee industry through the creation and distribution of functional beverages. The startup aims to lead new trends in the beverage industry which can make the world a better place. Javazen products are always organic, always nutritious, and always delicious. The startup began selling their tasty product in the Dingman Center's Terp Startup Marketplace, and are now selling in dozens of grocery stores and organic markets.
K. Sultana
Founder: Omar Goheer '16
K. Sultana was founded to relieve the discomfort from hot temperatures experienced by Muslim women who wear the head scarf, called the hijab. K. Sultana's sales team involves a collaboration with women in Muslimat Al-Nisaa, a homeless shelter based in the Baltimore area focused on serving homeless Muslim women. These women form their initial person-to-person sales force and receive a $7.50 sales commission for each scarf sold.
Meta Cartel
Founder: Jordan Greenwald '15
Meta Cartel is a progressive streetwear brand that makes limited-edition hats. Founded after an inspirational trip to Spain, the brand began designing hats as a medium of expression, and with a purpose of creating a parallel to themes found in street culture. Since then, Meta Cartel has also expanded into custom hip-hop inspired art, and has maintained a strong presence in the emerging arts scene.
Starchild Studios
Founders: Ayana Zaire Cotton '15
Starchild Studios is a co-working concept for DC creatives. The startup's ultimate goal is to showcase, connect, and empower DC's creative community. Starchild showcases local artists through their media outlet, Distrikt Magazine. It will connect creatives through a collaborative studio space opening in 2016. Ayana hopes to empower the creative community through workshops on entrepreneurial insight for artists.
VentureStorm
Founders: Tyler Denk '16, Taylor Johnson '16, Tommy Johnson '16, Akash Magoon '18, Ephraim Rothschild '17
VentureStorm is an online platform that connects aspiring student entrepreneurs with talented student developers locally on their campus to advance their business from idea to launch. The VentureStorm team is currently building a unique collaborative workspace on their platform to enhance the communication and development process.