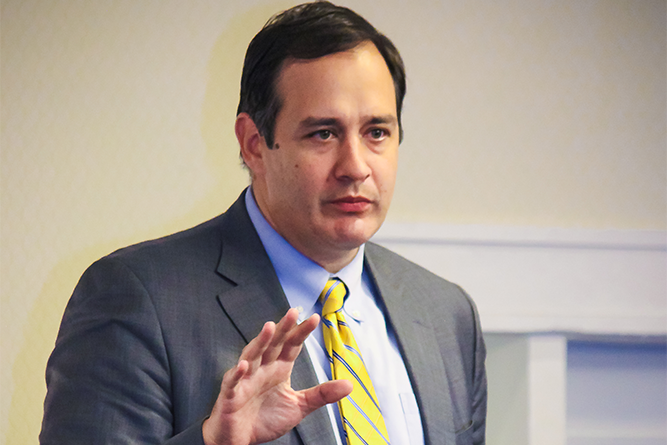 Blockchain is no longer hype and is poised to transform virtually every industry, including health care, says Health and Human Services (HHS) official Jose Arrieta. "We're standardizing data and decentralizing execution. It adds value…It's a better model."
This keynote message, also explored in a related panel discussion, was part of the Conference on Health IT and Analytics (CHITA) Oct. 19-20, 2018 in Washington, D.C., hosted by the Center for Health Information & Decision Systems (CHIDS) at the University of Maryland's Robert H. Smith School of Business.
Blockchain is a ledger of transactions and data about organizations and individuals -- distributable and sharable between parties in real time. According to International Data Corporation, 20 percent of healthcare organizations by 2020 will be using blockchain for operations management and patient identity, Arrieta, as HHS Associate Deputy Assistant Secretary for Acquisition, is leading six blockchain-focused pilot projects across the department's family of agencies. Applications involve, in part, vendor-contracting and pandemic information-sharing between hospitals and the Centers for Disease Control (CDC) and Prevention.
Economic viability is a driver and one of three, key Blockchain "value propositions," said David Nguyen founder and CEO of management consultancy United Solutions, while moderating a Blockchain panel. The other value propositions are "super security" (via cryptographic hashing – rather than encryption) and trust. The latter, Nguyen said, inherently is problematic in a human-based system. "Conflicts occur every day driven by our inability to completely understand each other and create a sense of not having 'all the information.' Blockchain is "the ultimate trust platform," largely by being immutable, meaning users only can add, not replace data, nor hide their tracks.
Economically, blockchain replaces human, third party intermediaries -- like through the Centers for Medicare and Medicaid Services where, for example, personnel hours are significantly dedicated to vetting service providers or the CDC verifying properly immunized responders to an epidemic, Nguyen said. Blockchain virtually "brings the cost of verification to zero."
But this also means "administrative-oriented spending can be shifted to mission-oriented spending," said Arrieta.
Increased patient empowerment, or "self-service sovereignty," also looms, said Nguyen. Blockchain's underlying technology can allow for healthcare consumers to control both physician- and third party- access to their ledgers of personal data pertaining to the likes of surgeries, prescriptions, screenings, lab results and diagnoses.
In addition to Arrietta, other CHITA keynote speakers were University of Toronto marketing professor Avi Goldfarb, University of Maryland Professor of Economics and Hazel Analytics' Chief Data Scientist Ginger Zhe Jin, and Chief Medical Information Officer and Chief Information Officer for Children's National Brian Jacobs.
Panelist speakers, in addition to Nguyen, included CDC Risk Management and Operational Integrity director Sachiko Kuwabara, HHS Emerging Technology Strategist Oki Mek, Vheda Health CEO Shameet Luhar, IBM Executive Architect for Federal Healthcare Prithvi Rao and Amazon Web Services Executive Advisor Elizabeth Boudreau.
"This conference tapped into some of the world's most respected experts in the IT and data science fields," said Ritu Agarwal, Senior Associate Dean for Research, Professor and the Robert H. Smith Dean's Chair of Information Systems and founder and director of CHIDS. "This networking and knowledge sharing by researchers, clinical executives and policymakers equips these leaders to further push the U.S. healthcare industry as more patient-centered, effective and cost-efficient."
AI Strategy Scenario
Amazon was the subject of an artificial intelligence-strategy case study described to CHITA attendees by Goldfarb.
The coauthor of "Prediction Machines: The Simple Economics of Artificial Intelligence" first put AI in context: "There's a lot of hype around AI — that it's going to change everything. At the same time there's a fear that we'll have these machines that can do everything we can do – but don't listen to humans…But this technology has been 30-50 years away since 1956, and it remains 30-50 years away. So this is not AI in terms of what we're talking about in 2018. Instead, we're experiencing prediction technology made cheaper and proliferating with advances in computational speed, data storage, data retrieval, sensors and algorithms."
A leader in this realm, Amazon, Goldfarb notes, secured a U.S. patent for "anticipatory shipping" in 2013. And, this can give organizational leaders perspective in terms of AI's realistic capabilities today.
Amazon's current business model is "shopping then shipping," and in the process Amazon predicts items the consumer will want to buy -- with just five percent accuracy. "But this rate isn't bad accounting for its millions of items on offer," Goldfarb said.
But imagine, he added, Amazon adapting the "shipping first" model with the same prediction rate. It would need to invest in infrastructure for product returns. But Amazon's AI simultaneously could predict a point of future profitability and prompt a launch. Though perceivably premature, the move could accelerate their data-collecting, triggering faster predictions, he said. This would attract more shoppers, generate more data to feed its AI and make catching up or keeping pace increasingly difficult for competitors.
CHITA collectively engaged more than 120 health care industry stakeholders representing about 40 institutes and government agencies for this ninth annual workshop. Additional topics in the program explored in research panels included information sharing, deep learning, security, gamification, big data, analytics and performance, care patterns, online communities, impact of HIT and HIT outside the clinic.
CHITA organizers selected as Best Student Paper "The Complementarity of Health Information and Health IT for Reducing Opioid-Related Mortality and Morbidity" by Cornell University PhD candidate Lucy Xiaolu Wang.
"The Effect of Predictive Analytics on Healthcare Utilization" by Guy David (University of Pennsylvania), Aaron Smith-McLallen (Independence Blue Cross) and Ben Ukert (University of Pennsylvania) was Best Overall Paper.
CHITA receives support from the Robert H. Smith School of Business, University of Michigan School of Public Health and the Agency for Healthcare Research & Quality. United Solutions was Health Leader sponsor of CHITA 2018.
For more information on engaging with the Center for Health Information & Decision Systems, write to chids@rhsmith.umd.edu.
Media Contact
Greg Muraski
Media Relations Manager
301-405-5283  
301-892-0973 Mobile
gmuraski@umd.edu 
About the University of Maryland's Robert H. Smith School of Business
The Robert H. Smith School of Business is an internationally recognized leader in management education and research. One of 12 colleges and schools at the University of Maryland, College Park, the Smith School offers undergraduate, full-time and flex MBA, executive MBA, online MBA, business master's, PhD and executive education programs, as well as outreach services to the corporate community. The school offers its degree, custom and certification programs in learning locations in North America and Asia.