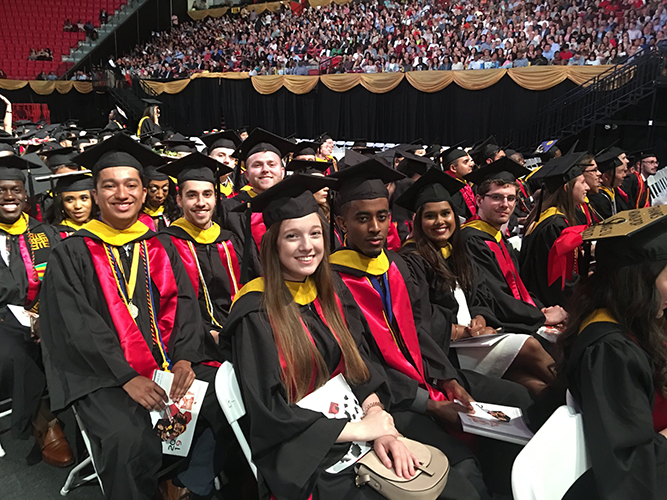 Facebook, Instagram and similar tools make social comparison easier than ever, but undergraduate keynote speaker Lisa Kidd Hunt '97 warned students about the fear of missing out during commencement exercises on May 22, 2019, at the University of Maryland's Robert H. Smith School of Business.
"Social media, while connecting us all, can have the effect of making us second guess ourselves or give us the feeling that we are missing out or not where we should be," Hunt told the school's newest alumni. "Try and spend less time comparing yourself to your friends, their job or car or house, and more about what brings you true joy and high engagement."
She quoted former U.S. President Teddy Roosevelt, who said, "Comparison is the thief of joy."
Overall, more than 1,200 Maryland Smith students graduated in two spring ceremonies. PhD, MBA and specialty master's students gathered in the afternoon, while undergraduate students gathered in the evening at the Xfinity Center on campus.
Hunt, executive vice president of international services at Charles Schwab & Co., shared career advice for fearless leaders. People who are bold and courageous do not rely on social comparison to gauge success, she said, but they welcome external support systems.
"Remain confident in your decisions, but don't forget to leverage your friends and family as you make those decisions," Hunt said. "Asking for help and input is not a weakness."
She also encouraged graduates to identify a personal mission and then align themselves with partners who share the vision. "Use your head always, but also follow your heart," she said. "Find a company or a cause that gives you true passion, and don't be afraid to stick around for a while."
For her part, Hunt has stuck around at Charles Schwab for more than 27 years. "I have been fortunate to work for a company that has a supportive culture, where I have made friendships that I never could have dreamed of," Hunt said. "Every day I get to be part of something that is bigger than myself."
Media Contact
Greg Muraski
Media Relations Manager
301-405-5283  
301-892-0973 Mobile
gmuraski@umd.edu 
About the University of Maryland's Robert H. Smith School of Business
The Robert H. Smith School of Business is an internationally recognized leader in management education and research. One of 12 colleges and schools at the University of Maryland, College Park, the Smith School offers undergraduate, full-time and part-time MBA, executive MBA, online MBA, specialty master's, PhD and executive education programs, as well as outreach services to the corporate community. The school offers its degree, custom and certification programs in learning locations in North America and Asia.