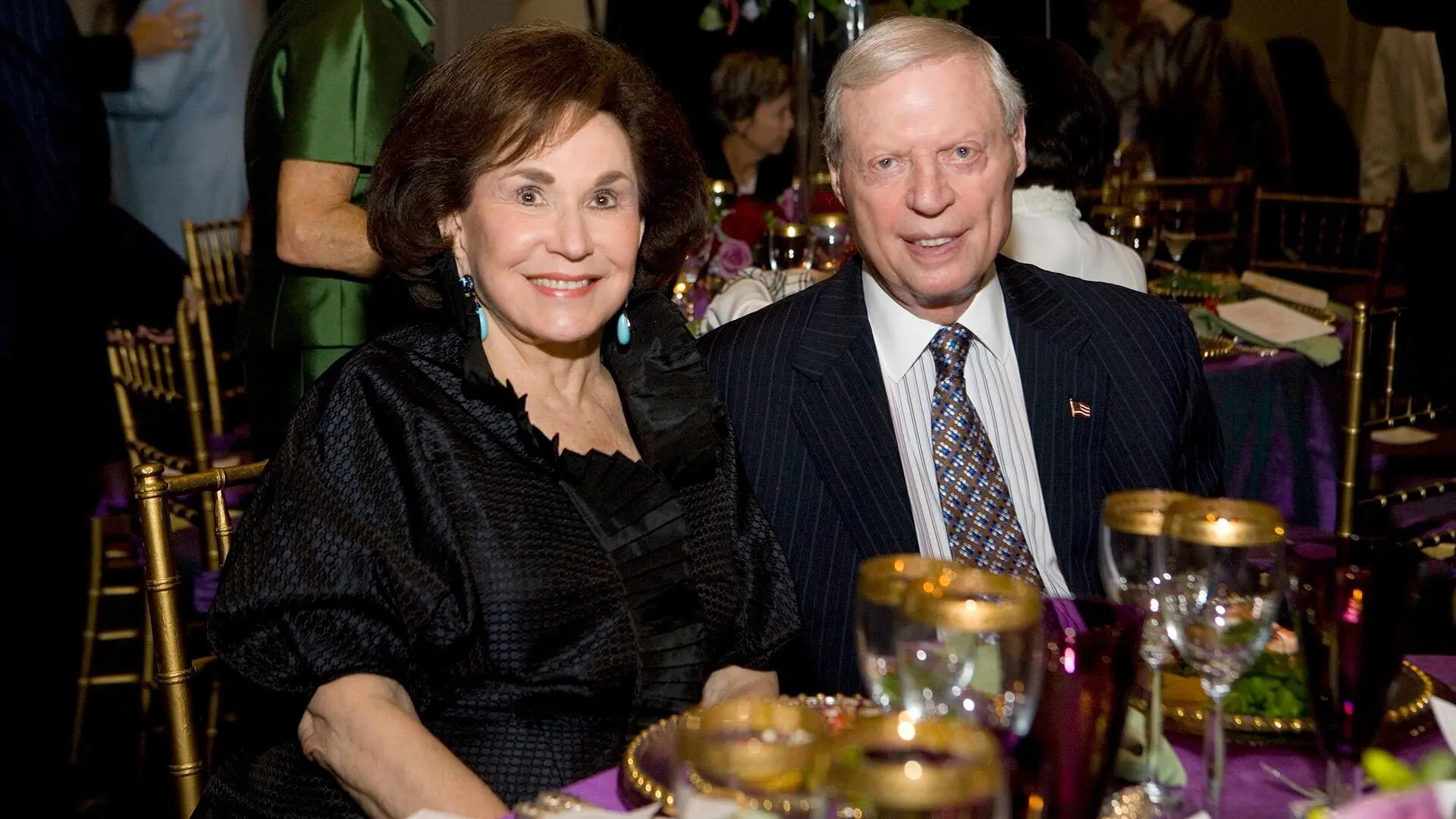 Joseph B. Gildenhorn '51, a lawyer, real estate developer and former U.S. ambassador to Switzerland who generously supported the performing arts at the University of Maryland and established its Joseph and Alma Gildenhorn Institute for Israel Studies, died on Saturday. He was 94 years old.
Gildenhorn and his wife, Alma G. Gildenhorn '53, have been longtime Washington, D.C.-area philanthropists, supporting the Kennedy Center, the Woodrow Wilson International Center for Scholars, the Aspen Institute and the Sibley Institute of Bone and Joint Health, among others.
The Gildenhorns were founding members of the University of Maryland College Park Foundation's board of trustees, and he served as its chair from 2008 to 2010. Joe was and Alma is an honorary trustee; she was also a co-chair of the university's three comprehensive fundraising campaigns. 
"Joe helped make the University of Maryland a better place over his decades of distinguished service," said UMD President Darryll J. Pines. "While our community will feel his loss deeply, his spirit and legacy remain with us through all that he and Alma have accomplished on campus and in the world, from foundational philanthropy to strategic institutional guidance."
Gildenhorn was born on Sept. 17, 1929, in Washington, D.C. He met Alma in College Park, where he majored in business. They married on June 28, 1953, while he was enrolled in law school at Yale University. After graduating from Yale, Joe served in the U.S. Army for two years in Georgia and in Freiburg, Germany.
After returning to the U.S., Gildenhorn practiced law with the U.S. Securities and Exchange Commission before becoming a founding partner of law firm Miller, Brown and Gildenhorn. He was later a founder of JBG Companies (now JBG Smith), a real estate investment and management firm that comprises more than 15 million square feet of office, multifamily and retail space in the D.C. area.
He was active in Republican politics, and accompanied then-Vice President George H.W. Bush on a trip to Israel in 1986. After taking office as president three years later, Bush appointed him U.S. ambassador to Switzerland; he held the position until 1993. "It was the honor of my life to serve the United States in this important role," Gildenhorn told the Swiss American Historical Society Review in 2022.
A generation later, President George W. Bush appointed him chairman of the board of the Woodrow Wilson International Center for Scholars; Gildenhorn served two terms (2002-13), then became co-chairman of the Wilson National Cabinet.
Gildenhorn's other civic roles spanned organizations including the Institute for the Study of Diplomacy at Georgetown University, the Council of American Ambassadors and the Center for Strategic and International Studies. He was a past president of the Jewish Federation of Greater Washington and the Hebrew Home of Greater Washington and sat on the board of the American Jewish Joint Distribution Committee. He also served on the board of directors for the University System of Maryland Foundation.
Washingtonian magazine named the Gildenhorns "Washingtonians of the Year" in 1996, and the National Society of Fundraising Executives named them Philanthropists of the Year in 2000.  
The University of Maryland has always held a special place in the hearts of the Gildenhorns, who created an endowment to support the performing arts and made a naming gift for the recital hall in The Clarice Smith Performing Arts Center. Often called the "jewel box" of The Clarice, the 297-seat Gildenhorn Recital Hall is prized for its intimacy and its bright acoustics; it hosts solo and chamber artists, public lectures, ceremonies and other events.
In 2006, the Gildenhorns established the College of Arts and Humanities' Gildenhorn Institute for Israel Studies, where faculty and students study the country's history, politics and culture. The institute offers an Israeli studies minor and teaches about 15 courses each year to more than 500 students, making it one of the nation's largest Israel studies programs. It also hosts visiting faculty from Israel as well as timely and thought-provoking programs and events.
"Joe Gildenhorn's illustrious career as a diplomat, leader and supporter of deep dialogue and critical thinking about our world sits at the heart of what we do in the arts and humanities," said Stephanie Shonekan, dean of the College of Arts and Humanities. "His legacy will live on in the programming produced in the Gildenhorn Institute for Israel Studies and the art that will be performed in the Gildenhorn Recital Hall at the Clarice Smith Performing Arts Center." 
Ilai Saltzman, director of the Gildenhorn Institute, said it would be impossible to fully capture how impactful Gildenhorn's vision was for Israel studies at the University of Maryland.
"His fascination with and knowledge about Israel, both as an observer and a diplomat, were boundless and can only be matched by his commitment to instilling the same degree of knowledge and familiarity in our students," he said. "The ongoing support Joe and Alma Gildenhorn provided us over the years will never be forgotten."
In 1996, Gildenhorn was recognized with the President's Distinguished Alumnus Award. He and his wife also became the first couple elected to the Alumni Association's Alumni Hall of Fame in 2015, recognizing their generosity and deeply held belief that a UMD education has tremendous power to open new doors and opportunities for students. In 2022, the Gildenhorns both received honorary doctorates at Commencement, and in May, he was inducted into the Robert H. Smith School of Business' Hall of Fame.  
Gildenhorn is survived by his wife of 70 years, Alma; his children, Carol Winer (Michael) and Michael Gildenhorn (Cathy); four grandchildren; and two great-grandchildren.
– This article originally appeared in Maryland Today and is republished here with permission.
Media Contact
Greg Muraski
Media Relations Manager
301-405-5283  
301-892-0973 Mobile
gmuraski@umd.edu 
About the University of Maryland's Robert H. Smith School of Business
The Robert H. Smith School of Business is an internationally recognized leader in management education and research. One of 12 colleges and schools at the University of Maryland, College Park, the Smith School offers undergraduate, full-time and flex MBA, executive MBA, online MBA, business master's, PhD and executive education programs, as well as outreach services to the corporate community. The school offers its degree, custom and certification programs in learning locations in North America and Asia.