The University of Maryland's Robert H. Smith School of Business honored 19 inductees at the unveiling of its Hall of Fame and showed appreciation to members of the Dean's Circle during the inaugural Dean's Honors event on Thursday, April 27.
A joyful and enthusiastic audience composed of honorees, their friends and families, and Dean's Circle members – a recognition society for individuals who have invested over $100,000 toward Maryland Smith in their lifetime – convened for dinner and a night of celebration at the Samuel Riggs IV Alumni Center.
The Hall of Fame exhibit, housed in Van Munching Hall, recognizes the extraordinary achievements and contributions of Smith School alumni and influential figures.
This event also marks a significant milestone in the leadup to the Smith School's Oct. 27 Silver Jubilee celebration – the 25th anniversary of the official naming of the Robert H. Smith School of Business.
Maryland Smith Dean Prabhudev Konana, during his opening remarks, commended the new members of the Hall of Fame on their success and impact across their fields, as well as their continued support of Maryland Smith and its guiding principles – Business is everybody's business, intellectual freedom and intellectual curiosity, interdisciplinary education and focus on the future.
"The Hall of Fame serves not just to celebrate and recognize extraordinary achievements, but to preserve and cherish our history for perpetuity and inspire the next generation of students who walk into the Smith School," said Konana. "It is a reminder to every subsequent generation that walks into Van Munching Hall that they can do great things."
University of Maryland President Darryll Pines, in a prerecorded video played during the event, extended his appreciation to all of the attendees who have contributed to the university's success through professional accomplishments, philanthropic efforts and dedication to its mission.
"You have displayed great leadership in industry and civic affairs, and your trailblazing careers will be examples for generations of students to come," said Pines. "You truly embody what it means to be a Terp."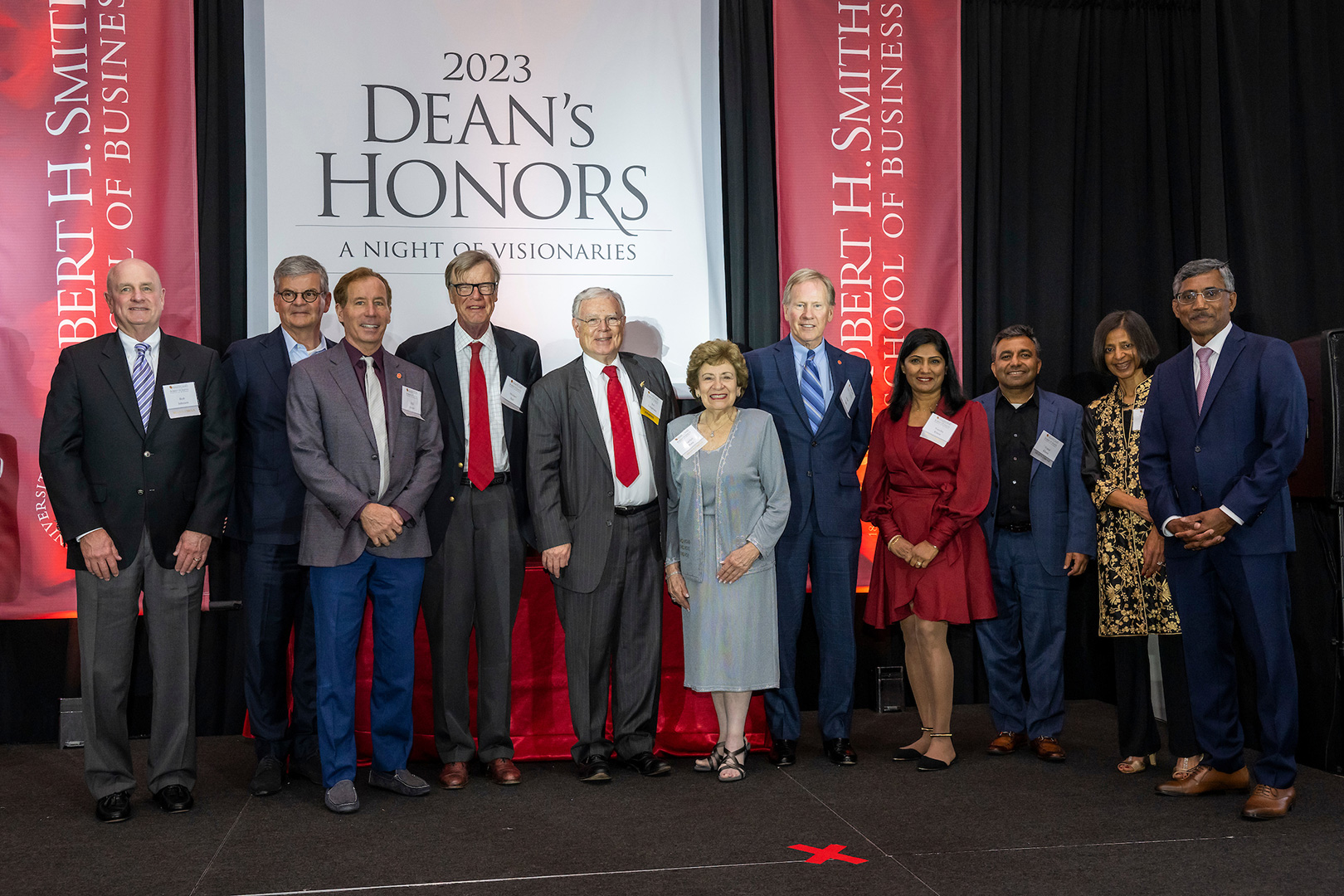 Senior Vice President for Academic Affairs and Provost Jennifer King Rice contributed to the celebration citing in her remarks the Smith School's long-standing reputation for experiential learning, world-class faculty and students who make a difference locally and globally.
"Smith's more than 68,000 alums span the globe and all facets of business," said King Rice. "And, as the school celebrates the 25th anniversary of its naming, it continues to be recognized as a top business school in the nation and world."
Accepting the award on behalf of his late father, Robert H. Smith, David Bruce Smith recounted how his father "never got involved in small endeavors" and constantly strove to give back in ways that would make the world a better place.
Meanwhile, former UMD head men's basketball coach Gary Williams '68 said he wished to have shared the moment with some of his former players because he wasn't sure that "any of them believed I graduated from the business school."
Kevin Plank '96, founder and executive chairman of Under Armour, in his remarks, celebrated the life of fellow inductee and former dean, Rudolph P. "Rudy" Lamone, citing him as an example of the people who shaped the institution into what it is today and instilled the values that alumni and current students must continue to demonstrate moving forward.
"That's what makes Maryland, Maryland," said Plank. "We've got a lot of work to do, we are very much still in the game."
In recognition of the newest Dean's Circle families who reached the milestone achievement, Konana commented about their incredible commitment to Maryland Smith and how their investments "help us attract the best students, enable extraordinary research, reimagine learning and profoundly impact generations to come."
In addition to the Hall of Fame exhibit, Konana highlighted Maryland Smith's Alumni Success exhibit and commented on how the walls of Van Munching Hall need to tell inspiring stories about alumni and donors to help the next generations of students see themselves following in those footsteps. He also shared the school's intent to honor alumni at different stages of their careers through Rising Stars at the Silver Jubilee Grand Gala this fall.
Each member of the Hall of Fame, Konana said, is now woven into the fabric of the school's future.
"They are an indelible part of the school's success and the success of each student who walks its halls. We are forever grateful, honored and inspired to be in their company."
Hall of Fame Members Inducted:
Waldo Burnside '49, former president and CEO, Woodward & Lothrop
Carly Fiorina, MBA '80, former president and CEO, Hewlett-Packard, and 2016 vice presidential candidate
Howard Frank, dean, Robert H. Smith School of Business, 1997-2008
Joseph B. Gildenhorn '51, former U.S. Ambassador to Switzerland
Robert G. Hisaoka '79, chairman and CEO of RGH Capital
Harry R. Hughes '49, 57th Governor of Maryland
Clifford "Cliff" Kendall '54, former chairman and CEO, Computer Data Systems Inc.
Allen J. Krowe '54, former senior vice president, CFO and director of IBM, vice chairman of Texaco
Rudolph P. "Rudy" Lamone, dean, Robert H. Smith School of Business, 1973-1992
Samuel J. LeFrak '40, former chairman, LeFrak Organization
William "Bill" Longbrake, DBA '76, former chief financial officer, Washington Mutual
William E. "Bill" Mayer '66, MBA '67, former president and CEO, First Boston Corporation (now Credit Suisse)
Thomas V. "Mike" Miller Jr. '64, Maryland Senate President Emeritus
Kevin Plank '97, founder and executive chairman, Under Armour
Neal Shear '76, former global head of sales and trading, Morgan Stanley
Robert H. Smith '50, real estate developer and philanthropist
Ed Snider '55, former chairman, Comcast Spectacor
Leo Van Munching Jr. '50, former president, Heineken
Gary Williams '68, former UMD head men's basketball coach, 1989-2011
Media Contact
Greg Muraski
Media Relations Manager
301-405-5283  
301-892-0973 Mobile
gmuraski@umd.edu 
About the University of Maryland's Robert H. Smith School of Business
The Robert H. Smith School of Business is an internationally recognized leader in management education and research. One of 12 colleges and schools at the University of Maryland, College Park, the Smith School offers undergraduate, full-time and flex MBA, executive MBA, online MBA, business master's, PhD and executive education programs, as well as outreach services to the corporate community. The school offers its degree, custom and certification programs in learning locations in North America and Asia.