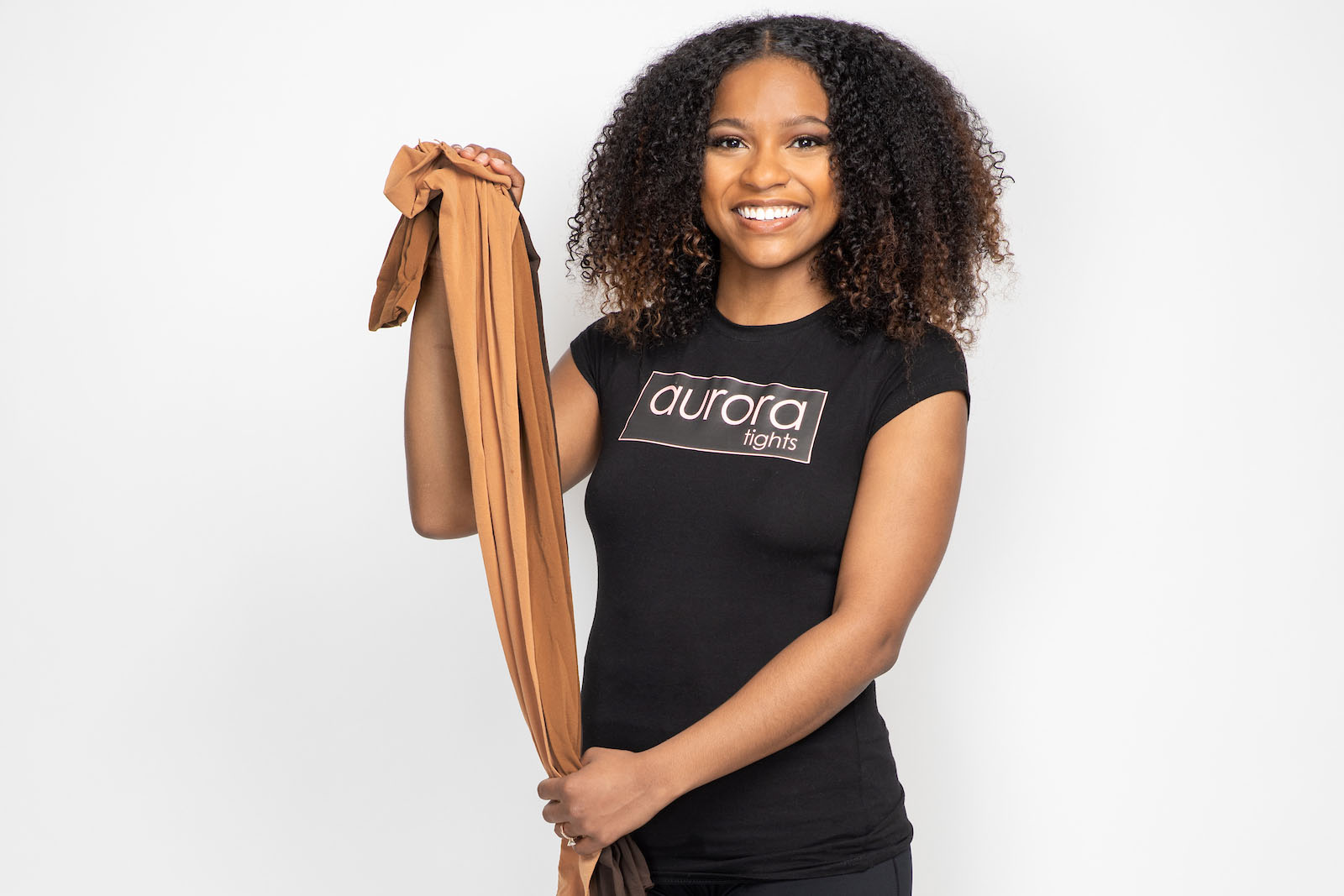 Entrepreneur Jasmine Snead, MBA '21, has been skating since she was 5. But as a woman of color, she struggled to find tights that matched her skin tone.
"I was forced to wear tights, mesh and other paraphernalia in the wrong skin tones because my shade was not readily available," Snead says. "The lack of color variety posesd a drawback because it's not aesthetically appealing to the eye and it's frustrating to practice your passion while feeling like you're in someone else's skin."
Her solution was to dye her own tights to match her complexion, but the process was slow and messy. "Years and a stained bathroom later, my mom and I perfected the process of dyeing tights and would do so before each competition," Snead says.
When she arrived at the University of Maryland as an undergraduate student, Snead met other athletes who faced similar challenges.
She and two classmates, figure skater Imani Rickerby and dancer Sydney Parker, brought the problem to the Dingman Center for Entrepreneurship at UMD's Robert H. Smith School of Business. Working with Dingman mentors, the partners studied the market and launched Aurora Tights.
The company, winner of the $15,000 grand prize at the 2019 Pitch Dingman Competition chaired by Robert Hisaoka '79, sells tights in the full spectrum of skin colors.
"We believe buying tights in your shade should be as easy clicking 'add to cart' online or shopping at your local sporting goods store," says Snead, Student Entrepreneur of the Year at the 2019 Rudy Awards and one of DC INNO's 25 under 25.
The three partners started by interviewing parents at local ice rinks to gauge demand. Then they branched out to local dance teams. Soon they made an important discovery. "It's not just women of color who have these issues," Snead says. "Almost nobody likes their tights."
Their vision is to grow Aurora Tights into a full-service apparel supplier for skaters, dancers, cheerleaders and other performance athletes.
Besides serving as Aurora Tights chief financial officer, Snead has continued her Maryland education. She graduated in 2017 with a Bachelor of Arts in political science and government and African American studies, and is now a joint Master of Public Policy and MBA candidate.
Learn more about her story on Episode 49 of Bootstrapped, a Dingman Center podcast hosted by managing director Holly DeArmond and professor Joe Bailey.
Related news: In New Role, MBA Student Keeps a Focus on Diversity, Inclusion
Media Contact
Greg Muraski
Media Relations Manager
301-405-5283  
301-892-0973 Mobile
gmuraski@umd.edu 
About the University of Maryland's Robert H. Smith School of Business
The Robert H. Smith School of Business is an internationally recognized leader in management education and research. One of 12 colleges and schools at the University of Maryland, College Park, the Smith School offers undergraduate, full-time and part-time MBA, executive MBA, online MBA, specialty master's, PhD and executive education programs, as well as outreach services to the corporate community. The school offers its degree, custom and certification programs in learning locations in North America and Asia.