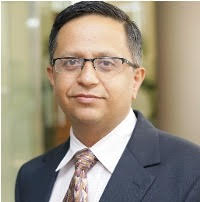 This Q&A has been edited and condensed.
What is your job title and where do you work?
I am a partner with PricewaterhouseCoopers and I work in New Delhi, India.
What does a day in your role look like and how do you approach new projects?
Typically from 8:30 a.m. - 9:30 a.m,  I catch up with three to four project teams on 15 minute daily stand-up calls. After that, I travel to a client's office if that's necessary, then catch up with other clients on the status of their projects and any issues or opportunities related to them.  
Later I interact with other parts of PwC, such as – taxes, technology, risk, deals, etc. – on ongoing projects. 
I usually finish my day on evening calls with the PwC/U.S. team for cross-border projects.
Is there something about your professional journey that people would find surprising?
I'm not an accountant, but over the years, I've interacted with finance controllers and CFOs for various finance transformation programs I've run for clients. That's led to many clients assuming that I am an accountant.
What was your path from graduation to your current job? 
In 2002 – the year I graduated from the University of Maryland Smith School of Business with my MBA – I started at Infosys Technologies and was there until 2004. After that, I did my first stint at PricewaterhouseCoopers from 2004 - 2007. I was with Deloitte from 2007 until 2020 and went back to PwC in 2021 and have been there since. 
Are you where you thought you would be in your career? What are your goals?
During my time with the Smith MBA program, I dreamt of being a consulting partner and I'm happy to have realized that dream.
My goal is to mentor CFOs – especially those with start-ups – to help their companies progress and become profitable quickly.
What Smith School resources or relationships did you leverage for your career? 
Several Smith alums have helped me in my professional journey.
How has your Smith education helped you with your career? Were there specific classes, experiential projects, team projects, or internships that have been especially helpful to you?
The biggest influence has probably been the diverse group of classmates at Smith. That helped me appreciate diversity and inclusion as far back as 20 years ago, and not surprisingly, that is one of the top issues for businesses today.  Interacting with people from diverse backgrounds helped shape my thinking, and I would like to credit the environment at Smith for that.   
Why did you decide to get a business degree and why did you choose Maryland Smith?
Coming from an engineering background, I was always interested in the business side of technology, especially how businesses can benefit from tech. This led me to want to earn a business degree.  As I was researching universities, a few things about Maryland Smith stood out, like its proximity to Washington, D.C., and I was able to speak with several students and graduates of the school.  That personal touch was really nice.  Smith is also a consistently top-rated business school – that had a lot to do with my decision to get my MBA there. Lastly, I received a generous scholarship from Smith.
What about your personal journey has led to your success?
Mental well-being is absolutely critical right now. You need to take time off to recharge and spend quality time with family and friends. I follow this regularly and it's helped me become more focused in my professional journey.
Is there anything else you would like to add?
I would be happy to support or contribute to any Smith programs I can.
Media Contact
Greg Muraski
Media Relations Manager
301-405-5283  
301-892-0973 Mobile
gmuraski@umd.edu 
About the University of Maryland's Robert H. Smith School of Business
The Robert H. Smith School of Business is an internationally recognized leader in management education and research. One of 12 colleges and schools at the University of Maryland, College Park, the Smith School offers undergraduate, full-time and flex MBA, executive MBA, online MBA, business master's, PhD and executive education programs, as well as outreach services to the corporate community. The school offers its degree, custom and certification programs in learning locations in North America and Asia.