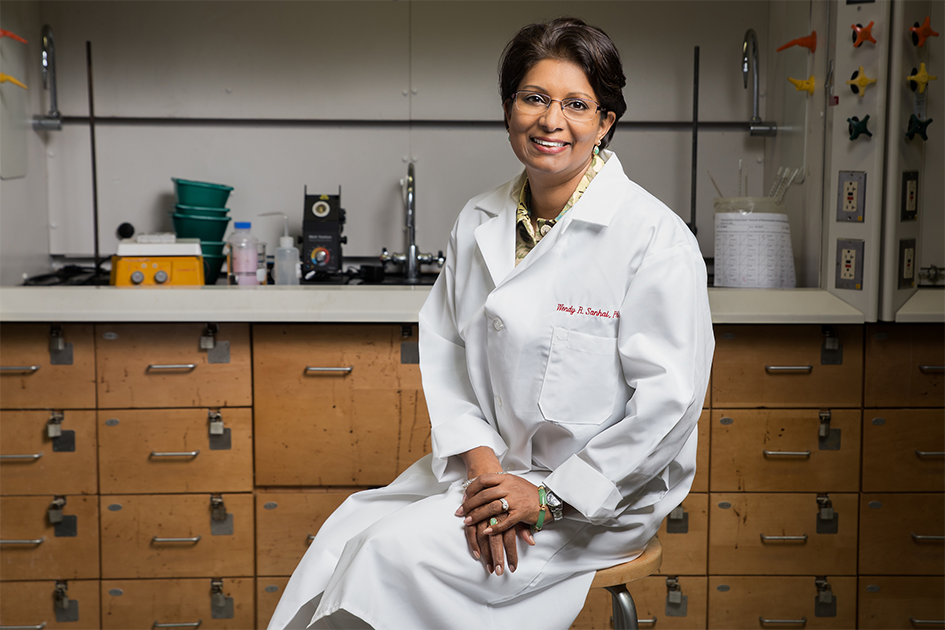 Wendy Sanhai, MBA '09, has dedicated her entire 25+ year professional career to science, global health and public health, keeping the needs of patients as her true north star. Her career has spanned academia, private industry and Department of Health and Human Services – spread across the Food and Drug Administration (FDA) and the National Institutes of Health (NIH). Two years ago, she added yet another title to her already impressive resume after her diagnosis of invasive breast cancer. "As difficult as it was to come to grips with that diagnosis," Sanhai says, "it became another part of my life-journey – this time as a patient."
Sanhai currently serves as a specialist leader at Deloitte Consulting, in its Government and Public Services Practice. She previously served as Senior Director, Global Regulatory Affairs GlaxoSmithKline (GSK); Technology Licensing Specialist and Patent Advisor, NIH; Director, Public Private Partnership, Foundation for NIH (FNIH) and Senior Scientific Advisor, Office of the Commissioner, FDA.
Science and healthcare have always been her passion. "The science of medicine, rather than the practice of medicine, always captivated my attention, especially in terms of the biochemical underpinnings of diseases, diagnoses and treatment." She believes that accurate diagnoses should be the cornerstone of medicine. Sanhai shared that her doctorate in clinical biochemistry and structural biology, and her clinical fellowship at the Greenebaum Cancer Center, University of Maryland, School of Medicine, prepared her for subsequent positions at NIH, FDA and industry, as they provided a strong foundation in biomedical sciences.
"For me, what was always very meaningful—almost a requirement— to be able to connect what I do professionally, to patients and their needs," says Sanhai. "That guiding principle of promoting public health paved my path and led me from one opportunity to the next, always in search of how I could do more to be of service to others."
When faced with her own cancer diagnosis, she says she realized that she could approach the journey as a scientist, former regulator, academic researcher – and as an empowered patient. With a fierce motto: "Cancer messed with the wrong woman," Sanhai underwent surgery, a month of radiation and continuing her regular cancer treatments, all with her husband, Mark, at her side.
Interestingly, Sanhai is working with FDA to review and update the labeling on the two drugs that are currently keeping her alive. "How fortunate am I to have this opportunity to help other cancer patients?" By working with her colleagues at FDA and academia, Sanhai and her Deloitte team are reviewing data from clinical studies, to support potential updates to labeling for oncology drugs currently used by millions of patients. "This work on FDA's Project Renewal Initiative, is so very meaningful and impactful and I am thrilled to bring my authentic self to this work each day, and in a way that helps patients like me."
It wasn't the first time Sanhai had to overcome life-altering adversity. In 2011, she coped with the sudden loss of her husband of almost 22 years and learned how to balance raising her two sons with her mission-critical work at the FDA. Giving up has never been an option, Sanhai says. "I didn't have that option as I had two young sons and my team at FDA all depending on me."
"We are all faced with challenges in life, but what defines us is not the challenges, but rather how we respond to them," says Sanhai. "I was determined to view every challenge, every setback, as potential opportunities to learn and grow."
Sanhai has carried that mindset throughout her career. During her tenure as Senior Scientific Advisor, Office of the Commissioner, FDA, she developed, implemented and managed large-scale public-private partnerships, led negotiations for government contracts and other collaborative agreements on topics such as pediatric safety, cardiology, nanotechnology and cancer research. To gain skills in finance, economics and business strategies, Sanhai opted to pursue an Executive MBA (EMBA) degree from the University of Maryland's Robert H. Smith School of Business.
"I felt I needed some formal training in finance, economics and marketing, so that's really what catalyzed my getting an EMBA," says Sanhai. "With permission from my boss, Dr. Janet Woodcock, I made an agreement with my team at FDA that no public health deadlines would be missed, no timelines would be changed and no FDA priority would be neglected. I also assured my team that I would be available for them always---except for every other weekend when I was actually in class. And for the next 18 months. I'm not lying when I say I got three hours of sleep a night. That's what it took!"
Sanhai has seen the benefits of her degree manifested in her various roles since her graduation from Smith. Now, as a Senior Executive Education Fellow at the Smith School of Business, she is working to train the next generation of leaders.
For her, it's a natural progression of her career and part of her personal mission: leveraging her experiences and expertise that she has gained over the years, with her students and those she mentors. Besides my roles as a mother and wife, my role as an educator is paramount for me.
"Mentoring others is perhaps the most meaningful part of my career right now. "I love teaching and if I could spend the rest of my career supporting and training the next generation of leaders in science and business, I would be thrilled."
In the meantime, Sanhai is dedicating all her efforts toward advancing public health innovations and positively impacting the future of healthcare as she works with her clients in the federal government, private industry and academia. She is relishing all of life's simple pleasures, even as she is actively undergoing cancer treatment. She has remarried, witnessed one of her sons graduate with honors from college and move up the corporate ladder in the finance world. And, she is proud of the accomplishments of her younger son as he graduated a year early from high school and embarked on his college journey, with the goal of becoming an aeronautical engineer.
"A positive outlook, a sense of gratitude, support from loved ones and hard work can help overcome many of life's challenges. I hope that my experiences will demonstrate that we are empowered to write our own positive endings and be of service to others."
Related Content: Videos: Women Inspire and Management in a Minute.
Media Contact
Greg Muraski
Media Relations Manager
301-405-5283  
301-892-0973 Mobile
gmuraski@umd.edu 
About the University of Maryland's Robert H. Smith School of Business
The Robert H. Smith School of Business is an internationally recognized leader in management education and research. One of 12 colleges and schools at the University of Maryland, College Park, the Smith School offers undergraduate, full-time and flex MBA, executive MBA, online MBA, business master's, PhD and executive education programs, as well as outreach services to the corporate community. The school offers its degree, custom and certification programs in learning locations in North America and Asia.