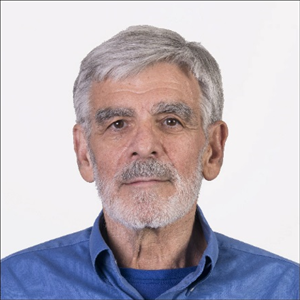 "I let things happen and the jobs came to me. I did not seek them," that's what Richard O'Neill says about his path to success. The three-time graduate of the University of Maryland is a Distinguished Fellow at the Advanced Research Projects Agency-Energy (ARPA-E) in Washington, D.C. O'Neill is engaged in several research projects there as well as the Grid Optimization Competition, which he proposed and for which he created the initial design. He was elected to the 2022 Class of the National Academy of Engineering for leadership and contributions to the liberalization and design of efficient natural gas and electric power markets. Before O'Neill joined ARPA-E, he was Chief Economist at the Federal Energy Regulatory Commission, where among other things, he led the Chairman's teams in developing policy and restructuring the natural gas and electric power markets.
Read more about Richard O'Neill in the Q&A below which has been edited and condensed.
What was your path from graduation to your current job?
All of my higher education has taken place at the University of Maryland. I received a BS in chemical engineering in 1966, my MBA in 1969, and a PhD in operations research in 1973.
From 1969 to 1973, I taught and performed research in the areas of operations research and statistical analysis as a member of the Smith School faculty.
When I left the University of Maryland, I took a job in the computer science department at Louisiana State University. I was promoted there and given tenure. In 1978 I joined the U.S. Department of Energy/Energy Information Administration where I directed oil and gas analysis, including the development of software systems, as well as oil and gas forecasting and equilibrium modeling. In 1986, I became Chief Economist at the Federal Energy Regulatory Commission and in 2019 I joined ARPA-E.
What Smith School resources or relationships did you leverage for your career?
I had a close friendship with Rudy Lamone, who let me design the program I taught at Smith.
(Rudolph Lamone is professor emeritus of management science and the founding member of the board of advisors at the Dingman Center for Entrepreneurship at the Smith School. From 1973 to 1992, he was dean of Smith and the first chair of the program in entrepreneurship).
Why did you decide to get a business degree and why did you choose Maryland Smith?
At the time, it seemed like a good idea.
What about your personal journey has led to your success?
I've always been a hard worker.
Is there anything else you would like to add?
I've worked with many countries and states, as well as the World Bank, energy companies and computer companies to develop mathematical software, energy modeling, forecasting, regulations, privatization, restructuring and market design.
My published work has appeared in academic and professional journals and books in the areas of Applied Mathematics, Optimization, Operations Research, Management Science, Computer Science, Energy, Electrical Engineering, Oil and Natural Gas, Economics, Nature, and Law.
Media Contact
Greg Muraski
Media Relations Manager
301-405-5283  
301-892-0973 Mobile
gmuraski@umd.edu 
About the University of Maryland's Robert H. Smith School of Business
The Robert H. Smith School of Business is an internationally recognized leader in management education and research. One of 12 colleges and schools at the University of Maryland, College Park, the Smith School offers undergraduate, full-time and flex MBA, executive MBA, online MBA, business master's, PhD and executive education programs, as well as outreach services to the corporate community. The school offers its degree, custom and certification programs in learning locations in North America and Asia.