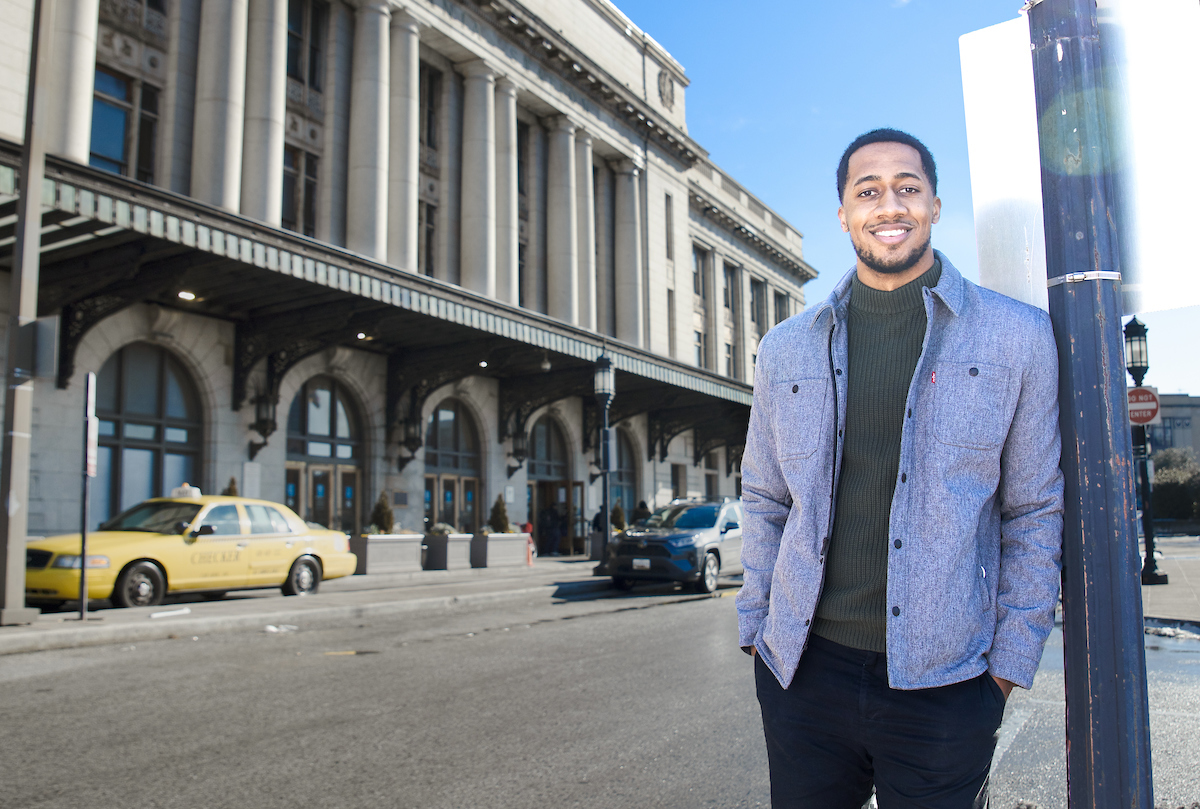 For Chris Grant, '13, revitalizing Baltimore isn't just a career, it's a calling.
The 29-year-old Maryland Smith grad and Baltimore native, who was recently named to Forbes magazine's "30 Under 30 in Finance," has big plans for the city. Through his work with Blueprint Baltimore, Grant oversees a $140-million project to renovate Baltimore's Amtrak and regional train station.
But Grant will be the first to admit that the success isn't his alone and that his passion for revitalizing his community is a product of his upbringing.
"I grew up fascinated by financial services and realized that there were structural barriers to the equal distribution of capital across communities," says Grant. "Learning about those issues made me more and more interested in helping others overcome financial obstacles."
Grant's devotion to impacting his community, along with his desire to remain close to family, drove him to enroll at the University of Maryland's Robert H. Smith School of Business, he says.
When he wasn't in class or studying at Maryland Smith, he was focused on interacting with the community, serving as the President of the Black Business Association, on the Dean's Student Advisory Council and later the Alumni Chapter Board. Those experiences, he says, helped propel him even further.
"As I look back at my time at Maryland Smith, I think about the opportunities that were important to me. I don't think that I would have had that same access to resources or leadership opportunities at any other place like I did there," says Grant. "I felt like I was able to reach out to alumni, stay connected with classmates a year or two ahead of me and form really deep relationships, where I could ask questions or learn from others' experiences."
It was his relationships with his peers that helped connect him with Blueprint Local Investments, a collective that helps investors find opportunities to create a meaningful impact in underserved communities.
Soon after, Grant joined the founding team and became involved in its Baltimore project. He was thrilled to have the opportunity to work every day in a position that would fuel his passion for serving his community.
"I'm humbled by the confidence that people have had in me and my abilities to push these efforts forward. It's also exciting to know that my work is making a difference," Grant says. "I hope that it serves at least as a model to other people who may not know whether it's the right time to jump and pursue that purpose, or pursue what they feel they're called to do professionally. Hopefully, they can move forward and take that leap of faith."
Over time, Grant says, he hopes that more people like him, whether on the operational or investment side, get involved in their communities and bring value to entrepreneurs and small business owners, who often face barriers to business growth. There is so much potential out there, he says.
As for his own plans, Grant says he is just getting started. He is looking to deploy up to $3 billion in development capital, not just in Baltimore, but across the country over the next decade.
"You can expect to see me continuing to scale my work with the hope that it reaches more people in the future than today. That helps bring a broader understanding of the issues that have existed largely with access to capital," says Grant. "I want to continue to be somebody who is seen as a leader in the broader ecosystem who can contribute more meaningfully."
Media Contact
Greg Muraski
Media Relations Manager
301-405-5283  
301-892-0973 Mobile
gmuraski@umd.edu 
About the University of Maryland's Robert H. Smith School of Business
The Robert H. Smith School of Business is an internationally recognized leader in management education and research. One of 12 colleges and schools at the University of Maryland, College Park, the Smith School offers undergraduate, full-time and part-time MBA, executive MBA, online MBA, specialty master's, PhD and executive education programs, as well as outreach services to the corporate community. The school offers its degree, custom and certification programs in learning locations in North America and Asia.