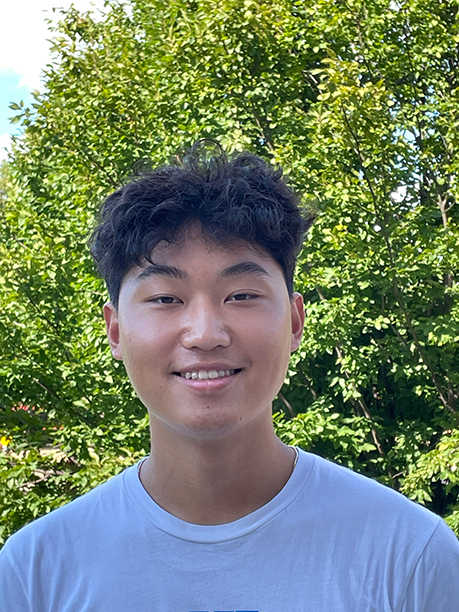 He's just a semester into his college career at the University of Maryland's Robert H. Smith School of Business, but freshman Michael Zhao already knows exactly what he wants to do for the rest of his life – use a finance and computer science education to make the world a better place.
Zhao, a Columbia, Md.-native, is already working toward that goal. In high school, he launched VolunTeens – a 501(c)(3) non-profit organization dedicated to connecting students with volunteering opportunities around their community. He meanwhile also explored the intersection of his two academic interests, working with Maryland Smith's Center for Healthcare Information & Decision Systems (CHIDS) as a research assistant, studying the role of AI in healthcare and the potential for exacerbating racial biases.
When it came to choosing a university, Zhao says UMD was an easy decision.
"I've done so much work in Howard County that going to UMD felt like something that could help me a lot in the future, especially as I look for a career in social entrepreneurship," he says. "Hopefully I'm able to use those connections to continue to help others and further my goals."
He made the most of his first semester at Maryland Smith by taking part in the Impact Consulting Fellowship – a two-month remote project open to UMD undergrad, MBA, master's, and doctoral students. Through the fellowship, Zhao and his teammates assisted Baltimore-based nonprofit Tender Bridge, which provides recreational sports and activity opportunities for at-risk children.
"I was super thankful that the Smith School provides programs like this because I felt it was the perfect transition from running VolunTeens," he says. "I was able to practice my nonprofit management skills while also developing and learning alongside students of different ages and expertise. I learned a lot from the program and I'm pretty grateful for that."
As he looks towards the future, Zhao says he's looking forward to expanding his college experience both inside and outside of the classroom. Part of that includes an interest in pursuing more research opportunities at one of Maryland Smith's centers.
With his classroom instruction, research experience, and firsthand encounters in social impact, he hopes to start a socially responsible enterprise to provide all communities with access to financial resources.
"I just hope that by the end of my undergrad career, I'm able to contribute to the university and contribute to Smith School in my own unique way," he says.
Media Contact
Greg Muraski
Media Relations Manager
301-405-5283  
301-892-0973 Mobile
gmuraski@umd.edu 
About the University of Maryland's Robert H. Smith School of Business
The Robert H. Smith School of Business is an internationally recognized leader in management education and research. One of 12 colleges and schools at the University of Maryland, College Park, the Smith School offers undergraduate, full-time and flex MBA, executive MBA, online MBA, business master's, PhD and executive education programs, as well as outreach services to the corporate community. The school offers its degree, custom and certification programs in learning locations in North America and Asia.