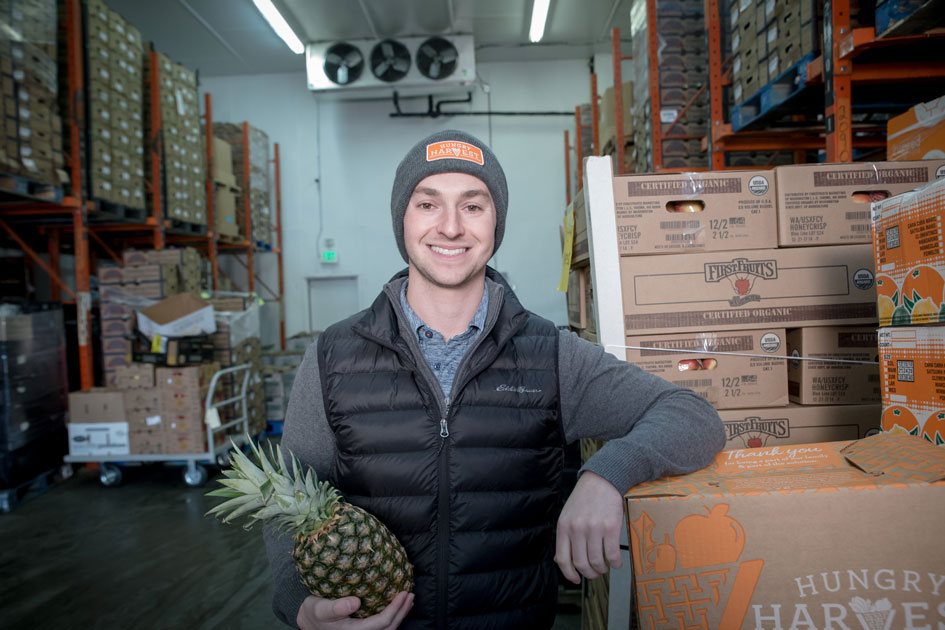 Entrepreneur Evan Lutz '14 hates to see food go to waste. So in 2014 during his senior year at the University of Maryland's Robert H. Smith School of Business, he co-founded Hungry Harvest from his dorm basement in College Park, Md.
"We're a produce delivery service on a mission to reduce food waste in the United States," Lutz says. Already the company has spread from Philadelphia to South Florida — while the waitlist of potential new customers has swelled into the 10s of thousands in other parts of the country.
The business model is simple. Hungry Harvest agents purchase fresh produce from farms and packing houses that would otherwise be thrown away due to imperfections in appearance or fluctuations in demand. The food is then boxed and delivered to subscribers once a week at discount prices. For every box sold, Hungry Harvest also helps feed someone who is food insecure.
When it comes to postharvest loss, Lutz says the main challenge in the United States is abundance. Food has never been cheaper relative to income, which invites carelessness.
Although one-in-six Americans remains food insecure, the Natural Resources Defense Council estimates that the country wastes about 40 percent of its agricultural supply. Zero waste might not be feasible, but 40 percent is too much.
"People value food based on price," Lutz says. "What people don't see is the energy and effort and resources that go into making that food."
Ultimately, he says, Hungry Harvest is about education. "In the United States we have to have an attitude shift about food," he says. "We need to consider where it comes from and what it's value is — not just its abundance and price."
Lutz says his passion for agriculture started at age 12 or 13, when he read a story about his great-great grandfather, a first-generation American who farmed in New Jersey. "Nobody in my family had worked in agriculture for 100 years," Lutz says. "And I thought, 'How cool would it be to bring agriculture back to my family.'"
Lutz also developed an interest in conscious capitalism, which combines for-profit enterprise with a social mission. He says Hungry Harvest checks both boxes.
"It's been amazing to me to see the overwhelming amount of support as people rally around our mission of fighting food waste and hunger," Lutz says.
Media Contact
Greg Muraski
Media Relations Manager
301-405-5283  
301-892-0973 Mobile
gmuraski@umd.edu 
About the University of Maryland's Robert H. Smith School of Business
The Robert H. Smith School of Business is an internationally recognized leader in management education and research. One of 12 colleges and schools at the University of Maryland, College Park, the Smith School offers undergraduate, full-time and flex MBA, executive MBA, online MBA, business master's, PhD and executive education programs, as well as outreach services to the corporate community. The school offers its degree, custom and certification programs in learning locations in North America and Asia.