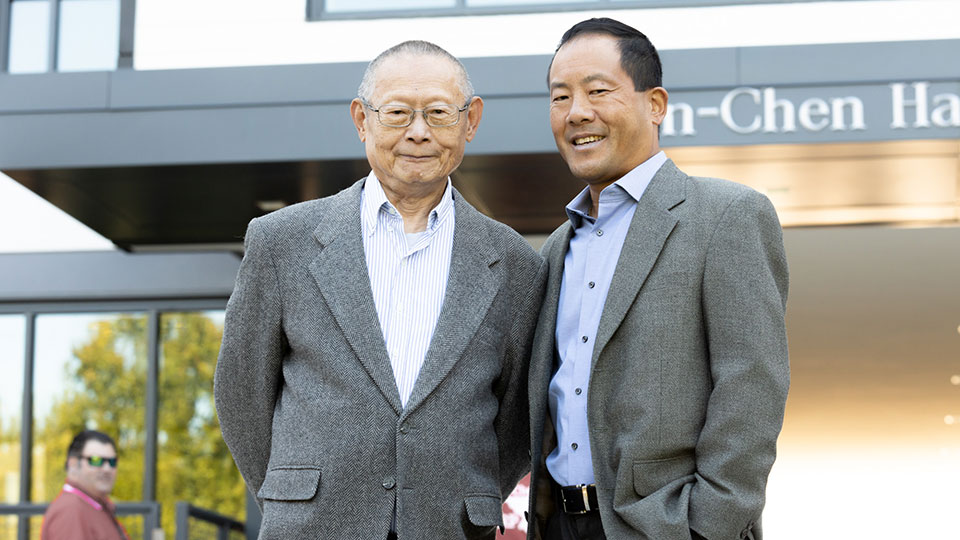 Like many college-bound high school seniors, Andrew Chen '85 didn't have any idea what he wanted to do with his life, but he knew he'd be continuing the family tradition/legacy his grandfather, father and uncles started by attending the University of Maryland.
Dutifully following family pressures and Asian customs and expectations, he says, he pursued an electrical engineering degree for three years. Entering his senior year however, he soured on an engineering future, and in a life-changing epiphany, decided to pledge a business fraternity, Delta Sigma Pi, and to change his major to business and marketing at the Robert H. Smith School of Business.
The campus was an academic home of sorts for his family – his grandfather, Chunjen Constant Chen, was the first Chinese student to attend UMD, and later would send his four sons to the university.
Yung Ping Chen, BA '50 and MA '53, studied government and politics. Yung Ming Chen, BS '56, studied electrical engineering. Andrew Chen's father, Yung Yi Chen, BS '55 and MS '60, studied physics. And Yung Kong Chen, BS '66, studied accounting. He worked as an auditor for the Defense Contracting Audit Agency and as a treasurer for the AKC Corporation, before retiring.
Like his nephew, who graduated 20 years after him, Kong Chen found his academic footing and his future career at Maryland Smith.
"I knew I was going to Maryland," Andrew Chen says, though to show his mom he wasn't limiting his options, he also applied to the University of Virginia.
Andrew Chen's grandfather, Chunjen Constant Chen, a native of Shanghai, China, was the first Chinese student to enroll at the Maryland Agricultural College (now the University of Maryland), in 1915. He pursued studies in agriculture and transferred to Cornell University after his junior year, where he completed his undergraduate work in 1919. He returned to the Maryland State College of Agriculture and received a master's degree in agriculture (specializing in cotton cultivation) in 1920 – becoming one of the first students to receive a graduate degree from the newly established graduate school.
After further studies at Cornell and at the USDA, in 1922, he became the first professor of agriculture at the prestigious Tsing Hua University in Beijing, where he taught biology, agriculture and ROTC. His students and their progeny now span China's agricultural landscape. In 1930, Chunjen Constant Chen joined the Bank of China as the regional manager of Shandong province where he pioneered modern cotton farming in China by providing the region's farmers with both capital and knowledge. Today Shandong and Henan provinces are world-renowned for their cotton products.
He returned to the University of Maryland in 1952 as a research associate in the Bureau of Business and Economic Research. Two years later, he was appointed as an assistant professor and chairman of the Chinese section of the Department of Foreign Languages at the University. Upon his retirement in 1967, he was named professor emeritus. He passed away in 1978.
Today, his name graces the newest residence hall on campus and the first building to open in the Heritage Community. The six-story, 131,000-square-foot building, the Pyon-Chen Hall, is named for Chen and for Pyon Su, the first Korean student to receive a degree from an American institution, in 1891.
In a dedication ceremony in fall of 2021, UMD President Darryll Pines paid tribute to the two scholars for the way they "forever changed the fabric of our university."
Andrew Chen was there, along with several members of his family, and several members of the Pyon family. Both families were presented with framed replicas of a mural honoring their ancestors, located inside the new building, which overlooks La Plata Beach.
Andrew Chen says the building's naming and dedication further strengthens the family's ties to the university. And it came just one year after another milestone for the family.
"Last year, Cara Chen, our family's fourth generation of Terps, proudly graduated on the 100th anniversary of my grandfather Chunjen Constant Chen attaining his master's degree at the University of Maryland," Andrew Chen said at the naming ceremony. "Our family knows he would have been honored to have his name cemented on campus, and to know that his story has inspired and paved the way for so many students for generations."
Andrew Chen's career arc took him progressively from very large to very small companies (IBM, General Mills, Inmac and MTL), and from non-technical (grocery food sales) to technical (technology sales and IT program management). He eventually decided to strike out on his own in 1990, founding and building Peace Technology, an information technology consulting firm focused on providing custom application and database development professional services to the U.S. government agencies, including the National Institutes of Health (NIH) and the Government Accountability Office (GAO).
He'd run the business for about 20 years before selling it in 2010, to Acentia (later Maximus). Andrew Chen remains active with the University of Maryland and the Smith School.
Media Contact
Greg Muraski
Media Relations Manager
301-405-5283  
301-892-0973 Mobile
gmuraski@umd.edu 
About the University of Maryland's Robert H. Smith School of Business
The Robert H. Smith School of Business is an internationally recognized leader in management education and research. One of 12 colleges and schools at the University of Maryland, College Park, the Smith School offers undergraduate, full-time and flex MBA, executive MBA, online MBA, business master's, PhD and executive education programs, as well as outreach services to the corporate community. The school offers its degree, custom and certification programs in learning locations in North America and Asia.