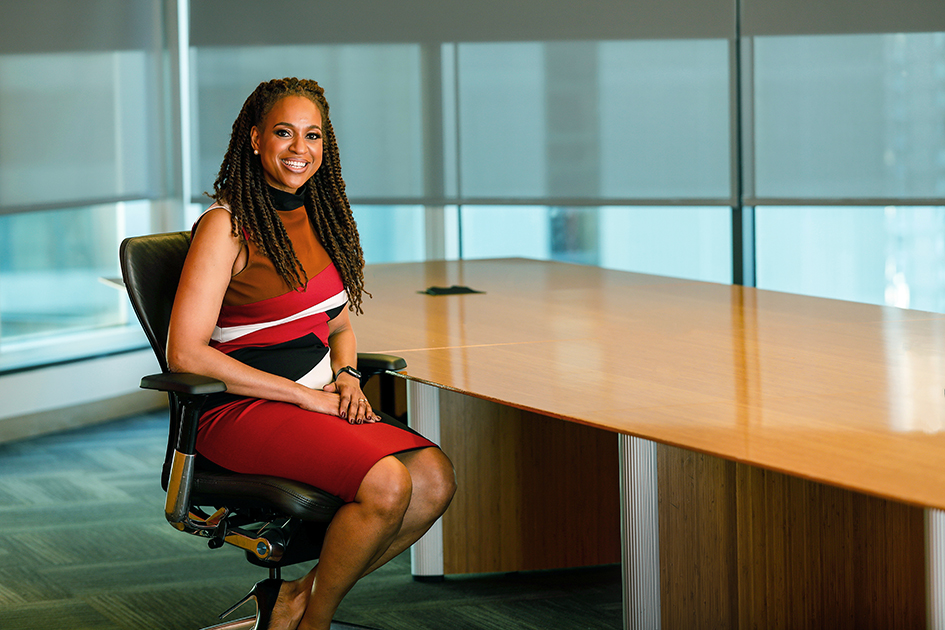 Leaders prove their worth during times of adversity, and Donna Blackman, EMBA '10, got her first big opportunity just 100 days into a new job at BET Networks in 2013. As part of a reorganization, the Viacom subsidiary announced plans to dissolve Blackman's position and lay off her team.
"More important than my role going away, it was that almost 50 people were going to lose their jobs," Blackman says. "While I hadn't anticipated this and wouldn't have wished this, it was really an opportunity there for me to be a strong leader and help some people through a really tough time." 
BET eventually found a new role for Blackman, who serves today as Senior Vice President, Business Operations. She talked about her career path and leadership philosophy on March 1, 2018, as the honored guest at the Smith School's seventh annual Women Leading Women event.
Managing the 2013 reorganization and another one in 2015 gives Blackman credibility when helping people cope with change. "I'm not just telling you what I've heard," she says. "I'm telling you what I've experienced." Her resume shows a long history of trying new things, starting in 1999 when she left KPMG and came to Marriott International with no hospitality experience.
"Every job I've had since then is something I've never done before," she says. "And with each change I've had, it's led to a better opportunity for me."
Layoffs and other disruptions will occur, but Blackman does not believe in accidents. "You can't stop change from happening," she says. "But you can put yourself in a position where you can take advantage of it and get the most out of the change that's coming about."
The attitude has taken her from the Bronx in New York City, where she grew up, to North Carolina State University, where she became the first member of her family to graduate from college.
She was happy at Marriott in 2013 and not looking for change. But then recruiters approached her about a leadership role at BET. "It was being ready for an opportunity when it became available," she says. "I had this burning desire to lead teams, which really came out of my experience at the Smith School."
Blackman loves the variety of her current position, which covers finance, research, corporate administration, business development, festivals and ancillary revenue. But more than anything, she values the people at BET. "It's really like coming to work with family every day," she says.
"That's fun and that's exciting for me." Something similar attracted her to the executive MBA program at Smith. "It was really about being in a classroom with other executives and learning from them," she says. 
As a wife and mother, Blackman must also focus on the people at home. She says friends and acquaintances sometimes hold her up as a role model, but her priority is to set an example for her daughter, 15, and son, 11. 
"The first people I want to inspire are my own children," she says. The trick is finding work-life balance. "That does not mean spending 50 percent of your time at work, and 50 percent at home," she says. "Balance means that you're whole, that you control your priorities, and that you're taking care of yourself."
Media Contact
Greg Muraski
Media Relations Manager
301-405-5283  
301-892-0973 Mobile
gmuraski@umd.edu 
About the University of Maryland's Robert H. Smith School of Business
The Robert H. Smith School of Business is an internationally recognized leader in management education and research. One of 12 colleges and schools at the University of Maryland, College Park, the Smith School offers undergraduate, full-time and flex MBA, executive MBA, online MBA, business master's, PhD and executive education programs, as well as outreach services to the corporate community. The school offers its degree, custom and certification programs in learning locations in North America and Asia.