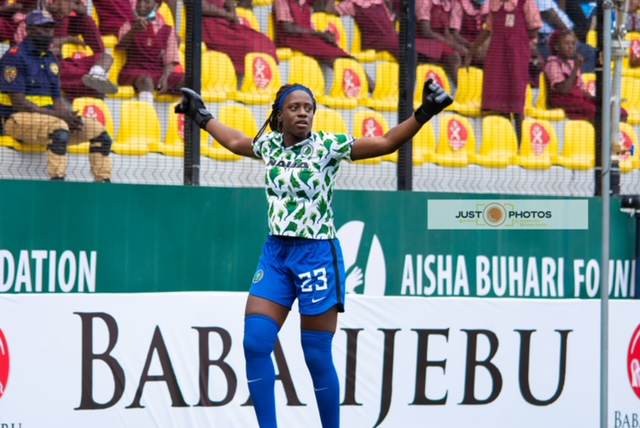 As a soccer player, Yewande Balogun, '11 and MBA '16, has always wanted to play against the best of the best. In the summer of 2021, she got that chance.
In June, Balogun, a former UMD goalkeeper and assistant coach, was carrying out her responsibilities as an assistant women's soccer coach at the University of California, Davis while also maintaining her fitness for semi-professional playing opportunities.
Around that time, the Nigerian women's soccer team was poised to face the U.S. women's national team in Texas for an international friendly series, which also featured Portugal and Jamaica.
But when COVID-19 travel restrictions resulted in a number of players being unable to meet the team, coach Randy Waldrum began reaching out to his contacts in the U.S. for potential players.
That's when Balogun, a first-generation Nigerian American whose parents emigrated from Nigeria to the United States in the 1980s, got an unexpected call – a chance to lace up for the Super Falcons and join the team as a substitute for the series.
"You know how they say one phone call or one decision can kind of change your entire life? I feel like that's exactly what's happened," says Balogun. "It was definitely a different summer than I thought that I was going to have, but I'm so grateful and it's been quite the journey."
Balogun, born in Prince George's County, Md., grew up with a passion for playing on the pitch. Considered one of the top goalkeeping recruits in the country during her high school years, she spent time in the U.S. Youth National Team system. She hoped for a chance at a roster spot with the first team and held aspirations of playing with the Nigerian national team as well.
When it didn't come to fruition, Balogun continued seeking opportunities to play at a higher level. That led her to join the women's soccer team at the University of Maryland.
Balogun finished her collegiate career as UMD's leader in goals-against average (0.93), tied for second in shutouts and helped lead the team to two Sweet 16 NCAA Tournament appearances (2009, 2011). But after graduation, Balogun underwent a knee surgery that kept her off of the field for a year and ultimately brought an end to her professional soccer aspirations.
For the next three years, Balogun explored positions in finance, logistics and mortgage financing. Then in 2014, she enrolled once again at Maryland Smith – this time in the Part-Time MBA program (now the Flex MBA program).
She was also serving as an assistant women's soccer coach at American University in Washington, D.C., and soon would leave that position for a chance to return to the Terp women's soccer team, as an assistant coach. The experience, she says, helped change her perspective about the direction of her career.
"It kind of had that moment of like, 'Alright, well, if I'm not playing, what should I be doing?'" says Balogun. "I think halfway through the program, I realized I wanted to shift my focus toward a degree on human capital management and organizational management. My mind went toward the leadership courses and things that I felt would be valuable to me later on down the road."
Completing her degree three months ahead of schedule to accommodate her coaching career and personal training, Balogun later put insights from her MBA experience into practice as an assistant coach with the Terrapins women's soccer team.
"I learned a lot about the functions of a team and making sure everyone knows what their role is within that group in pursuit of a goal. So many of those things apply on both sides, whether you're in the corporate world or on the field of play," says Balogun. "Being in a position to help manage the team, that insight is definitely helpful."
Balogun has never been ready to give up playing soccer. She continues training and making appearances in the semi-professional Women's Premier Soccer League.
That desire, she says, helped land her the opportunity to compete with the Nigerian women's soccer team. And it's why she'll continue to train to earn a roster spot for the 2023 FIFA World Cup in Australia and New Zealand.
"Playing internationally at that level is something I've wanted to do for my entire life. So for that opportunity to present itself – it's a blessing."
Media Contact
Greg Muraski
Media Relations Manager
301-405-5283  
301-892-0973 Mobile
gmuraski@umd.edu 
About the University of Maryland's Robert H. Smith School of Business
The Robert H. Smith School of Business is an internationally recognized leader in management education and research. One of 12 colleges and schools at the University of Maryland, College Park, the Smith School offers undergraduate, full-time and flex MBA, executive MBA, online MBA, business master's, PhD and executive education programs, as well as outreach services to the corporate community. The school offers its degree, custom and certification programs in learning locations in North America and Asia.