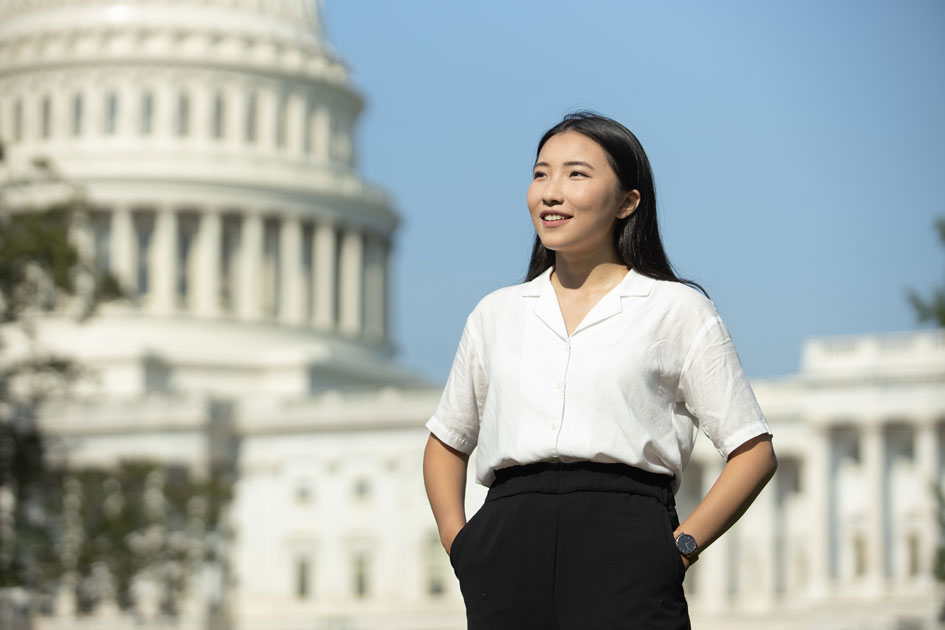 Moving to Shanghai was a big step for Yihan "Harriet" Peng '19, who grew up in Liuzhou on the banks of the winding Liu River in Southwest China.
Suddenly she had access to new opportunities in one of the world's largest cities, and she made the most of her time by volunteering at tennis, golf, skating, ballet and orchestra events.
"I got to see a much larger world than I could ever imagine," says Peng, who studied international business in Shanghai before starting the Master of Science in Marketing Analytics program at the University of Maryland's Robert H. Smith School of Business.
"Living in Shanghai was like window shopping at Tysons Corner," she says. "You see everything modern and shiny, and you get a glimpse of what you can achieve in this world. But you know you have to try hard to get it." 
Coming to the United States was another culture shock for Peng, but she adapted quickly and earned a summer 2019 position as a data science and analytics intern at National Geographic Partners, a joint venture between The Walt Disney Company and National Geographic in Washington D.C.
She says her Maryland Smith education prepared her well for the role, which requires an ability to mix art and science to make decisions in a data-driven economy.
"This program at Smith is really helpful because we not only learn marketing, we learn analytics," Peng says. "We blend creative and scientific things."
She says her professors give raw datasets in class and then help the students find meaningful patterns. "The professors assist us rather than just lecturing," she says. "I have this ability to learn for myself. And with the help of my professor, I can confirm that what I learn is right."
She says Maryland Smith also helped her land the National Geographic internship. "With my professors' help, I got this internship," she says. "They asked a lot of difficult questions, so I could be confident when I went to interview. And I have techniques that I can write on my resume that employers want."
When not studying or working, Peng also takes time to explore the United States. Already she has visited Orlando, Miami and New York. And she went skiing for the first time in her life. "It was painful, but definitely pretty cool," she says. 
Media Contact
Greg Muraski
Media Relations Manager
301-405-5283  
301-892-0973 Mobile
gmuraski@umd.edu 
About the University of Maryland's Robert H. Smith School of Business
The Robert H. Smith School of Business is an internationally recognized leader in management education and research. One of 12 colleges and schools at the University of Maryland, College Park, the Smith School offers undergraduate, full-time and part-time MBA, executive MBA, online MBA, specialty master's, PhD and executive education programs, as well as outreach services to the corporate community. The school offers its degree, custom and certification programs in learning locations in North America and Asia.